Six months ago David Bowie Is, an exhibition I co-curated with Victoria Broackes opened at the Victoria & Albert Museum in London, the U.K.'s national museum of art, design and performance. On Sept. 25, a slightly reshaped version opened at the AGO. The exhibition title is a statement and also a question, which we deliberately left unanswered. Unanswered because Bowie is still hard at work creating, and surprised everybody this year -- including us -- by announcing a new album entitled The Next Day on his 66th birthday. However, it soon became clear that an answer to this question was unnecessary. Every visitor already had his or her own, even if it was "David Bowie means nothing to me." They all knew a measure of his influence in his country of birth, but rarely of residence since leaving in 1974. It will be interesting to see how visitors react in North America, his home for much of the last 40 years.
Bowie is an expert lyricist, a skilled musician and one of the greatest live performers but he is something more: he is a phenomenal artistic construction, and the evidence for this on display is what surprises many visitors to the exhibition -- even hard core fans.
Fifty years ago, a 16-year-old David Jones left school, already determined to be a star. Forty years ago, a 26-year-old David Jones -- performing as David Bowie -- killed off Ziggy Stardust, his most famous alien alter ago.
Blog continues after slideshow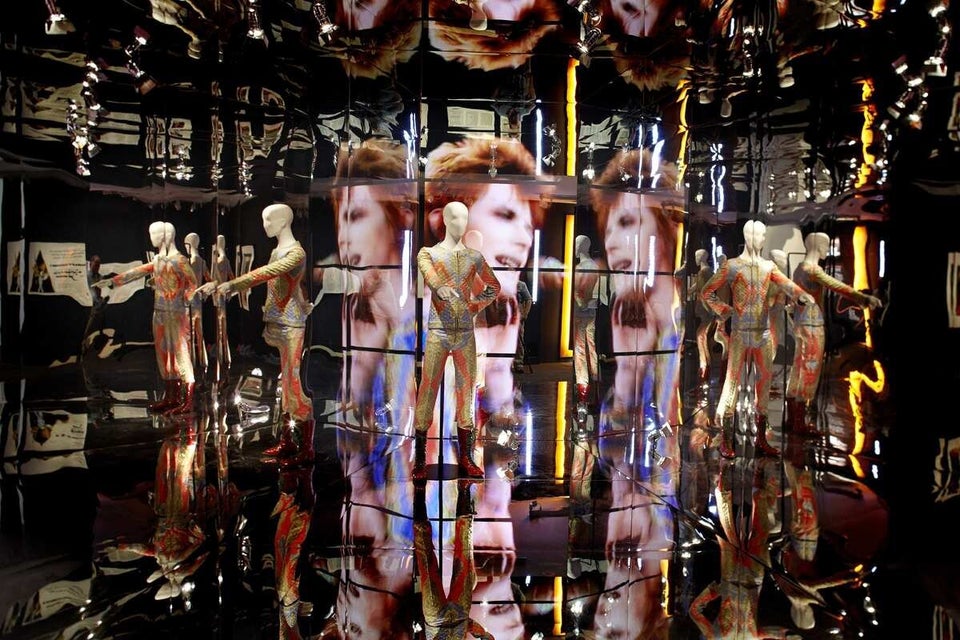 David Bowie Exhibit @ AGO
Thirty years ago, the writer J.G.Ballard commented to journalist Charles Shaar Murray for New Musical Express:
"If one assumes -- as I do -- that in the future every home will become like a TV

studio in which one is simultaneously writer, director and star of our own show...

what is life? What is our existence except our own show? That home movie that

we all live inside..."
It was an extraordinarily prescient prediction, in a pre-Internet, pre-Facebook, pre-YouTube world, where personal communication still meant face-to-face speech, posting a letter with a purchased stamp, or for some (perhaps 50 per cent at most) a private, hard-wired telephone. However, David Robert Jones had already been hard at work on 'his own show' for 20 years, constructing an alternative to himself -- David Bowie -- and then marketing it so relentlessly through image, interview and show, that within a decade it became as is. Forty years on, this constructed persona still remains one of the most instantly recognizable characters in the world, when thousands of other performers have come, been and gone.
It is an unlikely achievement for someone born in 1947 into an average household, in an average London suburb in the grey, austere years after World War II when an exhausted Britain had to adjust to economic, imperial and political decline.
But the young David Jones had some advantages. His father was the Head of Publicity for the Dr. Barnardo Children's Home Charity, so by his early teens David had met major entertainment stars and understood already their power to influence and the symbiotic relationship between fame and the media. The very blandness of the suburbs and the low career expectations assumed for his social strata were powerful drivers to escape.
And at the age of 16 he got his chance, going to work in an advertising agency in New Bond Street in the heart of a London that was just beginning to swing. His time there (nearly a year) was his only significant period of employment apart from music, and Bowie is usually dismissive of his work as a junior paste-up artist. But what a time to be in advertising. Traditional communication strategies were giving way to a more subtle and nuanced understanding of the media under the influence of Marshall McCluhan and others. In New York, Andy Warhol was beginning to mix advertising, celebrity, art and himself into a new critique of consumer culture.
Sometime in this period, David Jones got the idea of constructing alternative personal realities. Meeting and collaborating with the dancer Lindsey Kemp in 1967 gave him the tools of acting, mime and projecting fictions. By fusing music and characters, Bowie created an alternative world where anybody could be anything. It is hardly surprising that he has also been interested in the nature of dictatorship and social control. George Orwell's 1984 was a favourite book, which he intended to turn into a musical/film in 1973. Problems security the rights resulted in the project turning into the Diamond Dogs album/tour, set in a dystopian Hunger City.
Arguably Bowie's greatest achievement is to say to everybody, not just the elite, that you can be anything you want to be -- in look, image, identity, belief, sexual orientation -- if you are focused enough. If he could do it with nothing but relentless determination, anybody should be able to. As he writes on his latest album, referencing St. Catherine of Siena, "Be who God meant you to be and (You will) set the world on fire."
It is now 2013 not 1963, and Generation i.am is morphing into Generation i.willb. These call signs are now fundamental to Western culture, but anathema to much of the world where u.willb remains the mantra. The conflict between those two vowels will be the struggle of the next decades, and while it continues David Bowie will remain a powerful subversive inspiration.