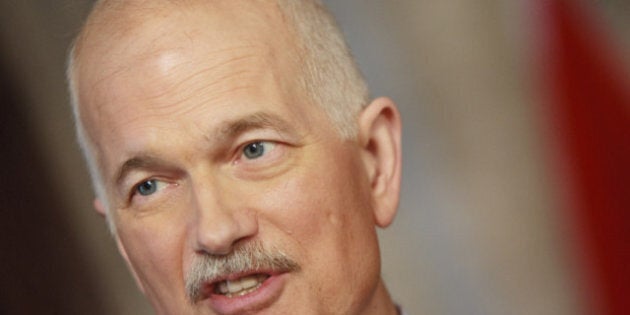 Jack Layton might be gone but he won't soon be forgotten.
In fact, I dare say Layton's legacy will dominate Canada's social democratic movement for years to come.
After all, the circumstances of his death -- his popularity, his courageous battle against cancer, the outpouring of adulation, his famous last letter, the wall-to-wall post-mortem coverage -- have elevated him to the status of a political saint.
In other words, Layton is now for the NDP what Abraham Lincoln is for the Republican Party.
He will be remembered more as a myth than as a man.
What does this mean in practical political terms?
Well for one thing, it means his would-be successors for the New Democratic Party leadership will each try and lay claim to Layton's legacy.
Each candidate will present himself or herself as the person best able to carry out Jack's vision for the party and for the country.
This, of course, will lead to competing interpretations within the party as to what actually was Layton's vision for the party and the country.
Both NDP "moderates" and "extremists" will invoke his name and words to back up their particular political agendas.
What's more, it's likely the NDP will take advantage of the strong emotions associated with Layton's passing for fundraising purposes.
I can easily imagine, for instance, a letter to NDP donors that would make a pitch along the lines of: "Sadly, Jack is gone. But you can ensure his legacy and his dream for Canada will live on. What better way to pay tribute to Jack Layton than by making the most generous donation possible to the NDP?"
I know that all sounds kind of crass, but it would be an extremely powerful message. Nothing gets donors reaching for their wallets faster than plucking their heart strings.
And the Ontario NDP recently sent out a fundraising email invoking Layton's "Letter to Canadians."
At the same time, NDP leaders, union bosses, social activists and "progressives" of all sorts, will try whenever possible to link Layton's name to their various pet causes to help win popular public support.
"We need more housing for the poor," they will exclaim," because it's what Jack wanted for the country."
And it's guaranteed that from now on, left wing rallies will feature placards or T-shirts emblazoned with the words from his last letter to Canadians: "Love is better than anger... Optimism is better than despair."
Less predictable will be how Layton's death will impact on the NDP's popularity.
Will the NDP in the near future market itself less as the party of socialism, and more as the "Party of Layton"?
Will Canadians, out of a sense of sympathy for Layton, move from say the Liberals or Green Party to the NDP?
And if that happens will the Layton-less NDP be able to hang onto their new supporters in the long run?
The first test of a possible "Layton effect" could occur in the upcoming Ontario provincial election.
Currently, the Ontario Liberals and Progressive Conservatives are duking it out with dueling attack ads.
Such a "mudslinging" campaign between the Liberals and Tories could lead voters to turn against both parties and gravitate to the NDP.
This is all the more likely to happen if the provincial NDP strategically plays up Layton's message of "positive politics."
Mind you, some might see using Layton's name in these ways as exploitation.
But it isn't; it's just politics.