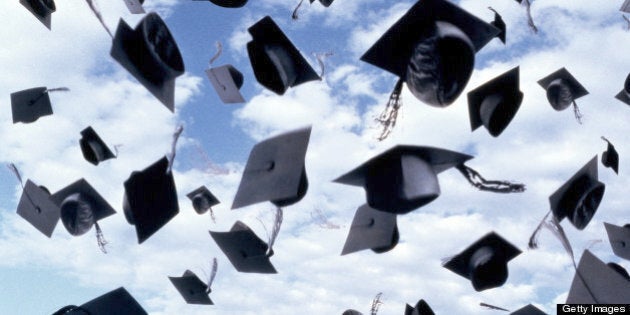 It is graduation season! Yeeee Haw! It is finally time to receive that shiny new Degree or Diploma certificate from the Dean, wearing a graduation gown and hat. May and June every year are the months when many Universities have Convocations / Graduation Day ceremonies in Canada and USA. Different students may have different sets of experiences, emotions, and circumstances, on the special day.
Some may feel lucky to be in any of the following circumstances:
• They have job offers / started work already
• They have acceptance letters from Universities for further education
• They have found love (perhaps someone from class / school?)
• They have families visiting
• They can splurge money on after-event celebrations
• They may have planned vacations - trips across Europe / Asia / elsewhere
• They may receive new cars / gifts from their parents / significant others
Some may not feel as lucky, being in any of these circumstances:
• They may not have job offers, even after months of searching
• They may not have sufficient finances (with OSAP money / student loan cash depletion)
• They may not have assets (having been in school, instead of working)
• These students fit the NINJA description (No Income, No Job, or Assets )
• They may not have dates or guests for Graduation Day
• They may not have family attending, since they live far away / in another country
Many Universities organize receptions for their graduates after the ceremonies. It levels the playing field, and gives all the students an opportunity to celebrate, meet faculty, introduce them to their parents or significant others.
I have my own Spring Convocation/Graduation Ceremony at Ryerson University, Toronto, ON, on 14 June 2013, followed by a celebration with the faculty. In terms of job placement, it has not been a dream run for me yet, even though I have had great learning experiences, and the future shows promise. This batch is not graduating into a hot job market (though there are variations between sectors, with signs of resurgence in the IT sector). I am not exactly loaded with cash, having only completed one temporary contract job, after completion of studies.
Companies seem to be conservative with their spending, avoiding risks, and wanting to maximize the bang for the buck. I am into the advanced stage of interviewing/hiring process, at a few good companies in Business Development roles, and am expecting to be hired soon, with a decent (for this economy) starting compensation package. Even seven years after immigrating to Canada, I have yet to buy a house. Need to get a set of wheels, too. I was too engrossed with studies and job hunting during school time, to have a girlfriend to invite for the big day. My relatives do not live in Canada. I certainly wish things were better!
So, should the NINJA generation today cry about not being as lucky as the Baby Boomer generation (who did financially well, and control a significant percentage of personal financial assets and consumer spending in North America, as per sources), especially on their graduation day? Nah! We live in different times. We should start adapting to the new reality of globalization, outsourcing, automation, regular industry disruption, and constant technological advances/upgrades in order to stay nimble and competitive in this hyper-connected and fast-evolving world.
What can NINJAs do, to have a positive attitude on Graduation Day? Some thoughts:
• Be thankful for the skills, knowledge, experiences and networks gained in school
• Pat yourself on the back for reaching the end of the journey (completing your studies)
• Have pride about becoming the first in your family to complete a Bachelor's or Master's (as in my case) degree
• Celebrate youth, energy, good health, and the great body you live in (things change with age)
• Cherish the lifelong friends you have made in school
• Be thankful for having enjoyed life in a great country (Canada) and having had a Western education (if you are a visiting student)
• Remember the contribution of the staff and faculty of the institution with gratitude
• Look at the glass as half full, not half empty. Better yet, try to fill the glass some more, if you can, by having the courage and drive to pursue what you want before the event - go for it! I believe that every graduate has earned the right to have a fabulous and memorable celebration on her or his Graduation Day! Don't have a date? Ask that guy / girl you liked (but never had the courage to ask) out for celebration lunch / dinner. How much can it hurt? Who knows, you may not see him / her again, after graduation, for you don't know where life will take you. Find a sponsor / dream date for Graduation Day - by being creative, like Jake did, recently. Have a party with friends if family can't make it - coz friends are like family, by this time. Invite your teachers for celebrations after the event
• Resolve to get rid of the NINJA label by aggressive networking with target stakeholders, seeking help from mentors, following intelligent personal growth strategies, upgrading skills / certifications constantly to keep up with the new market trends, and having a never-say-die attitude. We cannot improve the global economy or personal circumstances drastically, in a week or month, but we can do so, step by step
As Graduation Day nears, many students are drawn into a silent, deep contemplation, and reassessment of life. You suddenly feel the pressure to find a life partner, be on a good / better job, buy a house, buy a nice car -- you want to have it all, and fast! It was kind of okay for you to be broke while being a student -- it was not out of place, but once you are out of school, you are under pressure to prove yourself in the real world! You want to stay competitive -- prove to your teachers and classmates that you are doing well, succeeding in life, and making Alma Mater proud. Man, this rat-race can get stressful!
So what do you think? How should a NINJA generation celebrate Graduation Day in 2013? Lower the bar for happiness? Have patience? Just go with the flow, and say "Que sera sera"? Do comment below, and share your thoughts...
To all fellow graduates this season, Happy Graduation Day! Wish you plenty of success in career, love and life in general!