 If LinkedIn were a woman, she would be my BFF (Best Friend Forever). There are many job sites out there, but she is a diva! LinkedIn has now become an elite online club of smart and talented executives and professionals from around the world -- especially those seeking technical and management jobs.
How did I go about my job search?:
Dedicated more than 14 hours a day for online applications, for more than a month; Worked on improving the resume regularly; Completed all the sections of my LinkedIn profile and spent time on the site connecting with recruiters in my target sectors; Applied for numerous jobs through "one click application" tool of LinkedIn -- hundreds of applications in one sitting; Created accounts on all the popular sites like Monster, Workopolis, Indeed, SimplyHired, and GlassDoor; Applied on more than 100 different company career portals; Contacted the Career Services Department of my University; Networked with existing friends by email or Facebook message; Tried to make new friends in the industry by cold contacting them; Established a strong online presence; Cast a wide net, by not limiting myself to specific companies, roles, industries, sectors, or geography; Contacted recruiters of corporations and headhunters; Applied to thousands (not hundreds) of positions online; Answered emails promptly; Sent thank you messages after interviews; and finally, plenty of optimism, patience and persistence.
To summarize, I tapped into:
All relevant stakeholders
All available time and resources
All available channels -- offline and online
All relevant positions in all relevant industries and sectors
BLOG CONTINUES AFTER SLIDESHOW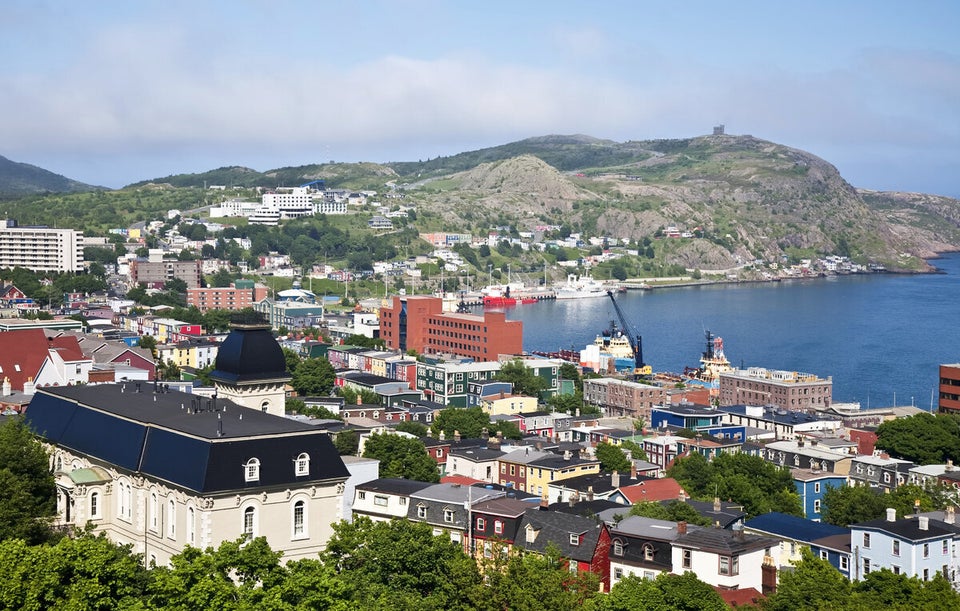 Best Provinces To Find A Job
Some people take the targeted approach. I took a broad one. I have presented a graph of my LinkedIn profile views below, which was directly related to my activity on LinkedIn. I had my recent interview based on a position that I applied on this site.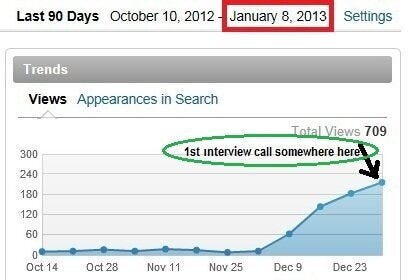 Some useful tips that may work for you:
1. Love LinkedIn: She will love you right back! Yeah, she is nice that way. I was contacted by three recruiters directly for interviews via LinkedIn in the past six months. This site brings results.
2. Dedicate time: 12 hours a day or more
3. Get discovered: Be available in cyberspace by having accounts on all popular job search sites.
4. Crawl regularly: Just like the Google Page Ranking System crawls the Internet regularly, scan the job market for new job postings, and apply early! Sometimes, they disappear quickly.
5. Answer phone calls: Some people do not answer unknown numbers. Don't do that during job search. That was not a stalker or telemarketer, it was a recruiter!
6. Smile / use humour: Be charming. Marilyn Monroe famously said: "If you can make a girl laugh, you can make her do anything." Recruiters are people too.
7. Read dating Books: Apply the techniques for job hunting. Not asking you to seduce the recruiter, but become well groomed, develop an attractive personality, and understanding body language.
8. Read Dale Carnegie: How to win friends and influence people. Understand people well.
9. Read Joe Girard: How to sell anything to anybody. Learn how to become a good salesman.
10. Be Different: Job search can be a competitive blood sport when there are hundreds of applications for a job. Differentiate yourself.
11. Constant search: Be shameless in the pursuit of extra information. You may be a smart person, but you do not have all the answers.
12. Find mentors / alumni: Especially true if you have no Godfather in high positions
14. Don't be shy: A crying baby gets milk, and a crying job hunter gets a job. G.B. Shaw quote: "The secret to success is to offend the greatest number of people." Do not worry about wasting people's time or offending them. You are not pestering them for Multilevel Marketing, or selling them products. Someday, they may lose jobs / look for new ones. What are friends for?
15. Don't be scared: If you are timid to approach strangers, you do not deserve a job anyway. How will sell the products or services of a company tomorrow, if you cannot sell yourself first, today? Here is another gem by G.B. Shaw, "My reputation grows with every failure."
16. Job-application-pipeline: Just as we have a sales pipeline in business. When you are job hunting, you are still selling yourself, and need to set up a pipeline of leads, you know!
17. Work 10x harder: If you are at a disadvantage because you are a recent immigrant, a visible minority, a new grad just out of school, or someone who does not have the right visa status for employment, you may have a harder time getting employed. Here is what I consider the greatest quote of G.B. Shaw for such applicants: "When I was young I observed that nine out of every 10 things I did were failures, so I did 10 times more work."
18. Forget fairness: No one said that the world is fair. The world owes you nothing. You have to make your mark here by your own efforts, merit, and ability.
19. Personal domain name: Register a domain with your first and last names and connect it (URL forward) to your LinkedIn profile. For example, if your name is John Smith, register www.JohnSmith.com and forward the URL to your LinkedIn profile.
20. Downloadable resume: Create an option to download resume there (do this by providing a link for download from a site like www.Box.net ).
21. Read books: Books like How to make people like you in 90 seconds or less.
22. Avoid foot in mouth syndrome: Think from the interviewer's point of view. What will impress him or her? Oh, how many interviews were lost because people said something silly on the phone!
23. Don't fall in love: The first line / gatekeepers, namely the HR assistants are usually young and pretty or handsome, and they are real nice to you, but you went for a job, not for a date, remember?
24. Don't get fooled: Some interviewers are so soothing and empathetic, they will have you spilling all your secrets in 10 minutes. Yes, the person may be nice, but he / she is not your shrink, OK?
25. Practice discretion: No, you will not lie in an interview, or alter your resume, but give out only so much information as necessary. Be your own greatest advocate, agent, cheerleader, and lawyer. This is an interview, not a court trial!
One common sentence that I see repeated due to frustration by unsuccessful job seekers is: "Oh, it is who you know, and not what you know, these days. People do not care for talent any more."
Don't become a bitter person. The people who get jobs are those who deserve to get them, because they put in the time, effort and energy. It is not a matter of competence alone, but a matter of compatibility, as well. Yes, some people get jobs by connections or referrals, but the logic may be that a known devil is better than an unknown devil, and hiring by referrals increases the chances of getting trustworthy candidates. Birds of the same feather may party together, but it is OK for you to get invited to that party too!
Find your niche, find an opening by trial and error or by research, and get an additional advantage yourself -- that is what we call as "Competitive Advantage" in business. There is no perfect way to find a job, and you cannot predict what will get you your next job. I have had interview calls in the past from the least expected sources, or from applications submitted long in the past.
The job search can get frustrating, especially, if you see your peers getting ahead. You may begin to wonder what is wrong with you. Don't worry. Just like that frog which fell in a bucket of cream, and did not drown because it struggled so hard, that the cream turned solid, you have hope as long you are trying really hard to succeed. So cheer up :)