Where to shop, stay, and play on a pet-friendly Cannes vacay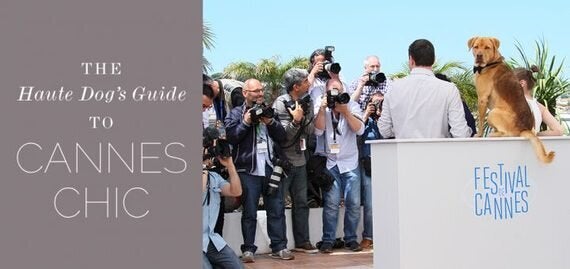 The Cannes Film Festival sets a colossal footprint across the cinematic year; there's nothing quite like the social and celluloid gluttony of this powerhouse festival. This year magnifies the current climate, from the international influence of Jean-Pierre and Luc Dardenne, to the emotional dynamite of Pedro Almodovar and Xavier Dolan. Running from May 11 to 22, 2016, Cannes is a movable feast of film, fashion and French hospitality.
Despite the high prestige factor, the fest isn't all tuxedos and tiaras. The Palm Dog Award is an annual alternative award presented by international film critics. Founded in 2001 by a plucky band of British journalists, the prize -- a leather dog collar with the term "PALM DOG" -- is awarded to the best performance by a canine (live or animated) or group of canines during the festival. The name of the underground award is a play on the Palme d'Or, Cannes' highest honor.

Perhaps the most memorable winner of recent memory is Uggie, the beloved Jack Russell Terrier who clinched the prize for his performance in The Artist. Last year, the pooch from Arabian Nights fetched the Palm Dog. Lucky, who appeared in the Portuguese film, sports 10 different dog sweaters in the film. The Maltipoo -- half Maltese and half miniature poodle -- even managed to bark his gratitude in an acceptance speech.
Inspired by the world's most glamorous festival and the frisky performance of dogs in film, Get Leashed brings you a guide on how to Cannes in canine-friendly style.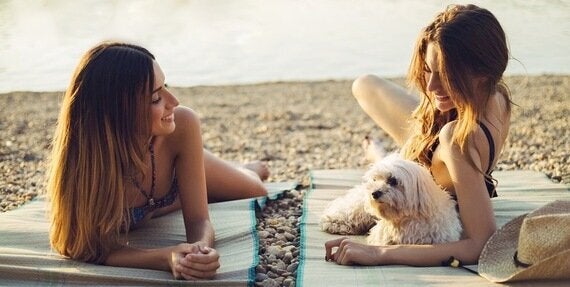 Cannes' style is all about looking smashingly breezy and blissfully understated. The key is to pack polished, chic separates; bring both playful and elegant flats as well as a pair of sexy stilettos for sultry nights out. You'll need a sporty swimsuit for last minute yacht invites and a barely there bikini for pool parties. A dramatic sunhat is a must, paired with Grace Kelly-inspired sunglasses. When it comes to jewelry, rose gold is your best friend on the Cote D'Azur; a few solid statement pieces go a long way here. Your best accessory? A robust, golden glow, so whatever you do, keep hydrated and nourish your skin.
You know the feeling. You're jaunting off on a chic South of France escape, while your pup is bound for the kennels. If leaving your little bestie behind amounts to a big pile of guilt, check into the pet friendly Grand Hyatt Cannes Hôtel Martinez. Tell the hotel in advance that you're bringing your pup, and they'll see to the pampering. An iconic hot spot that's been roaring since the 20s, Hôtel Martinez is a festival staple of legendary proportions. This five-star Art Deco palace is renowned for its spectacular sweeping staircase, see-and-be-seen pool and hedonistic spa menu.
As the Chateau Marmont is to Hollywood, so the Hotel Martinez is to Cannes. The property's private beach is the longest on Boulevard de la Croisette; suites offer private terraces with smashing views of the Mediterranean Sea. Stars love the hotel's restaurant, La Palme d'Or, which holds two Michelin stars. Scarlett Johansson, Bruce Willis, Eva Longoria, Robert Pattinson and Liz Hurley have all enjoyed the hotel's superlative service. Who knows who your pooch might be rubbing up to next?
As a country, France has had a long love affair with dogs, and most shops are pretty laid back as long as your dog is well-behaved. For a small seaside town, Cannes is big on luxury shopping. In April, Cannes has an entire festival dedicated to shopping; fitting, as local boutiques and international shops alike are patronised by the world's wealthiest. You'll find Chanel, Dior, and Dolce & Gabbana along La Croisette, the main avenue across from the Mediterranean and ground zero for haute couture. For more accessible retail therapy, save an afternoon for Rue d'Antibes. This long, meandering high street is further inland from the flashy mecca of La Croisette. More diverse in its offerings, there are lifestyle boutiques, interior design shops, and tea salons; this is where you can snag the latest Façonnable and Blanc Bleu.
The insider Cannes experience is the Forville market at Place du Marché Forville, which takes place every morning with the exception of Monday. If you are planning a romantic picnic, this is your one stop source for all your favorite French indulgences. Pick up olive oil soap, artisanal lavender sundries or antique monogrammed linens.
Follow HuffPost Canada Blogs on Facebook