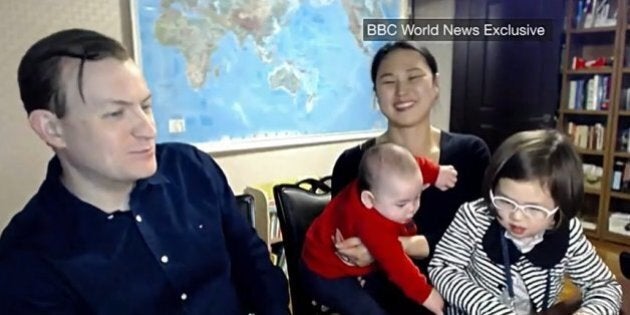 I don't know about you but I feel like a real asshole assuming the Asian woman in the viral video collecting the kids during the 'so wrong but so right' BBC interview with the professor, was his nanny.
I didn't even think twice when I was telling my co-worker she needs to watch a hilarious video clip, giggling at how the nanny scoops the kids up at the end. I even wondered if the father would be upset with the nanny for not monitoring the toddlers carefully enough while he was being interviewed on live TV.
Sadly, it never occurred to me that the woman was his wife. Now I'm trying to figure out why.
Why would I come to this false conclusion so quickly? Am I so blinded by my North American assumptions? Am I culturally biased? Are we all? I couldn't be the only one.
I was raised in a modern Jewish household in good old suburbia, just north of Toronto. We always either had an au pair or nanny (who kind of became our extended family) to help with my two younger brothers and I. My parents are both very open minded and our upbringing reflected values of diversity and acceptance.
I'd like to believe I am well-travelled. I've lived abroad in both South Korea and the UK and met so many different types of people on my trips around Europe and Asia. But for some reason, I still, perhaps unknowingly, harbour cultural prejudices that I never really knew or believed existed in myself. How could I be so naïve?
It's true that our rationalizations are often based on other embedded cultural assumptions. So I have to ask myself if I would have reached the same rushed conclusion on my own if perhaps I didn't have a nanny or caretaker growing up? What if I lived in a more multicultural neighbourhood, or what if I had an opportunity much earlier in life to interact with different cultural groups? Would I have had the same mindset watching the same video?
It really wasn't until I went to University in Waterloo, Ontario that I really began to develop relationships outside of my very homogeneous Jewish bubble.
Truly, the only way to avoid cultural assumptions is to realize we are making that assumption. Unfortunately there is no way we can thoroughly reassess all the concepts we take for granted, so all we can really do is be mindful, specifically of what we may deem "common sense" to give us an insight into our own cultural biases. We tend to assume that our way of understanding reality is accurate and almost never stop to examine our assumptions. Not to say our assumptions are all wrong, but we should at least try to make ourselves more aware of them.
From my experience living and working in South Korea I remember being shocked that my student's birthdays did not hold to the same individual significance and as us Westerns. In my notion of reality, a year after you are born to the date, that person turns one year old and so on. This would be considered pretty standard, common sense, right? Wrong! That's because in Korea, everyone is one years old when they are born. Then on New Year's Day everyone gets a year older, simultaneously. Very different from how we perceive birthdays in North America, obviously.
So remember to challenge your assumptions. Be aware of your own culture or reality and understand how that affects your general worldview. Most importantly, be honest with yourself. Allow yourself to learn from the various cultural values of all the different people in your life. And when I say you, I really mean me. I mean all of us.
Follow HuffPost Canada Blogs on Facebook