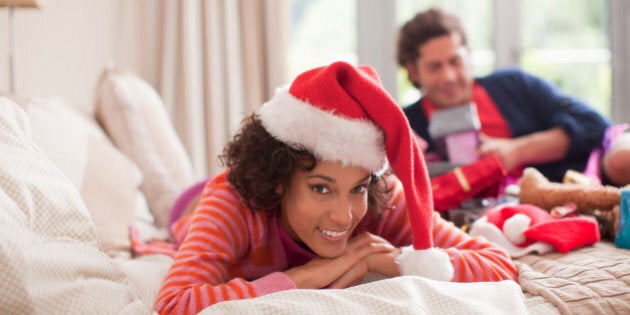 'Tis the time of year not only for eggnog and Christmas movies, but also for companies to bombard you with lists of items that they tell you you need for the holidays. All too often, we tend to fall into a dark holiday "consumer trap," where trying to buy everything on our gift list leaves us stressed, frustrated or flat broke. This year I'm trying something different.
December 1 really marks the home stretch to New Years, and for many the month is packed with running around shopping malls (like a lunatic), spending money (you don't have) and eating all of the food (all of it). We rarely remember to take care of the most important person in our lives: ourselves.
Sadly, self-care doesn't always come naturally.
This is not another article telling you where to find good deals or gift ideas for your loved ones; rather, it is a piece written to help bring out the best version of you for the holidays. Material things all come and go but YOU will remain, which is why prioritizing your own needs especially over the holiday season is imperative to your sound mental health.
It will enable you to manage the chaos that accompanies the holidays, calmly and contently.
It will enable you to manage the chaos that accompanies the holidays, calmly and contently. So in the season of gift giving, why not put your name on the top of the list this year by treating yourself to some of these special 10 emotionally rewarding (and practically free) treats.
Even though meditation is something you can do year round, tuning into your breathing during the chaotic holiday season can be particularly stress-relieving.
Sometimes a long weekend spent at home can be just as refreshing as getting away. Staying in your city can actually be more fun than you think, exploring new neighborhoods or simply cozying up on the couch watching Netflix. It's also a lot more budget friendly!
Try taking a sabbatical from your phone and email. Trust me, you won't miss out on much and if you do it wasn't meant to be.
4. Help those less fortunate
'Tis the season of giving back, and with the drop in temperature, it's hard not to think of those who may not have a warm blanket or even a bed to sleep in this winter. Holiday food, toy and clothing drives are a great way to help those in need and will also bring comfort over the holiday season. There are many charitable groups to consider just in Toronto, like Ve'ahavta and Covenant House. Do your research and choose a charity that resonates with you.
5. Write down what you're grateful for
If you're a visual person, sometimes taking the time to write down what you appreciate in your life makes you truly realize all the blessings that surround you.
It's ultimately the best gift you can give yourself.
Laugh, eat and play more games. There are many constructive ways to deal with stress, so why not be a little more playful over the holidays. Not only does laughter provide powerful health benefits it also lightens the mood and perpetuates a positive environment around you.
If you think you would benefit from someone else (more qualified than yourself) helping you to gain a renewed sense of energy, then maybe hiring a life coach over the holidays could be useful. Having someone else navigate challenges and ultimately nurture joy can only bring more pleasure and tranquility in your life. An "emotional makeover" can help fine tune your emotions to be a better you for the New Year.
If your full-time job comes with health benefits and you still have a few bucks left to use at the spa, book in your well-deserved massage before it gets too busy over the holidays. If no benefits, then why not treat yourself and check-out a spa where for one price you get a massage and access to hot and cold therapeutic pools.
In order to stay healthy (and sane) it's important to ensure you are getting a full night's sleep. Feeling well-rested is extremely important especially when you're running around over the holiday season. And while sleeping is important, don't forget to go outside and expose yourself to natural light and air -- it can also do wonders for you.
There are plenty of benefits in growing your own herb garden, but one of the best is having fresh, healthy greens right at your fingertips. Using fresh herbs over the holiday season is a great way to stay healthy, boosting your meals vitamin value. Not only will it save you money in the long run, but all the plentiful sights and scents of a herb garden can help relieve your day-to-day stress.
It's really empowering to be able to make small, optimistic changes in your life that ultimately trickle down to your health and well-being. Sometimes you don't need to spend a lot of money to feel or look good -- embracing positivity goes a long way. Take care of yourself over the holidays without breaking the bank. It's ultimately the best gift you can give yourself.
Follow HuffPost Canada Blogs on Facebook