Cultura Science/Sigrid Gombert via Getty Images
"Whatever women do they must do twice as well as men to be thought half as good. Luckily, this is not difficult." This humorous yet honest quote said by Charlotte Whitton, the first female mayor of Ottawa, brings to light the stark divide between men and women in today's workplace. With International Women's Day quickly approaching, I felt it was important to shed a light on why some women in today's society are still feeling held back by barriers that seem to be embedded in professional environments, specifically in Science, Technology, Engineering and Math (STEM).
Generally, we learn about the world, ourselves and technological advancements through these STEM subjects and both men and women should equally be encouraged to explore these fields. Sadly, this is not always the case. Our global economy is ever changing and it's important to make sure this sector is composed of intelligent, driven, focused and motivated individuals who all have adequate opportunities, regardless of sex.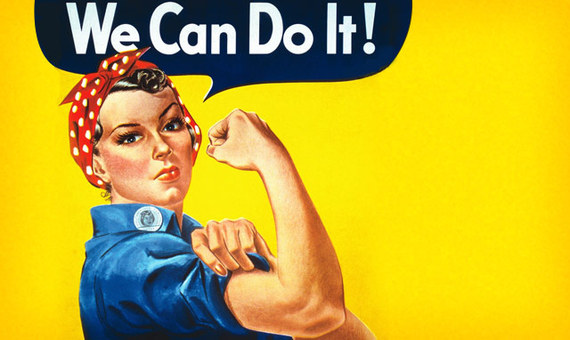 It's important for females to be encouraged to enter these STEM fields in order to attract the best and brightest minds to move us forward. Today there are emerging out-of-school programs that support ambitious graduates, while highlighting the importance of women in the industry to reach their full potential and ultimate goal, which is acquiring a job in IT.
For example, I happen to work for an international IT consultancy company by the name of FDM Group. It has its roots in the United Kingdom but after 25 years of success in Europe we have recently created a presence in Toronto, Ontario. I was drawn to this company because it seeks out dynamic and ambitious university graduates of IT and business backgrounds, regardless of gender, providing valuable training through their graduate development programs. This helps fresh grads to open doors, break glass ceilings and launch IT careers.
Sheila Flavell, COO of FDM Group and advocate of diversity in the workplace explained, "Through FDM's Global Women in IT initiative, we aim to increase the number of women working in the sector by highlighting the opportunities available and supporting them throughout their journey with FDM. We are promoting, training and placing more female IT Consultants onto our client sites, which in turn also helps them enhance their diversity." With circa 50 per cent of the FDM management team being female, FDM Group has a strong dedication to championing women in IT and aims to tackle this shortage of women in STEM by fostering a network of strong, intelligent females in the industry.
No matter what path you take, for women to reach their end goal of entering into a male-dominated field -- specifically in STEM -- I have come up with five ways to help achieve your full potential, be successful and thrive in a world where even past mayors believe women are still thought of half as good.
1. Get Inspired!
Celebrate the achievements of other successful women in technology. Read more books written by women. Surround yourself with positive influences and think about what you can do to help challenge the status quo!
2. Find a mentor
The value of having another inspiring female to look up to in your life is irreplaceable. It is our mentors that help pave the way to aid in our successes and help fuel our passion for this emerging industry. A well-known female who knows all too much about the importance of positive role models is Jacquie Somerville, a top life coach and author who lives by the motto that you should be "your own soul mate." In other words, Jacquie strongly encourages women to be bold, take risks and feel empowered. She is a motivator, a story teller and an ideal role model for women seeking to challenge the status quo. Someone like Jacquie can be a great motivator and positive influence in your life if embracing your passion just needs that extra drive.
3. Strengthen the bond you have with other women
Having positive people around you can help lead us in the direction of success. More specifically, surrounding yourself with other strong women helps create a system where we can understand and learn from one another. These relationships can help us build on our achievements, network with others and encourage a positive female bond unlike any other.
4. Be proactive
Many women in emerging markets have the ambition to become successful but sadly lack the business skills or resources to network. Do not let the unknown or a challenge deter you. Seek out your own recourses. Take more courses in the subject that interests you. Learn, adapt and be proactive because at the end of the day, no one other than you will get you your first job in IT.
5. Think one step ahead
How will you get to a management role? Where will you be in five year's time? What do you need to do to achieve this? Always believe in yourself and your passion, and strive for the very best. Believe and you will achieve!
Times are changing and it's now up to our generation to take an active role in ensuring that the number of women in technology continues to grow. Women are intelligent, fierce, driven and logical -- our potential is limitless. If it's said that women hold up half the sky, then surely we are able to hold up to men and have a fair and equitable share in the IT work force. Because let's be honest, it's only logical!
MORE ON HUFFPOST: