By Jennifer Hollett
I'm helping build an alternative princess library for my niece, Lily. My sister told me about the idea, and asked me to buy such a book for my niece's third birthday. Since I already got her one of my faves, Canadian classic The Paper Bag Princess, I chose The Apple-Pip Princess.
The goal is to present bold, strong, independent role models (or alt-princesses if you will) in an attempt to take on the giant puffy pink princess glitter empire.
Well, I ordered the book online and it got lost in the mail. So I was e-mailing back and forth with the online book seller. In one of our exchanges he said my email account was sending him "18yo teen stuff that is very much inappropriate" and that maybe my account was hacked.
I panicked. Checked everything. Emailed friends to see if I was spamming them as well somehow. Then I realized -- my auto-reply!
As the moderator of the G(irls)20 Summit, I like to promote the summit everywhere I can, including my out of office reply, which simply read: "I'm in Russia right now with the G(irls)20 Summit. Picture the G20 summit, but run by 18 year old girls! You can follow us at facebook.com/Girls20Summit and twitter.com/girls20summit."
When I think of 18-year-old girls, I think of future leaders. But I guess we live in a society where 18-year-old girls are seen/framed as "barely legal" and the language of porn spam. Ugh!
My sister, who thinks a lot about the world her now three-year-old daughter lives in, recently shared this on Facebook (via A Mighty Girl).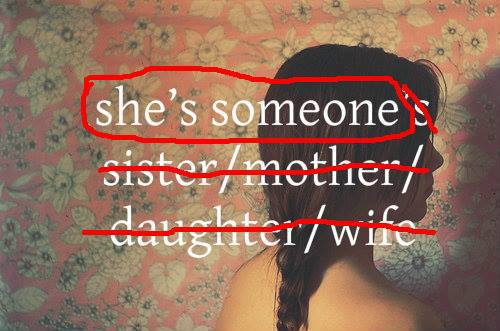 It made me think, how do we view women? Do we seem them as individuals? Agents of change? Artists? CEOs? Politicians? Leaders? Heroes?
I've been working with the G(irls)20 Summit since it started back in 2010, when the G20 came to Toronto. When I was first approached by Farah Mohamed (now the President of the G(irls)20 Summit) to get involved, I jumped at the opportunity.
Young women have so much talent and potential, yet are often overlooked. The G(irls)20 Summit is an opportunity to invite girls to the table, provide them with training and mentorship, and most importantly let them share their thoughts on issues that affect them and their communities. This year the conference themes were jobs, growth and investment and early forced marriage.
Every year at the end of the summit, the girls create a communiqué though hard work, debate and cooperation. In Moscow this year, they made the following recommendations:
-Encourage female entrepreneurship by creating publicly-backed incubators for female founded and led start-ups and incentivizing the creation of professional networks, especially in firms where women comprise less than 50 per cent of top management.
-Promote a parent-friendly workplace, with special consideration for pregnant women, by implementing equitable parental leave policies and mandatory re-entry programs to help women re-integrate into the workforce.
-Encourage grassroots projects that seek to protect girls and women from and in early forced marriage, such as community partnerships to influence social and cultural boundaries, and support networks to reduce isolation.
-Improve the medical support to girls and women to ensure that they and their families receive appropriate sexual education and care, including contraception and maternal mortality prevention.
And those are just highlights. Click here to read the full communiqué.
In a couple of years, as the alt-princess library develops and once my niece can read, I'll probably sneak in a copy of the G(irls)20 Summit communiqué. I can't think of better role models than our already very accomplished group of diverse delegates. And the best part about being 18? They're just getting started.
Jennifer Hollett is the G(irls)20 Summit Moderator. She hopes to see more women in politics and recently announced that she will be seeking the federal NDP nomination in Toronto Centre. @jenniferhollett