Studies have shown that parents have a strong influence on the way their children understand their roles in society. A study commissioned by Microsoft found that female students are more likely than males to identify "supportive parents" as an important success factor (50 per cent vs. 37 per cent).
I look back at the choices I have made and I see the influence of my parents -- their guidance, sense of justice, work ethic and generosity. I see their struggle and what it taught me and I see their sense of adventure and humour and how it has shaped me.
When you look up the definition of unconditional love in the dictionary, you will see a picture of my mom and dad -- so, every year when Mother's Day and Father's Day rolls around, I think about how to celebrate the two most amazing people I know.
This year we treated my mom to lunch, a nice piece of jewelry and her favorite gift -- a drawing from my six- year-old niece.
We hear a great deal about how mothers empower their daughters, and rightly so.
We don't always hear about how fathers play a role in empowering their daughters. My dad wasn't always around -- we came to Canada as refugees and my parents had to build a new life, so he worked a lot. He was also pretty strict. Now, with a few decades of wisdom setting in I understand that what he did, he did for us.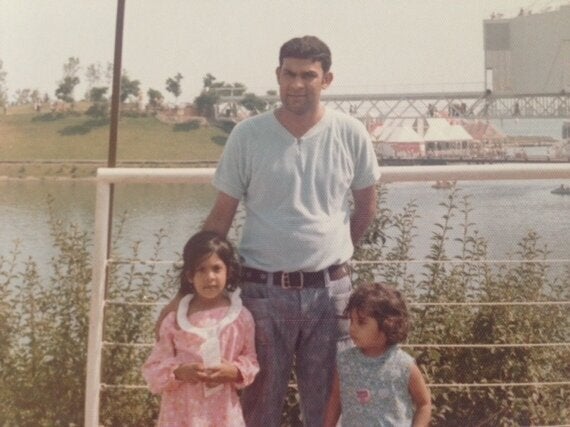 Aba, Amina and Farah Mohamed
He got me my first job at Mother's Restaurants -- shredding paper and then crunching numbers, this led to my first real job in an office, with my own desk, phone and set of responsibilities.
Way before I could vote, he taught me to care about politics. This probably had something to do with the way my mom and dad were expelled from Uganda in 1972.
Making me read the Globe and Mail and encouraging us to be engaged in our community led me to volunteer in the election for Paddy Torsney in 1993; by 1995, I was working on Parliament Hill with Paddy.
How do I thank my dad? This year, rather than a golf shirt (he doesn't play golf), a nice lighter (he no longer smokes -- yeah dad!), or tickets to the Jays (turns out he has a better source for tickets than I do), I am going to do what my parents told me to do if ever I felt over the top emotion. I am going to "use my words" and I invite you to do the same.
On the occasion of Father's Day, G(irls)20 is launching an online campaign to showcase how fathers empower their daughters, and how daughters feel empowered by their fathers.
What do Richard Branson, Quincy Jones and your dad have in common? They all have daughters.