Being a typical product of the public education system provided in Saudi, I've always dreamt of finding a job in the public sector after graduation. That is what almost everyone around me has as a plan after graduation. It wasn't until I participated in The U.S.-Saudi Women forum on Social Entrepreneurship, that I realized the importance of entrepreneurship.
Studies show that 78.3 per cent of female university graduates in Saudi Arabia are unemployed; thousands of women are graduate from universities each year. Those graduates fail to find jobs due to their area of specialization. The high rate of unemployment has its economical impacts considering that two thirds of the population is under 30 and more than half of those women. Excluding this big number of the work force has its major downfall on the economical development.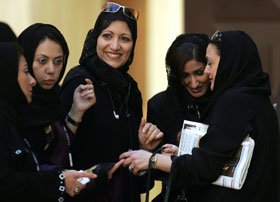 Having realized that, I totally believe that those women can contribute to the development if provided the means facilitating their logistical challenges. An online platform with the functions of linking job seekers with potential employers would ease the process. In addition to that and considering the social barriers that some of the female job seekers face, the platform would focus on providing different types of jobs where the options of working from home or conducting online job interviews can be available. The platform should be also an interactive one where sharing views and networking or even one to one mentoring can be also available.
By Merwa Abdelkader, 2013 G(irls)20 Summit Delegate, Representing Saudi Arabia
Merwa Abdelkader, 2013 G(irls)20 Summit Delegate, representing Saudi Arabia at the 2013 G(irls)20 Summit taking place June 15 -19 in Moscow, Russia. Visit www.girls20summit.com to watch the G(irls)20 Summit live.
Cities With Fewer Jobs Than Before Recession