Last week, I packed my swimsuit and headed to Miami, Florida. I'm sure it's hard to believe, but I didn't spend four days on South Beach simply for sun and surf. As someone who's been a working journalist and video content creator for more than a decade, I want to take my storytelling to the next level, particularly when it comes to telling the stories of black women. I want to be someone who helps change the narrative. The 20th anniversary of the American Black Film Festival (ABFF) seemed like the right place to cultivate creative inspiration. Was it ever!
I won't bother burying the good stuff. I attend two panel discussions that were probably life changing. The first was a conversation with rapper and actor Common, who served as ABFF's ambassador this year. The insights journalist Roland Martin pulled out of Common were utterly amazing.
Common straight up said his art is made for black people. "Black love is the most important aspect of my life. Black love and God's love," said Common. As I'm sure you know, Common won an Oscar with John Legend this year for their song "Glory," featured in Ava DuVernay's film Selma. Surprisingly, however, Common said he hasn't been inspired to create his own music for a while. He said it's just been within the past six months that he's found new inspiration through writer Ta-Nashi Coates, rapper Kendrick Lamar, the musical Hamilton, and the movie Straight Outta Compton. Common shared some of his new material with us and it was pure fire.
Here's a verse he dropped:
"You know we're from a family of fighters.

Fighting your wars and our wars.

You put a ni**a in Star Wars.

Maybe you need two.

And then, and then, maybe we'll believe you."
I captured a bit more of Common's new rhymes on video here.
I also had a chance to speak with Roland Martin one-on-one. He talked about increased demand for African-American content in order to feed a 24-hour pipeline in the industry. "Before you had your big studios, only had three broadcast networks, they had no outlets. Now all of a sudden you expand that with cable television, and now that grows more black networks, more networks targeting African-Americans," said Martin. "For those folks who have been doing films, been doing projects, they now have a larger market place for their products, whereas before this was a more insular deal. Now those same outlets are taking advantage of these sort of venues, because they need the content," he said.
Martin says ABFF is the place for black creators to push their platforms and to learn. "Coming here allows people to be able to communicate, to talk with, to talk with those individuals who've gone down this path; Folks who have experience dealing with financing, and dealing with distribution, and dealing with negotiation," he said.
The other truly phenomenal panel I attended was hosted by attorney and TV personality Star Jones for Nate Parker's film The Birth of a Nation. Let me just say Parker took the crowd to church. There were literal tears. His conviction is everything. "We need to be open to the idea that our narrative has been hijacked," said he. "We need to take it back."
Parker said he doesn't think African-Americans have confronted our history in a realistic way and says his film is a call to action. "I'm not concerned with how white people see us. I'm more concerned with how we've been conditioned to see ourselves," said Parker.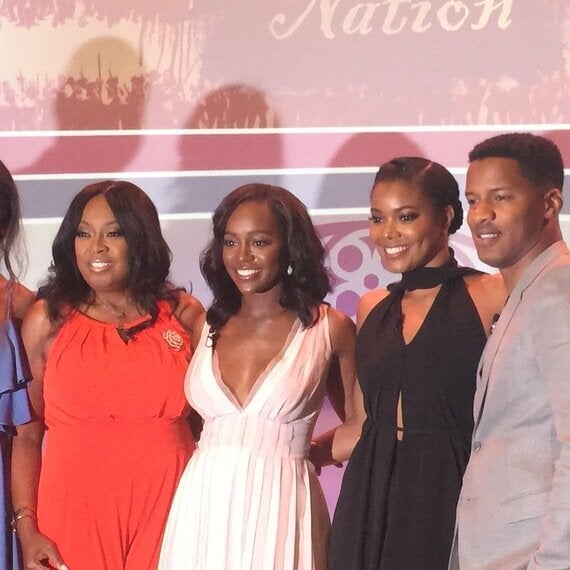 Star Jones, Aja Naomi King, Gabrielle Union, and Nate Parker. Photo by: Giselle Phelps
Parker was also joined on the panel with two of his female co-stars in The Birth of a Nation, actresses Aja Naomi King and Gabrielle Union. Union talked about how she doesn't take jobs for money anymore. She said she's more interested in feeding her soul, and creating jobs for black peers in Hollywood, than she is in chasing paper. It was an incredibly candid and powerful dialogue.
I was super excited to find black Canadian actress Andrea Lewis at ABFF. Lewis who is probably best known for her role in Degrassi: The Next Generationwas at the festival with her web series called Black Actress. She talked about the important role ABFF plays. "It supports actors, creators, writers, filmmakers of color and we need more outlets like that. We don't have a lot of them, so to have one that I think is on the professionalism, and on the magnitude of the American Black Film Festival, it's so necessary," Lewis said.
She also talked about creating opportunities for other black Canadian talent. "I still do work with black Canadians. I still bring them [along], like Allison who is my co-star. We film the whole show in New York, but I bring her from Toronto to New York to film with us, so you still kind of represent how you can," said Lewis.
The need to collaborate with and support black creators across the diaspora was a reoccurring theme throughout ABFF. "At the end of the day, we don't need to wait on anybody. We just have to be our people, our own bosses, give our own opinion on what we like and what we don't like. Not having to wait on everybody else to tell us what's good and what's not good," said Haitian actor Jimmy Jean-Louis, who was at the festival premiere his new film Everything But a Man. Jean-Louis said black creators need to recognize our collective power. "I'm talking about the black people here, the black people from Africa, the black people from South America, the Caribbean, if we could somehow find a way to unite, we'd be extremely strong," he said.
This is something hip hop artist and activist David Banner touched on too when I caught up with him. "We beg for people to give us space, but I disagree with that. I believe we should create our own space," he said. Banner also said having our own networks isn't enough. He thinks black creatives in film and television need to build an entire system. "Black people spend trillions of dollars and we affect fashion and television all over the world. Imagine if we created that power," said Banner.
I've been to Miami Beach several times over the years. This is the first time I've left Miami with more than a golden glow and drunken memories. This trip to Miami left me motivated to be bold(er) and unapologetic in my blackness. Sure the dips in the Ritz Carlton pool, the cocktails I sipped on at the Catalina Hotel, and the fancy dinners with friends at The Setai were nice, but this festival experience was deep. It's kinda of cliche to say the time is now, but it really is. Actor Deon Cole who stars in ABC's hit show Blackish told me, "It's a good time to be black on television right now and that's why I'm here to support," he said.
It's one thing to hear things anecdotally, but this ABFF experience really showed me that it truly is an important time to be black creator, period. I plan to answer Nate Parker's call to action, take my ideas off the back burner, and do some work. It would be a hot mess if I didn't! We all know it's gonna take fresh perspectives to keep this train moving. I'm on board and thankful for the inspiration.
Follow HuffPost Canada Blogs on Facebook