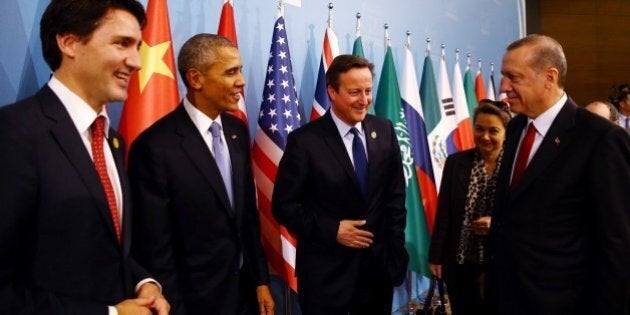 It's fortuitous that a series of summits for world leaders have come directly on the heels of the Paris attacks. It's not just the presidents and prime ministers themselves, but their experienced support researchers and bureaucrats that are surely working overtime in light of the recent crisis.
For Canada's Justin Trudeau, the reality of jumping from the skillet of an election campaign into the fire of world diplomacy and emergency response must be something of a foreboding transition.
And yet he has brought an aura of freshness and innovation to the G20 that likely couldn't come at a better time.
On issues ranging from the refugee crisis to climate change, Trudeau had already fired up many of his policies on these issues during an election campaign in which such files figured prominently.
His idea for branding Canada's global influence under a new, more refined lens of international cooperation, gender equality, education, and diplomacy must come across as a bit of fresh air compared to the previous decade.
Everyone has an opinion on everything these days, especially on the urgent issues facing the world at present. I thought maybe my advice to our new PM would come in a series of quotes from people who knew a thing or two about politics, diplomacy, leadership, progress, and history. Maybe these will help.
"If your actions inspire others to dream more, learn more, do more and become more, you are a leader" - John Quincy Adams
"Without a global revolution in the sphere of human consciousness, nothing will change for the better, and the catastrophe toward which this world is headed - be it ecological, social, demographic, or a general breakdown of civilization - will be unavoidable" - Vaclav Havel
"Ethical politics is not only desirable. It is possible" - Havel again
"There is an alternative political reality to the one we have created. It is where the 'will to power' yields to the 'will to humanity" - Dag Hammarskjold
"Sometimes I wonder if we shall ever grow up in our politics and say definite things which mean something, or whether we shall always go on using generalities to which everyone can subscribe, and which mean little" - Eleanor Roosevelt
"Negotiations go on for hours, for nights on end, before agreement is reached on what is generally the lowest common denominator" - Sadruddin Aga Khan
"We, as individuals, as human beings, in whatever part of the world we happen to live or whatever culture we happen to belong to, are totally responsible for the whole state of the world" - Jiddu Krishnamurti
"Vision without action is a daydream. Action with vision is a nightmare" - Japanese proverb
"Are all humans human? Or are some more human than others?" - Romeo Dallaire
"Let people realize that every time they threaten someone or humiliate or unnecessarily hurt or dominate or reject another human being, they become forces for the creation of psychopathology, even if these be small forces. Let them recognize that every person who is kind, helpful, decent, psychologically democratic, affectionate, and warm, is a therapeutic force, even though a small one" - Abraham Maslow
"At a time of intensifying global anxiety, I believe the people of the world are crying out for profound and inspiring leadership equal to the challenge we face" - Prince Zeid bin Ra'ad
These are historical voices formed into one voice, reminding our leaders that humanity deserves every chance and that politics without it is a fabrication of power. Justin Trudeau can remind his peers that his own country was built on the foundation of fairness, equity, prosperity, justice, and generosity and that it is time for the tired old global political order to renew its commitment to these principles. Perhaps he can leave them with a final quote by Hammarskjold: "It is when we play it safe that we create a world of utmost insecurity."