As we witness over half a century of traditional world order fall into disrepair, the fallout that occurs from a lack of solid alternatives is blatant and troubling. There are the usual revealing suspects: democratic decline, expanding gap between the rich and poor, environmental decline, growing unemployment or underemployment in affluent nations, the resurrection of Cold War sabre rattling, the inability to rein in terrorism, the heated rhetoric of right-wing nationalism, rising waves of refugees and a growing sense of uncertainty regarding the future.
Workers unload emergency aid from a UNHCR-chartered aircraft in Mogadishu. (Photo: Scott Goddard/Reuters/UNHCR/Handout)
Then there are those tragic effects of international disenchantment that fly below the radar but affect the lives of hundreds of millions of people, usually innocents. And because we frequently remain unaware of such developments we leave these victims on the edge of obscurity and eventual death.
This was pointed out again last week by a Washington Postarticle dealing directly with the news that after urgent United Nations appeals to four international hunger crises, "the money didn't arrive." It would be difficult to overestimate the importance of these appeals from the UN's perspective. Over 20 million people could starve to death if a proactive global response isn't forthcoming.
All this just for four countries: South Sudan, Yemen,Nigeria and Somalia. These are only the most serious cases; other regions around the globe continue to suffer serious hunger issues.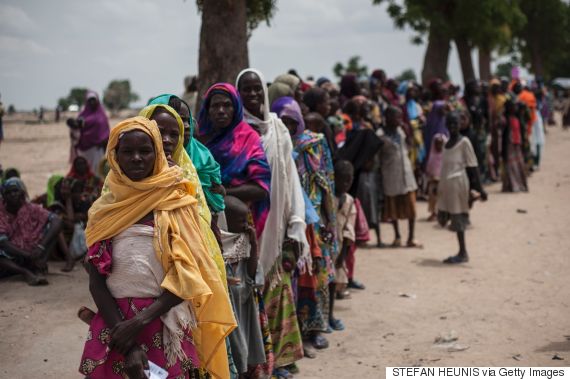 Women and children waiting in a queue to a nutrition clinic in in the outskirts of Maiduguri, northeastern Nigeria. (Photo: Stefan Heunis/AFP/Getty Images)
So how bad was the response to the UN's special appeal? Pretty bad, actually. The UN target of $6.1 billion resulted in a response of only $2.2 billion -- one-third of what was called for, according to the Washington Postarticle. The world has become so distracted by living in a state of perpetual crisis and confusion that we overlook the reality that one Yemeni child dies every 10 minutes without assistance.
This matters to us, but it's all happening during a time where poor response isn't so much due to donor fatigue as it is to the fact that many feel that little they can do makes any difference:
"They can't heal their own domestic politics."
"Their standard of living is stagnant and they can't climb to the next economic level."
"Blue boxing seems so insignificant compared to Antarctic ice shelves the size of Manhattan breaking free or ocean levels rising."
Despite their best charitable impulses, citizens watch as poverty grows, mental-health cases mushroom and jobs vanish. In such a setting it remains hard to believe that individuals can make a difference.
The greatest challenge is helping people to see that their generosity will make a difference.
Except they can, of course. One Canadian family's donations can keep a Somali family alive. Even the gift of $10 dollars per month can give a Southern Sudanese child a clear shot at graduating from primary school. A similar gift can provide clean drinking water for an entire family.
We forget all this when numbers in the millions swamp us and shock our senses. And yet it is precisely because such small but important investments in humanity go missing that the huge appeals like those of the United Nations become essential. Our world has broken places filled with broken people merely attempting to survive. And donors express credible concerns that conflict and corruption remain barriers to giving. All this is true, but the greatest challenge is helping people to see that their generosity will make a difference -- at present, people are increasingly inclined to doubt it.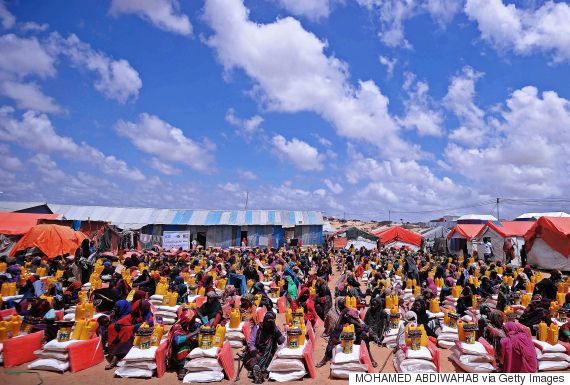 Displaced Somalis wait for food aid at a distribution centre outside Mogadishu on April 6, 2017. (Photo: Mohamed Abdiwahab/AFP/Getty Images)
To blame Nigerian, Yemeni, Southern Sudanese and Somali governments for failing to deliver on their responsibilities to their own citizens is legitimate, but millions of generous donors in affluent nations are growing increasingly disillusioned by their own governments, to the point where they wonder if government can make any different at all.
That doubt often evaporates when one sees a desperately poor African family gain a foothold on the future by acquiring the most simple of educations, clean water or enough nutrition to maintain health. Mother Teresa used to say that "if you can't feed 100 people, feed just one." This is now our greatest challenge -- to believe that our own efforts matter even in a world of great confusion. To express faith in a single act of generosity in a world that has lost its way is to pay a down payment on the essence of humanity.
Follow HuffPost Canada Blogs on Facebook
Also on HuffPost: