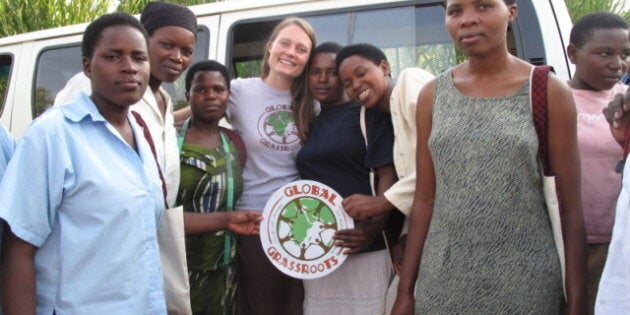 Our last blog post dealt with the digital divide in Africa, especially as it pertained to women and their value to their respective societies. A number of NGOs have since contacted me to express that this has indeed been their experience, as they seek to support women's programs in societies that have been primarily male-oriented. But this is more than just merely about cell phones and their rapid growth throughout the continent. It also concerns the Internet and its capacity to propel women into the future.
For example, an NGO in Argentina -- PRODEMU -- trains young women from poor rural areas in the use of the Internet for improving the design and marketing of their handicrafts. By creating a web page, improving the packaging, and learning to market, they have increased their sales substantially. A side benefit is that it had kept the young women employed in their own communities rather than migrating to work in other locales, especially strange cities where they are especially vulnerable.
Another inspiring example is occurring in Uganda, where the United Nations, in partnership with the local Ministry of Health and the district authorities, has started a project called RESCUER, with the objective of reducing the country's high maternal mortality rate (506 per 100,000) by improving local care and referral systems. Digital communications have been established at base stations, health units, and mobile medical units. Birth attendants have been equipped with portable radios, which increased their stature in the community and developed trust among village women. Rural health personnel are now able to call and give practical advice even when there is no transport available -- a significant improvement. The project is being replicated in three districts and there are plans to extend it to 30 more. Best yet, the mortality rate has begun to drop.
In everything from the prevention of HIV/AIDS to small-scale farming; from primary education to frontline health services; and from women's empowerment to understanding nutritional needs, digital technologies can provide the platform from which a remarkable array of development work can be accomplished. In South Africa, female mayors are teleconferencing over the net and finding solidarity. In India, certain districts are training village women to get on the Internet to avail themselves of government services that will help them with their health and families. In Bangladesh, where this writer spent much time, the Internet and cell phones have become powerful prevention tools against the spread of violence towards women. In the Caribbean, female organic farmers are learning the complexities of growing crops through the assistance of the Network Intelligence for Development -- a Canadian NGO determined to assist women to develop their entrepreneurial potential. Women's groups in Malawi raised funds for their various groups through sharing the management of Internet cafes through NGO seed funding.
In almost every area where the potential for women lags behind that of their male counterparts, the digital age is already a present reality. While other major development initiatives -- schools, medical clinics, roads, human rights laws to protect women -- will take years to reach their potential, the digital age lies as a present powerful tool to assist women.
The Canadian International Development Agency (CIDA) has been recognized worldwide for the in-depth work on women's issues around the world. Despite having fallen on hard times as an agency, it yet has the potential to lead the rest of the aid and development community in putting the new digital age in the hands of women. Information strategies specifically recommended by researchers for women should be both hearkened to and implemented by Canada's official development agency.
Wherever women from poor and destitute nations have been able to latch on the Internet's powerful abilities, they have been able to overcome historic obstacles in remarkably sort periods of time. By giving women the ability to surf the net, communities, families and, yes, women themselves, will benefit as a result of that opportunity. To traditional development work must now be added the wonders of the digital age.