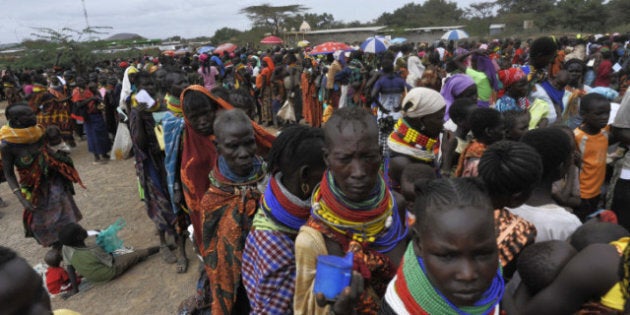 Since appeals first went out for donations to the east African famine, relief agencies have reported that approximately $16 million has come in so far. Canadians have again responded generously, as in the past. The figure for Britain, however, stands at £45 million in public donations. Why is that? The UK's larger population (almost twice that of Canada) explains some of it. Yet £45 million is the equivalent of roughly $75 million Canadians dollars -- quite a difference.
Put bluntly, while Canadians can stand toe to toe with any other nation in regards to generosity and sympathy towards disaster relief situations, it is our lack of organizational ability to combine our efforts that fails to leverage the kind of total donations the Brits can muster. Then again, our British counterparts have had their act together on large-scale donations for a half-century.
That country's Disaster Emergency Committee got its start in 1963 and has fine-tuned its collection, education and disbursement practices through ongoing reviews. Canada, on the other hand, has taken a more scattered approach, leaving it to non-governmental organizations to mount their own appeals in a more haphazard fashion. The larger relief and development organizations have an automatic advantage in an international crisis due to their more extended reach, communications abilities (websites, donations online, etc.). But the DEC has recognized that some of the smaller agencies have expertise in certain niche areas and has brought them into a cooperative collection and education effort that leverages far more donated funds than they could manage individually.
In my last post I considered a fledgling Canadian organization that mirrors itself on the DEC model -- the Humanitarian Coalition. "Fledgling" is likely too trite a definition for such a group, since its membership is made of some of the most seasoned and effective relief organizations in this country (CARE Canada, Oxfam Canada, Oxfam Quebec, Plan Canada, Save the Children Canada). They have been on the ground in Somalia years before this present famine hit and have experienced great success at getting donated resources to the people that need them because of their knowledge of the region.
The Humanitarian Coalition came out of the blocks quickly, as soon as the famine began to take on emergency status. It wasn't easy. The day the it launched its appeal (July 6) just happened to occur at the same time as the Royal tour in Canada. The media was besotted with the British guests, forcing the Humanitarian Coalition to struggle to raise the profile of the East Africa crisis. That steadiness bore fruit as the media soon began to cover the human tragedy on a more regular basis. CTV spread the news across its vast network, and Global TV furthered the Humanitarian Coalition appeals through its specialty channels. Both broadcasters have been running spots for free ever since. Corporate sponsors responded to the challenge, led by Bell Canada's impressive donation of $250,000. Bell presumably selected the Humanitarian Coalition because of its ability to spread the donation amongst more groups. Humanitarian Coalition's executive director Nicholas Moyer noted that the funds would go towards "clean drinking water, food for malnourished children, shelter, and medical attention to families."
All this confronts us with a difficult reality: why is there not yet in Canada a full-fledged joint appeal, as in Britain? Why do so many other organizations prefer to compete? There are numerous answers to those questions, but the outcome is what we are interested in here -- fewer funds donated. Everyone is in this to assist the struggling families in East Africa, but wouldn't it therefore make more sense to join forces and help as many as we could?
Instead of competing with each other for donations, Canada's charities should look at ways to improve their collective ability to mobilize Canadians. If they all worked together, all of Canada's media could offer free media coverage, thereby cutting administrative costs. Speaking to Canadians with one voice makes sense, and would take the guesswork out of giving for Canadians.
If Canada had a joint appeal system in place like in the UK when the crisis erupted, it's likely that over twice the amount of funds would have been donated for disaster relief by now. Administrative costs would have been a fraction of what they are at present. And Canadians would have had the comfort of knowing that organizations and their government were in cooperative mode.
Many Canadians already give through their own trusted organizations and that's a practice that should continue. But if those who stop me every day, asking who they should donate to are any indication, the majority of Canadians require direction and assurance that their generosity will count. The Humanitarian Coalition is the way of the future and you can help provide Canada a far more harmonized response if you channeled your donations through its network of experience and expertise.