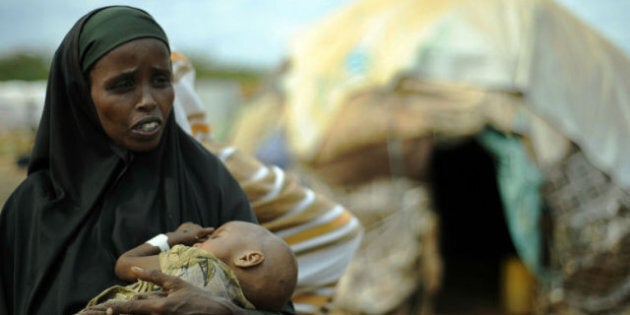 Nicholas Moyer is one busy guy. The famine in east Africa has more than dominated his time as he helps to coordinate much of the $16 million dollars given so far by Canadians (the federal government will match that amount) for the challenged region of Africa.
Tall, fairly young, and with a serious disposition, Moyer is one of the new generation of development workers whose exposure to Africa has provided him with a certain gravitas and savvy that suits the challenges of today's relief challenges. He is presently executive director of the Humanitarian Coalition in Canada. Regarding the worry that donated funds might be intercepted by rebels he provides a seasoned reply:
"Our charities have been on the ground in these afflicted areas for decades. There is no risk that the funds and aid will not get to them (refugees). We are in the hardest to reach regions of Somalia already; the work is being done. All were need are donations."
Moyer is in the vanguard of a new way of looking at disaster emergency relief and how to respond to its numerous challenges. He first introduced me to the new possibilities while in my parliamentary office two years ago. His ideas immediately caught my attention.
The Humanitarian Coalition is a group of five seasoned NGO organizations (Oxfam Canada, Oxfam Quebec, Plan Canada, CARE Canada, and Save the Children Canada) who just happen to believe that by working together on issues like the east Africa famine that they can get more done. But it's what they offer to confused Canadian donors that might well prove their most pivotal contribution.
I believe that the Humanitarian Coalition looks to Britain's Disaster Emergency Committee (DEC) for inspiration and if implemented could well revolutionize how Canadians respond to the global disaster challenges. Formed in 1963, the DEC brings together a few key humanitarian organizations with various levels of expertise. There are criteria they must fulfill if they are to acquire public or private funding and also face reviews of their performance. It has a Rapid Response Network that meets regularly and prepares for the next catastrophe that might happen. You might be surprised at some of its members:
• Partners in the corporate sector
Because each disaster is different, the Rapid Response Network of the DEC develops a unique implementation plan with its partners for each incident. When it is determined that a national fundraising campaign is warranted, they kick their well-prepared plan into gear. A permanent British version of a 1-800 number is publicized across all main media channels at the outset of the appeal. People can phone and state how much they wish to donate and are assured that ongoing reviews will be sent to them guaranteeing that the funds are distributed and targeted. The media coordinates its messages so that the public gains a comprehensive grasp of the emergency and the relief efforts.
The DEC has become a brand -- trusted, ever there, and kept accountable by numerous overseers from various sectors. When citizens donate their funds they are receipted almost immediately. In post offices, bookstores and train stations -- most places the public frequents -- they can pick up free pamphlets on the particular country that is the focus of attention for the appeal. Citizens are treated intelligently, like partners, and get accountability for their efforts. The DEC is run by a board of trustees who have agreed to limit the partners of the organization to around 15 -- keeping it manageable and accountable, but fluid enough to respond to emergencies. Member organizations are reviewed on a three-year basis for their effectiveness and new members are encouraged to apply.
The reach and success of the DEC have been impressive. Banks provide over-the-counter facilities, organized through the British Bankers' Association. British Telecom provides the phone network for credit/debit card donations, and BBC Worldwide Audiocall manages 6,500 lines that also facilitate the response. The Post Office and Royal Mail provide over-the-counter donation facilities and a PO Box address so that postal donations can be routed quickly.
There is so much more the DEC offers, but you get it. It is a remarkable network, capable of generating millions of pounds in a very short period of time and delivering those funds directly to the field. Given our recent controversies in recent large-scale relief efforts, it's just the kind of thing Canada needs and Nicholas Moyer and his friends are seeking to deliver it. In the next post we'll examine how that might work and why some NGOs won't be too happy about it.