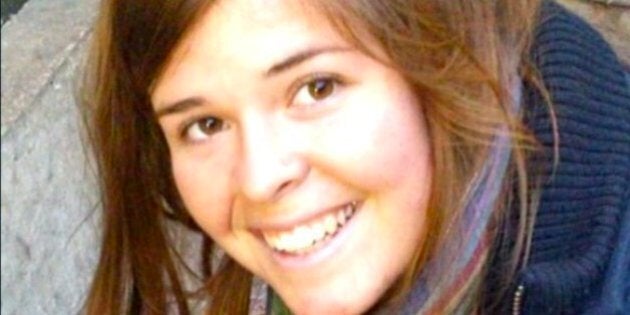 "We cannot be sure of having something to live for unless we are willing to die for it," said Ernesto Guevara. If indeed true, then Kayla Mueller would have spent her final hours in deep assurance and firmness of conviction.
Mueller's death while under ISIS captivity was a situation full of irony. When ISIS officials, in a letter to her family, claimed that their daughter died from a Jordanian airstrike, the world looked on in disbelief since she had been held captive by ISIS forces since 2013. Her tragic death was due to their barbarism first and foremost, and the fact ISIS officials confirmed Mueller's death through photos only reminds that one party alone is responsible for a senseless death and a tragedy almost too deep to bear.
The greatest irony of all is the manner in which this courageous young 26-year-old out-reasoned and out-championed her captors till the very end. For one so young, her sense of compassion, commitment, and desire for justice for all people showed a remarkable maturity. She was a brave woman come to terms with her plight and yet proclaiming the need for the freedom of all people. We know all this because we have it in her own words and insights.
"I have been shown in darkness, light, plus I have learned that, even in prison one can be free," she wrote in her final letter. "I have a lot of fight left in me," she continued, "and I am not breaking down. I will not give in no matter how long it takes ... I know you would want me to remain strong. That is exactly what I am doing."
These were the words uttered near the end of her life. Just as revealing were those she wrote to a friend just prior to her capture over a year ago. They represented her reason for being in Syria in the first place and stand in direct opposition to the values of her captors.
"Every human being should act. They should stop this violence. People are fleeing. We can't bear this. It's too much. I hope you (her friend Kathleen Day) can tell the entire world what I've said here and what I've seen."
What her life couldn't fulfill, her death has accomplished -- we are reading her challenging insights now and her passing is gripping an entirely new generation. Responding to her friend's words, Kathleen Day noted, "They tried to silence her. They locked her up. They kept us silent out of fear. But now she's free."
For those relief and development workers serving in anonymity in some of the world's most troubled areas, Mueller's death is a sobering reminder of their own tenuous circumstances. And yet they are there, acting out a compassion and sense of justice that most of us will never discover.
Mueller herself was no novice. More than most, she committed her life to helping others. At home in Arizona she volunteered in a women's shelter and worked at an HIV/AIDS clinic. Then she branched out overseas, working with humanitarian groups in Palestine, Israel, and northern India. She was captured attempting to rescue troubled families in Syria.
In a phrase, Mueller knew what the consequences could be. And yet she went and she thrived in serving humanity in some of its deepest places. She "showed us that even amongst unconscionable evil, the essential decency of humanity can live on," said President Obama upon hearing the news of her death.
This world will never get better if we merely observe. In Kayla Mueller we have discovered the very courage it will take to make this world better for our children and other people's children. Her religious faith helped to carry her through until the end. Whatever it is that strengthens and inspires us, we must now use it to act on this remarkable woman's words: "We can't bear this. Every human being should act." Those who respond to her clarion call have now been given a most marvelous example of human dignity, conviction, and compassion. God bless every memory of you, Kayla Mueller.