In the modern era, the abiding belief has always been that war and conflict were vestiges of the past and that peace was the progressive option for moving humanity into a more secure future. That sentiment is now under assault.
It's troubling to think that armed conflict is in a more progressive mode than peace initiatives at the moment. While the great wars have all but disappeared in the new millennium, regional conflicts have emerged with a troubling vengeance. The death casualties in these conflicts have grown so high that many are talking about the potential for these regional conflicts to rival the sheer human cost of the great wars of the past century, especially among civilians.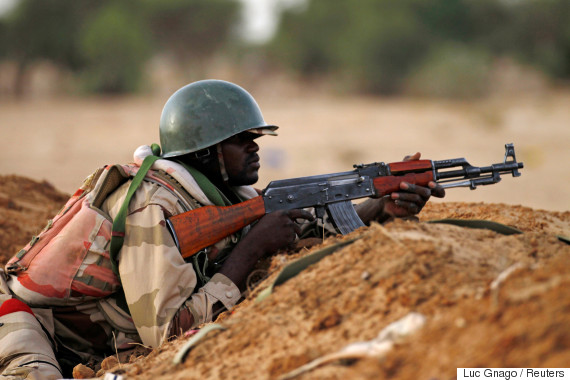 A Niger soldier points his weapon at the border of neighbouring Nigeria, near the town of Diffa, Niger June 21, 2016. (Photo: Luc Gnago/Reuters)
Consider the African continent alone, where millions have died in the Congo, both Sudans, Nigeria and Algeria, among others. In 2014, Africa experienced more than half of worldwide conflicts despite having only 16 per cent of the world's population. The revelation that African conflicts are actually on a gradual decline does little to assuage the sense that the casualties of such conflicts are unacceptably high.
When one adds the sheer human cost in lives in Syria, Iraq and other countries in those regions, there is the growing sense that war is overtaking peace as the default method for how countries interact with their neighbours. And the larger-scale saber rattling of the larger players in recent months -- Russia, North Korea, Iran, a more bellicose America -- threatens to resuscitate the Cold War, which we thought had ended three decades ago.
The United States must greatly strengthen and expand its nuclear capability until such time as the world comes to its senses regarding nukes

— Donald J. Trump (@realDonaldTrump) December 22, 2016
War is quickly becoming more "progressive" than peace due to rapid advances in technology. High-tech intelligence gathering techniques, drones, laser-guided missiles, advanced fighter jets and bombers flown almost exclusively by computers, night-vision weapons for both the ground and the air, or even the lower-grade but steadily advancing improvised explosive devices (IEDs) used by homegrown terrorists -- such weapons of conflict represent serious new threats to the new era of peace that billions had hoped for only two decades ago.
Against all this the question must be asked: is peace truly able to keep up with these renewed forms of warfare? Certainly, great efforts are made each day by NGOs and the United Nations to develop more sophisticated methods for pursuing peace. Perhaps the primary activity at the moment is the development of women's programs around the world, since statistics are increasingly making the case that the greater the involvement of women in leadership roles in troubled areas, the less likely will armed conflict become the default response to any kind of disagreement.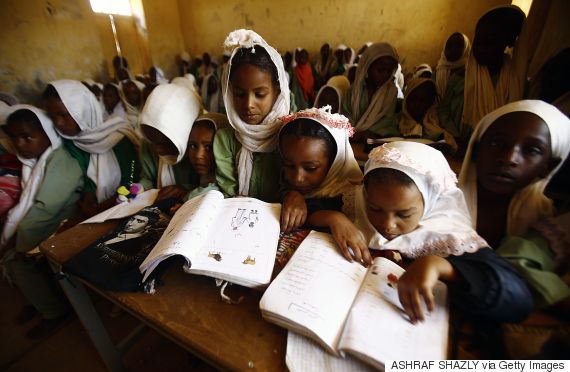 Sudanese girls sit in a classroom at the El-Riyadh camp for internally displaced persons (IDP) in Geneina, the capital of the state of Sudan's West Darfur, on Feb. 8, 2017.(Photo: Ashraf Shazly/AFP/Getty Images)
Environmental efforts to sustain water supplies, the development of more durable crops, increased opportunities for education, and enhanced legal efforts to restrain the spread of used weaponry around the world, are all vital and must be pursued with greater vigor. Yet the sense remains, much of it insidious, that war, in all its facets, is making a resurgence.
Humanity is now facing the two great questions it has historically confronted for thousands of years: is peace worth it, and will we pay the cost to sustain it? It's becoming increasingly clear that the first is unsustainable without the second. We slide back into conflict the moment we fail to fight for peace. Even Shakespeare worried about peace in his time, saying that it was "naked, poor and mangled."
As long as we keep it in such a condition it can never prevail. By always making peace about security instead of the building of a strong civil society, we have left ourselves without the tools and empowered citizens required to put peaceful impulses in the very sinews of society, not just its border regions.
The temptation for conflict will always remain our steady companion.
Not all that long ago, peace was viewed as the occasional pause between a long lists of conflicts. If we aren't careful, we will soon be in danger of replicating such a timeline. Peace becomes an investment in what we can accomplish; war morphs into everything that we can lose. As long as peace remains under the influence of generals, politicians, even bureaucrats, it will forever be traded off in favour of others pursuits.
The time has come for peace to be democratized -- the place where citizens themselves infuse peace itself with humanity instead of statistics, weapons and endless angling for advantage. "Peace cannot be kept by force; it can only be achieved by understanding," wrote Albert Einstein. We have yet to truly learn that lesson, and until we do, the temptation for conflict will always remain our steady companion.
Follow HuffPost Canada Blogs on Facebook
Also on HuffPost: