After three days of consideration, dozens of articles read, and hours of conversations had with friends and peers, I will not #banbossy.
On Monday morning, a fellow business woman and friend of mine tagged me in a Facebook post about the Lean In organization's latest initiative: the #banbossy campaign. Within minutes, I was tagged again, and then again on another friend's Facebook post, about the need to "ban the 'b' word" and join the cause.
As many reasonable woman would do, I considered the invitations carefully, and was honoured to receive them. I am also one of those people who raises a glass to toast all peaceful efforts to make a difference on the planet, even if I'm not the biggest fan of the approach. So, as I read on and explored the #banbossy videos further, I couldn't deny my sense of heart-break and disappointment.
Although the campaign execution and commitment to girls is grand, I was disappointed that of all the words chipping away at our self-esteem everyday, that "bossy" was being sentenced to exile by powerful and recognized women. I can think of a much more destructive "b" word used daily, as a slang, in popular music, and by women alike. I was heartbroken that some of the world's most influential women thought young women and girls to be so timid, that being called "bossy" would derail their leadership potential and ambition. When I look at women and girls today, I know that we're all much stronger than that. We can do better than that, and being called bossy is not what's stopping our ambitions.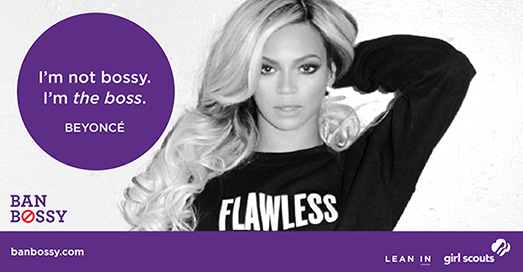 Unfortunately for all of us, banning words only mutes the systemic and cultural norms that are actually responsible for social inequalities. It's not about banning words for me, it's about encouraging open conversations and supporting both men and young boys in redefining gender norms together. That's why I started this conversation back in 2011 publicly, through a blog I called My Kinda Woman, My Kinda Man. And today, I'm the Amazon.ca best-selling author of BYOB: The Unapologetic Guide to Being Your Own Boss, at the age of 29. I wrote this book for both young women and men, and my deepest desire is that it is read by as many of both as possible.
In an era when each of us can be our own media publishers (yes, that's the power of blogs, social media profiles, networks and subscriber lists), when we don't have to rely on traditional media giants, corporate sponsorship or political allegiances to influence others, why are we still focused on censorship? Why not focus instead on discussing the alternatives, or leading by example? That is the most powerful call to action: being living examples of our message, representing diverse people and perspectives, and choosing our words with intention.
If you ask me, it's not about #banbossy, it's about #byob: being your own boss. And if you're interested in how to do that and want worksheets and guidance, pick up a copy of my book. Of course I want you to buy my book. What kind of boss or author would I be if I didn't? But this is more than a bold plug for my book; it's something I'm passionate about beyond measure. I spent years of my life and thousands of dollars invested to make it happen. And, I didn't start my blog My Kinda Woman My Kinda Man because I had nothing better to do. I did both to empower young women and men, Millennials like me, to be unapologetic about who they are, about their leadership, and to define for themselves what it means to be their own bosses.
My book is about entrepreneurship and self-esteem, two important areas of life that I believe empower women to believe in themselves and take action much more, than a word ban.