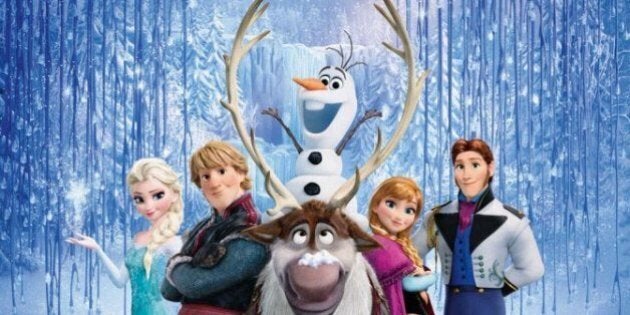 Dear Kristin Anderson-Lopez and Robert Lopez,
First of all, let me congratulate you on your success. A hit Disney movie, two Oscars, an American Music Award, a big single...it's wonderful and awe-inspiring. And well-deserved! You guys write quality music that happens to be catchy. Really catchy.
I think I can speak for all parents when I ask you to never compose music for a children's movie, ever again.
You have that rare talent of being able to pair well-crafted hooks with easy-to-remember lyrics. You are the best kind of pop writers -- the kind who aren't pop writers at all, but instead, brilliant composers -- and you found yourselves making the most successful original animated movie of all time. It was the perfect storm.
And while that makes Frozen great for the children who watch it and want to be Elsa, because they, too, can sing "Let it Go" by heart after just five viewings of the movie, it doesn't bode well for the parents. The parents who have now heard "Do You Want to Build a Snowman" approximately 88 times now, during repeated playings of the movie, and another 1,053 times from their preschooler's mouth, since it began snowing this winter. And that's the thing.
If it were just my children that were singing it, incorporating it into their everyday lives, I wouldn't mind that much! I mean, I love hearing my daughter sing. It's adorable. And after years of being a singer myself, I love listening to her little voice, and I would never ask her to stop.
But it's not just them. It's me, too.
I can't stop singing lines from Frozen. In fact, I can't turn the music off inside my head. All day long, I hear:
"Love is an open DOOOOOOOOR (dooo-ooo-ooo-ooor!)"
What do you mean you're not?
I get the feeling you don't know...
Arendelle's in deep deep deep deep...snow."
On repeat. And I'll admit that I kind of love it. But I hate that I can't turn it off. It is a crazy-making, Guantanamo-Bay-torture-tactic type of scenario. And, naturally, the moment I finally get those little phrases out of my head and breathe a sigh of relief, my daughter waltzes into the room singing "in SUMMMMEEEERRRRRRRRRR!!!!" at the top of her lungs, and it's all over.
So let's make a deal: you can continue to make money off the residuals from Frozen, for all eternity (because this movie isn't going away any time soon), and everyone will continue to walk around singing your glorious ear-worms, okay? You can even revel in the new Frozen short that comes out with the Cinderella movie this week, and will likely be the most downloaded short film ever, when it becomes available on iTunes.
But you have to promise that you won't work with Disney, ever again. Seriously. Go write something for Broadway, where your talents will be appreciated, but there won't be any toddlers to hear your music.
You guys are a**holes. Talented a**holes.
Glynis Ratcliffe, mother of a three-year-old Anna-in-training.