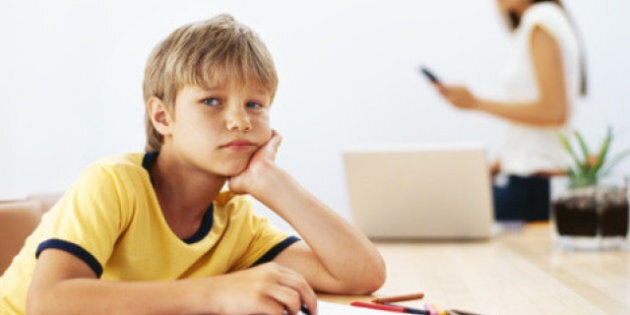 As the 10 year anniversary of the Sept. 11 attacks approaches, television programs, radio shows and newspapers around the world are, in some way or another, marking the day. While film montages and personal anecdotes hit the airwaves, people are pausing to remember the lives lost, and to revisit that fateful morning in New York City, Arlington, Virginia, and Shanksville, Pennsylvania.
Sanctioned or not, children are inevitably exposed to some form of imagery depicting the events of Sept. 11. For parents, caregivers and educators, talking about 9/11 is particularly challenging for a number of reasons. First, for many people in North America, the events had a personal impact -- either through geography, family or friends -- bringing this tragedy much closer to home than, for example, the massacre in Norway over the summer.
Second, even after 10 years, the sequence of events remains unbelievable. How does one explain something while still dwelling on the shock? Lastly, the subject matter is far from G-rated so while children may be exposed to video of the Twin Towers ablaze, it's difficult to find the words to describe why an airplane was hijacked and deliberately crashed into a New York City landmark. Defining a hijacking in and of itself seems ominous enough.
Having spent a fair amount of time communicating news and current events to children, I have found the following approach to work.
1) Know Your Audience: What one parent or caregiver may communicate to one child may not necessarily be suitable for another.
According to Dr. Jen Hartstein, a child, adolescent, and family psychologist in New York City, "Age is not the only thing to consider when talking with your children. It's very important to think not only about your child's physical development but their emotional development as well. Your older child, who you might expect to be okay in talking about these events may have a much more difficult time than your younger one. Adapt your conversations to the individual, rather than speaking in blanket terms."
Consequently, in dealing with a catastrophic event such as the events of Sept. 11, one has to strike a delicate balance between answering the perennial 'why' question and managing the emotional capacity of the child.
2) Communicate the Facts: Present the raw facts in a sequential and logical manner and start a conversation with your child. See what judgments your child forms on his or her own and then use those indicators as a guideline to navigate the conversation. The exchange will lead to some understanding of the facts and in turn, may answer some questions.
3) Manage Anxiety: Children will immediately try to put the facts they are presented with in a context relevant to their own lives. Will this happen to me?
Dr. Hartstein believes that "you have to find out what it is your children really wants to know, identify what scares him or her, and address it. It's easy to provide too much information, when all your daughter wants to know is that you are safe and that she is safe. It is important to validate their worries, while providing reassurance that you, along with the government and others agencies, are doing everything possible to keep her safe."
4) Tell Your Own Story: Tell your child where you were when it happened; who were you with; how you reacted and what it meant to you. Sharing makes this a two way conversation during which some questions can get answered. It can also level the emotional playing field between adults and children. However irrelevant it is to others, my daughters found comfort in the fact that on Sept. 11, 2001, I saw them for the first time (albeit on the screen of an ultrasound monitor) at New York Hospital where they were born six months later, to the day.