Last week the CRTC called Canada's major cable companies -- Bell, Rogers and Shaw -- to Ottawa to explain why their highly anticipated implementation of "skinny basic" packages resulted in approximately 1,800 consumer complaints. For a program designed to "maximize choice and affordability" for consumers, it seems to have backfired.
Why? The crux of the problem is that the same companies who control the distribution of television in Canada also create or licence programming, giving them a stranglehold on the medium AND the message. This means they have zero incentive to break up the cable bundle or go beyond the letter of CRTC regulation to actually provide or promote options that fit the lifestyle of today's consumers.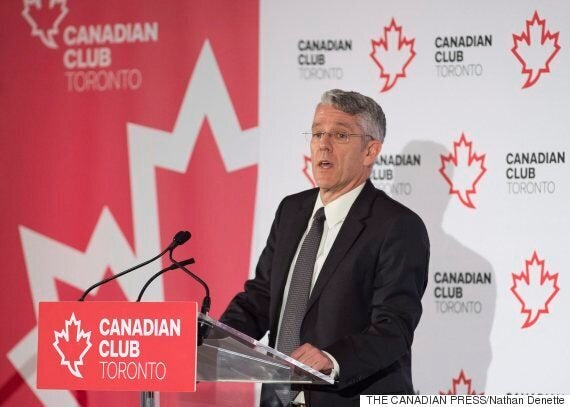 CRTC chair Jean-Pierre Blais. (Photo: Nathan Denette/CP)
This defacto monopoly that the Big Three cable companies have means Canadian consumers are shut out of the range of choice and technological innovation that consumers south of the border enjoy.
For example, Bob from Buffalo can sign up to watch Game of Thrones through the HBO Now app for $15 a month or for the same price as an add-on to a cable-style streaming service called Sling TV. To do this, Bob doesn't have to leave his house or wait on hold to speak with a rep in a call centre, and he can cancel at any time with no penalty. This allows him to subscribe while the show is airing, turn it off when the season ends as well as watch wherever he is and on whatever device he wants.
That leaves Canadians with two choices: suffer under the thumb of the incumbent cable providers or cut the cord on cable.
Meanwhile Tom from Toronto needs to spend at least three times as much money AND sign up for a contract AND rent or buy a proprietary set-top box. Oh, and don't forget the taxes and fees. For Tom it's not only more expensive, but it's less flexible and he winds up paying for content he may not even want. And the reason why he has to jump through hoops and pay more than his U.S. neighbour, Bob? It's because the Big Three cable companies also own the rights to HBO content in Canada. That's also why the U.S. Netflix catalogue is larger than the one in Canada.
So that leaves Canadians with two choices: suffer under the thumb of the incumbent cable providers or cut the cord on cable using the limited resources available on our side of the border. Resources which are still partially under control of the same incumbents they're trying to avoid.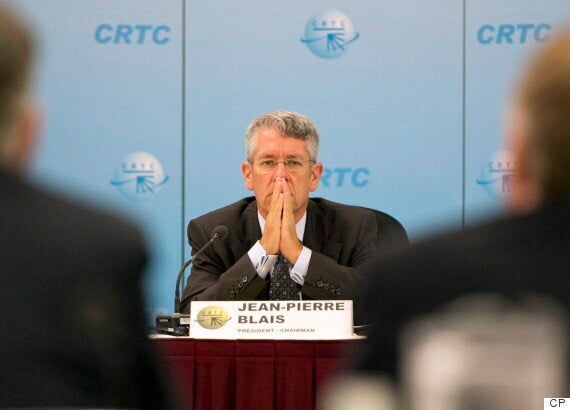 CRTC chairman Jean-Pierre Blais. (Photo: CP)
For example, an increasing number of Canadians are using an over-the-air antenna to watch live, local TV -- essentially the same channels offered via skinny basic but without the cost or fees. These free signals are available in most Canadian cities and are distributed as part of a CRTC mandate which grants certain privileges to broadcasters who do so.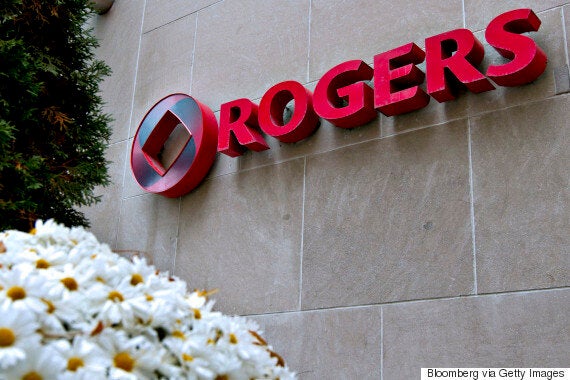 A Rogers sign at the company's Toronto headquarters. (Photo: Bloomberg via Getty Images)
Lack of choice has even driven Canadians into legal grey areas to access content, including VPN technology which tricks streaming services into thinking your IP address is based in the U.S. Netflix has mostly put the kibosh on this to appease their international content rights holders like Bell, but many other services like Sling TV seem to work through these backdoor techniques -- for now.
Another popular choice for Canadian cord-cutters are Internet-connected set-top boxes pre-loaded with pirating software designed specifically to access illegal online streams of television shows and movies. You may have seen these boxes sold from mall kiosks, at fairs or on local online buy/sell groups under various names.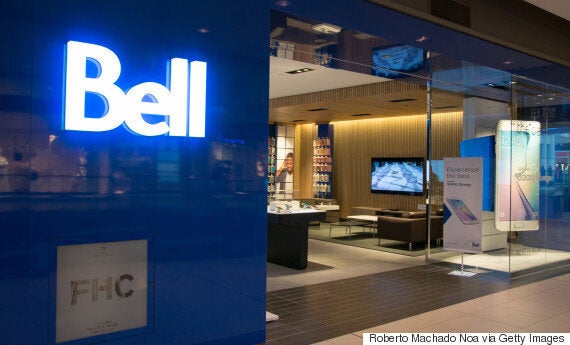 A Bell store in Toronto. (Photo: Roberto Machado Noa/Getty Images)
Naturally, their growing popularity was seen as a threat by Rogers, Bell and Quebec-based Videotron, who sought and secured a court injunction on the sale of these so-called "pirating" devices. Still that hasn't stopped consumers from finding tutorials online to load this same software themselves, nor has it really curbed the sale of these devices by smaller businesses who may not even be aware that they're selling an illegal product.
Last week's CRTC hearings were an attempt by the regulator to stand up to these conglomerates on behalf of Canadian consumers. And while both Rogers and Bell promised to make some minor changes to their implementation of skinny basic, REAL choice in TV service remains elusive for many Canadians, especially in rural areas and the north. This is why consumers, the CRTC and Canadian technology companies must work together to fight for and create real choice for Canadian cord cutters.
Follow HuffPost Canada Blogs on Facebook