On Wednesday, I was at a press conference in Vancouver on behalf of a fish that has been around for 175 million years. The Nechako white sturgeon is found in the Nechako and Stuart watersheds near Prince George, B.C. It is an amazing creature that can live to 100 years old and grow up to six metres in length.
The Nechako sturgeon is really cool, but it is also really endangered.
Fifty years ago there were an estimated 5,000 fish -- today there are just 350 of these creatures struggling to hang on. Dams and habitat loss have taken their toll, but the proposed Enbridge Northern Gateway pipeline could be the coup de grace for this critically imperilled creature. The proposed pipeline would cross the watercourse in which the sturgeon lives. But it doesn't stop there.
The pipeline would also bisect habitat of the threatened southern mountain caribou and the marbled murrelet, a pudgy little seabird that nests and lays a single egg in the mossy branches of old growth trees. And when the oil from the pipeline is loaded onto tankers, these massive vessels will plow right through critical habitat of the melodic and threatened Pacific humpback whale.
This is why the Wilderness Committee, represented by the environmental law firm Ecojustice, is taking the federal government to court to enforce the Species at Risk Act (SARA).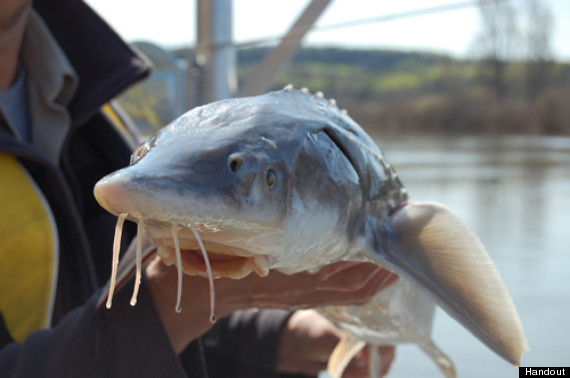 SARA is Canada's endangered species law, and while it is a perfectly good law it has been very poorly implemented. Because of Ottawa's indifference to enforcing the Act we have had to repeatedly file lawsuits on behalf of killer whales, greater sage-grouse, Nooksack dace and piping plovers to get the government to do the right thing.
In this case it's about recovery strategies. Under SARA, the federal government is required to produce "recovery strategies" for threatened and endangered species. The recovery strategies for the sturgeon, murrelet, caribou and humpback whale are overdue -- years overdue -- as are the recovery strategies for 184 other species at risk in Canada.
Recovery strategies also identify "critical habitat," which is the habitat species need to survive and recover. This is important because habitat loss and degradation is the primary cause for the decline of over 80 per cent of Canada's species at risk. It is also important because once critical habitat is identified in a recovery strategy; the federal government has a legal duty and the powers to protect it.
Right now the federal government is violating its mandatory legal duty under SARA. The delays are not only unlawful but they threaten the survival of endangered wildlife and they speak to the very low priority Ottawa places on species at risk in Canada.
Wednesday was another glorious sunny day in Vancouver, but as I spoke at the press conference I wished I lived in a country where you didn't have to sue the government to enforce its own environmental laws.