Five years after the devastating earthquake that rocked the lives and homes of thousands of Haitian men, women and children, the shadow of that tragic day remains. There is still a daunting need for more investment in Haiti, compounded with hardships such as political upheaval and spread of disease.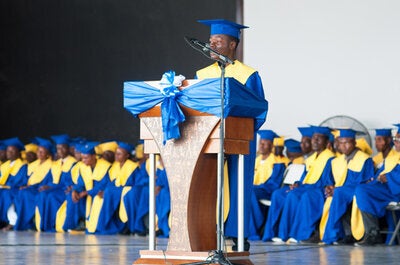 Saint-Jean Loubenson was chosen by his classmates to speak at the graduation ceremony of Habitat for Humanity's advanced construction skills training program where 195 Haitians received diplomas last September. To date, 1,185 people, including 386 women, have received training through Habitat.
Amidst the unimaginable psychological and emotional mark of the disaster of 2010, what is clear is the resilience of the Haitian people and hope for what their future will hold. After over 30 years of Habitat for Humanity working in Haiti, we reflect as an organization on the ways Haitians have made great strides in building a new life for themselves and their families.
Hope is an intangible but powerful commodity that can change the trajectory of our neighbours in Haiti. Thanks to the overwhelmingly generosity of Canadian individuals and support from organizations and government, progress in Port-au-Prince and surrounding areas has been made. Roads have been repaved, infrastructure has been installed, schools are growing, and newly vibrant marketplaces are buzzing. As one of Haiti's principal country donors in recent decades, Canadians have made measurable and life changing impact in Haiti.
In a nation with an unemployment rate estimated at 70 per cent, Habitat has learned that empowering individuals with skills to find jobs is critical to rebuilding Haiti. Fortien Lucien was critically injured in the earthquake five years ago when housing blocks fell onto him. At the time, Lucien had to relocate his family. The family survived with Lucien's initiative to gain new knowledge and secure temporary house repair jobs. Today, the 31-year-old is gainfully employed after completing Habitat's construction training. "Now, I see that my life is taking a new direction," he says. His dream is to take more training and become a civil engineer. "Haiti's future depends on these kinds of changes," Lucien says.
On the path of gang violence and insecurity, Saint-Jean Loubenson's life is now one of stability and pride. Speaking at the graduation of Habitat's advanced job training course, Saint-Jean Loubenson said, "Today, we celebrate not only the diploma, but victories over discrimination, prejudice, bad influences, and absolute poverty." Before, little hope existed for these students. Now, they can use their new-found skills and knowledge to transform their lives, and the future of their beloved community.
Local and international organizations working in Haiti know the complexities of rebuilding communities. However, we also witness useful lessons that can shape improvement, coordination, and learning for the next five years and beyond. Canadian organizations, like Habitat for Humanity Canada, are also learning how to support them in harnessing their potential so they can live in peace and safety.
Habitat is now seeing Haiti shape a new story for itself. Tens of thousands of families are moving to Canaan, an area north of Port-au-Prince. For the first time in their lives, they are investing their own money to develop land, using materials from local businesses. This new community is incrementally building assets that future generations will prosper from.
Haiti is more than just a daunting problem for outside partners to solve. Haiti is a nation of individuals working to build resilience and courage for a better life.
By Erin O'Neill, Director, International Programs