Foster Eastman was born in the year of the Great Leap Forward.
1958 was the beginning of the economic and social campaign by the Communist Party of China that aimed to transform a largely agrarian economy into a communist society through rapid industrialization and collectivization. The campaign led to the Great Chinese Famine, tens of millions of deaths and was followed by Chairman Mao's cultural revolution in 1966.
"If I'd been born in China," says the Peterborough, Ont., raised Eastman, "I would have been informing on my parents, my teachers....maybe even executing them."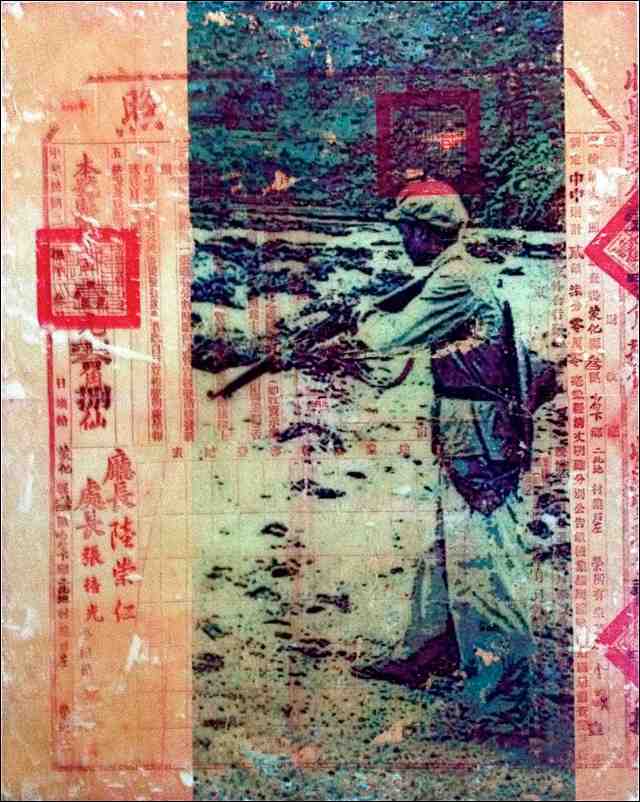 Instead he had a rather bucolic upbringing, enjoying his boomer birthright, playing in a rock band, and eventually moving to the West Coast where he began a successful salon and interior design business.
If you google him you will find videos on how to cut a bob and images of high end French antiques he and business partner Tracy Averill sell from their Axis Decorative Arts studio. But soon that will all change. His powerful, layered collages, juxtaposing "peasant art", actual pages from the Little Red Book and superimposed images of Mao, offer potent cultural symbolism that is ahistorical yet resonant.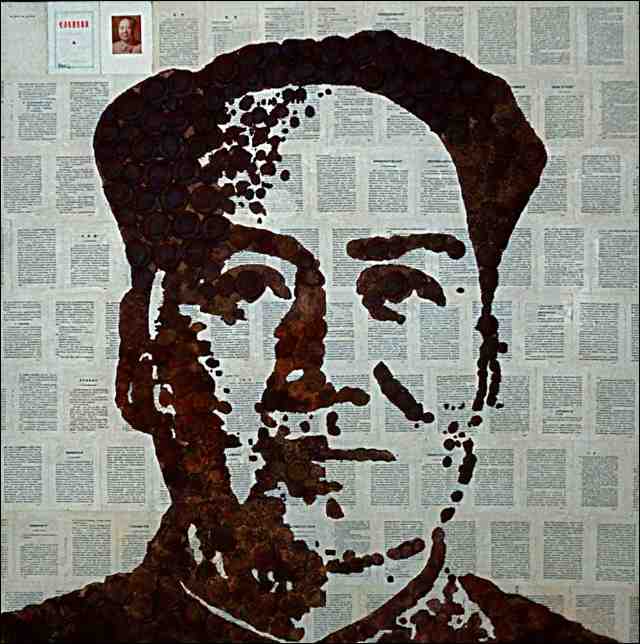 "Mao was never formally repudiated in China," says Eastman, who became obsessed with the period of Chinese history that coincided with his youth and with the man who many say made China what it is today. "So it's still kind of sacrosanct to hold him in esteem and you can't criticize him outright."
He finds that many older Chinese who see his work "simply won't acknowledge it, they just walk away when they see Mao's image." Others are confused by his use of the iconic chairman images. "A young Chinese neighbour," recounts the 55 year old Eastman," asked if I kept making art about Mao because I really liked him. I assured him that was not the case and he seemed relieved."
But rather than veneration, Eastman uses the images of Mao as blank canvases on which to superimpose meaning. Taking the Warholian Mao (tellingly excluded from a recent retrospective of the artist's work in Shanghai) as rock star one step further, his series of portraits are as much about Mao's legacy as they are about the man. Driven in part by a desire to "understand a country and culture that are becoming a big part of Canada", Eastman -- who has never been to China and does not speak Mandarin - enjoys a certain freedom to explore the Mao phenomenon not afforded to Chinese artists. As a self-taught artist, he also enjoys a kind of liberation from art world norms, the kinds of self imposed constraints that often result from a "it's all been done before" attitude.
He is a huge fan of Chinese artist Ai Weiwei and his exploration of Mao is far from romantic. A current work in progress consists of red paint filled blood bags, both a reference to Weiwei's imprisonment and near death as well as Mao's tyranny, that will slowly drip from an IV fastened to a statue of Mao, forming an organic mass.
But his Maos are much more Rorschach test than icon. At times they are even decorative. Like the many images of Saddam Hussein (another leader he references in a work that is a noose made of Hermes neckties in the colours of the U.S. and U.K. flags) that were once ubiquitous in Iraq, his Maos are Krishna like in their diversity. There is Mao as great leader, superimposed on top of pages from his books, "bat" Mao -- his gaze hooded by images of traditional Chinese houses, even Mao as concubine -- his eyes masked by a deliberately distressed canvas that make him appear cosmetically altered. Each portrait seems to ask, who was this man and what has China become?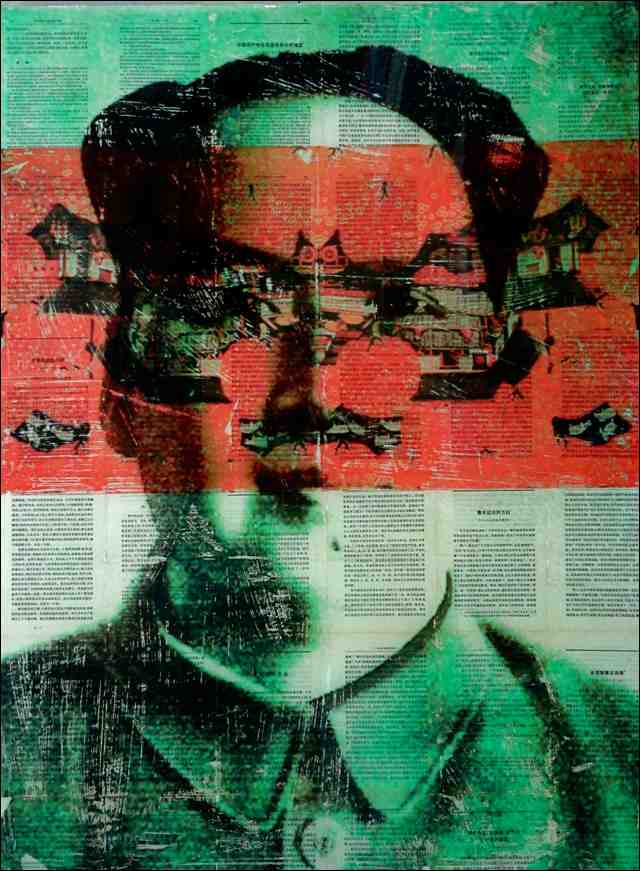 In addition to the narrative quality inherent in Eastman's work, there is also a strong textural, almost craftsy feel to his work. His background in hair design is not coincidental. "Playing with colour, texture, chemicals and finishes," says Eastman, 'that all translates easily into my art."
Consider a five panel work that layers actual pages from Mao's red book (sourced at a local Chinatown antique shop) as a base, a photo of female revolutionary guards circa 1966 from a Life magazine spread, and a terry cloth image of Mao raising his left hand from the same era. Dense with meaning, the textile art-like tableau with a resin finish challenges our own stereotypes about Mao and China as much as his own iconic status.
Other works play thoughtfully with religion and ideology: on a base of pages torn from Eastman's grandfather's bible, images of the Dalai Lama as a 25 year old when he first went into exile meet images of him today, with Mao's face hovering above. Another work features a Renaissance era image of Christ on the cross covered with red revolutionary stamps proclaiming Maoist slogans.
And works depicting Mao's 4th wife, Jiang Qing, offer a kind of decorative horror -- Death by a thousand cuts sees her face slashed and mottled -- while one superimposes a canine snarl on the former actress who became the fall guy for her dead husband and protested I was Mao's dog, whomever he said to bite, I bit.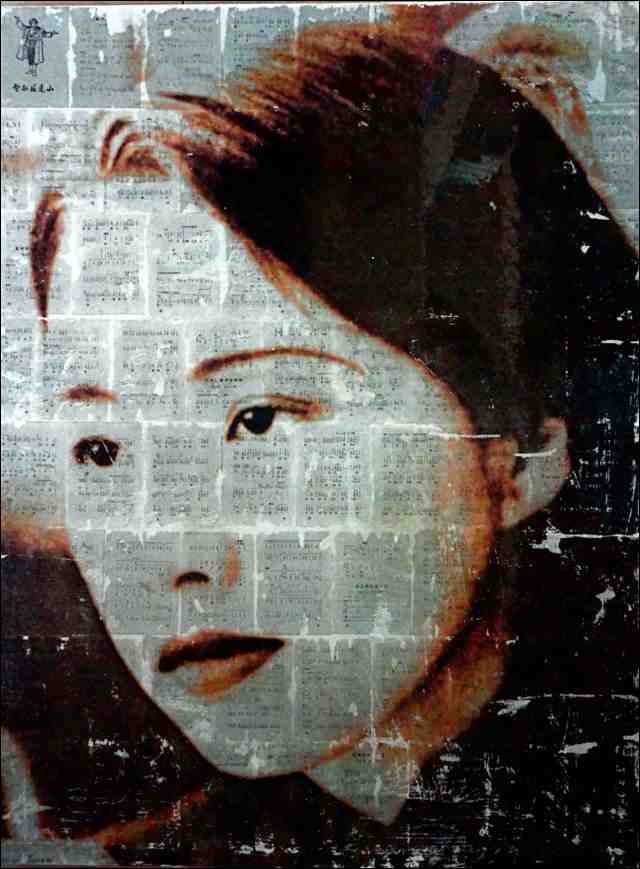 But Eastman's obsession with Mao is not to the exclusion of more Canadian themes. One of his creepiest works is a portrait of Stephen Harper fashioned from the broken pieces of a ceramic bust of Mao. The eyes follow you around the room.
Indeed Eastman's first public exhibition in April of this year, as part of a fund raiser for the Audain Foundation at the Gordon Smith gallery, was part of a series commissioned from different artists on the maple leaf. His leaf was far from benign, but rather presented as a kind of improvised explosive device fashioned from nails and hundreds of ketchup packages distributed as rations to Canadian soldiers in Afghanistan.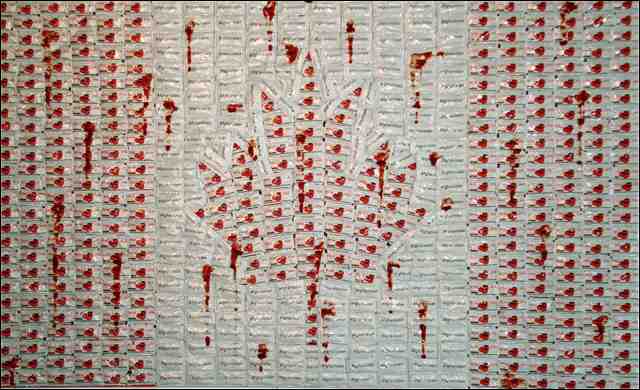 It was part of a series that he took to a blasting site and actually detonated. The results were rather extraordinary. One poignant tableau features remains of metal and plastic that read like vaporized war ruins.
His transformation of everyday objects into sinister instruments is echoed in White Rabbit Red Rabbit, a work that takes mid 60's era Chinese children's toffees (called "white rabbits") and lacquers them with red paint to spell out slogans from the Cultural Revolution.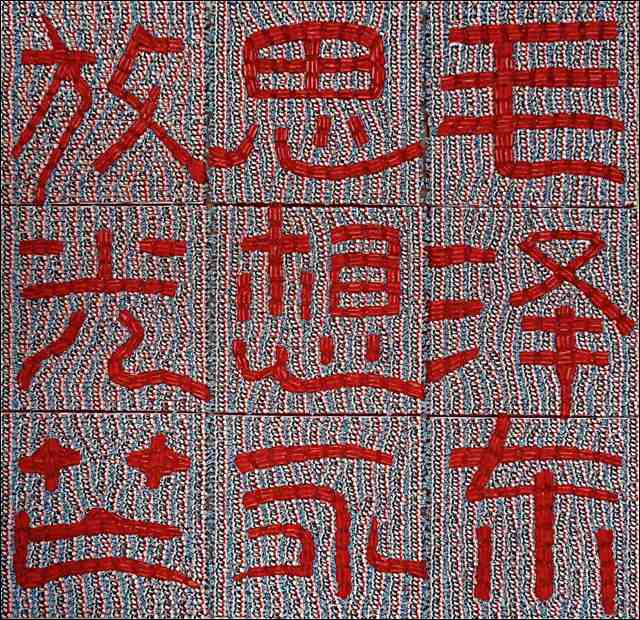 In another sculptural work, 78 rpms of revolutionary songs, dipped in red paint, are mounted on Plexiglas stands , turning them into trophies of carnage.
But Eastman splices sacred cows with aplomb and equanimity. A work in progress features a close up of Stephen Harper overlain with print, proclaiming O Canada, Our Home and Native Sands.
Amazingly, Eastman has no agent, no gallery and no immediate plans to actually sell his work. As a self-made businessman, his art is all about passion, not commerce. That may change after his first public exhibition - which he is staging himself this Friday in the space that the Buschlen Mowatt gallery once occupied. Augmenting the stylized Mao portraits, and Canadian flags as improvised explosive devices, will be a special soundtrack of revolutionary children's songs in Mandarin. "They sound like slightly sinister nursery rhymes," says Eastman, standing in front of one of his ketchup bloodied maple leafs. Yet their vintage propaganda feel, much like Foster's artwork, is strangely alluring.