Vancouver Opera'sTosca is a true celebration of life.
Despite the unhappy ending that all opera lovers know, there is such unbridled passion, joy and humour -- not to mention some really fabulous costumes -- in this Joseph McClain directed production, that on opening night the fate of Tosca and her lover Carvadossi seemed all the more tragic.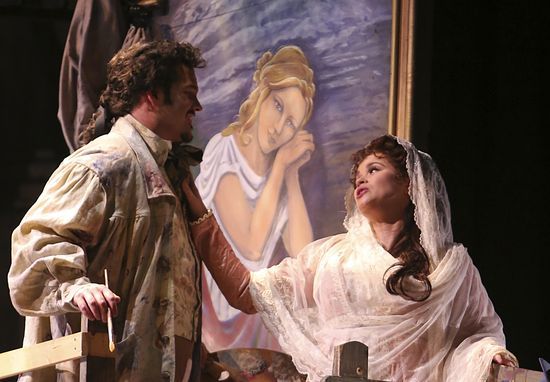 Such was the high-octane quality of this Tosca -- perhaps the most popular of the canon -- that Vancouver's typically timid opera audience seemed unusually caught up in the on stage drama (augmented considerably by the talents of lighting designer Gerald King). One enthusiastic if somewhat impatient fan even belted out an impassioned brava during a pause in soprano Michele Capalbo's famous Vissi d'arte aria (accompanied by the Jonathan Darlington lead opera orchestra in fine form.)
Whoa fellow. This is Vancouver, not Roma, I wanted to say. I know the faux coliseum architecture of the library kitty corner to the Queen Elizabeth theatre may have thrown you off. And the set design by R Keith Brumley really evoked the feel of famous Roman buildings like the Farnese Palace. And the glorious voices and compelling performances of Capalbo and her Carvadossi (David Pomeroy) were almost upstaged by the powerful baritone and dastardly presence of Gordon Hawkins' superb Scarpia. But let's not get carried away.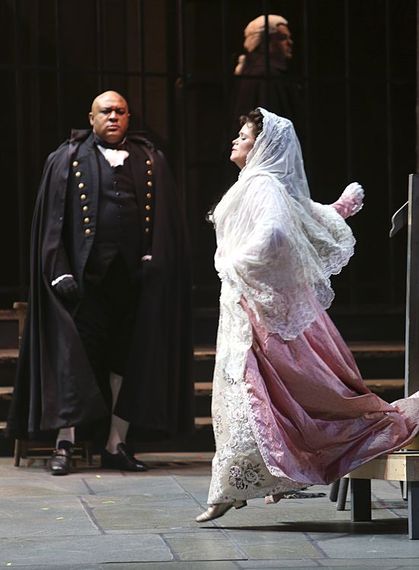 This is still Vancouver. A place where a gazillion dollars were spent on a sports stadium that glows in the dark and looms sinister on the horizon as soon as you exit the Queen E Theatre, but where an opera house remains glaringly absent. A city with the highest cost of housing in North America, and one of the highest rates of child poverty and lowest rates of arts funding. A place whose cultural conundrum was so well expressed by a recent Davida Kidd catalogue produced by the Burnaby Art Gallery entitled Who Needs Art When You Have a View Like This? (taken from an actual condo development billboard.)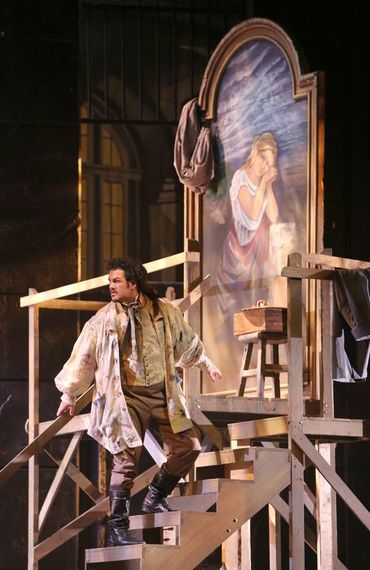 Perhaps we feel dwarfed here by the grand scale of the mountains and ocean. In Vancouver, nature is the diva. And we, mere mortals, are left to wander the landscape -- just like the urban legend opera-man who sings Puccini in the back-lanes of lotusland -- and offer our arias into the emptiness.
Culture is still something suspect here. Serious conversation should really be about mortgage rates, equity, RRSP's, hockey games, yoga classes or body fat ratios. The rest of the world could be going to hell in a hand basket (oh right, I forgot, it is!) but navel-gazing Vancouver would remain fixed on working out, buying real estate and keeping culture -- and of course drama -- at a safe distance.
Who needs more drama ? is a popular refrain in this city of somnambulists. Perhaps it's our British colonial heritage, much more "keep calm and carry on" than the recently reworked "I'm Italian and I can't keep calm" version of the famous WW2 era mantra. But I for one say, brava, Tosca -- you are a beacon in the darkness. If there were ever a place that needed more drama, it is here!
Puccini's opera is all about the passion that drives people to create, love, mourn and celebrate life (exquisitely expressed on opening night by Pomery in his final-act aria, E lucevan le stelle) ;the essential human ingredient that can often seem lost in this town that on a dark day can feel like a scene from Invasion of the body Snatchers where any show of emotion is condemned. Perhaps not always by a high pitched alien scream, but in so many words it is considered a sign of weakness at best, and inappropriateness at worst.
Veteran Vancouver rocker Art Bergman really nailed it with his 1980 Emotion (Give me some emotion / Something I can chew on / Some honesty and hatred / Some lustful embraces.") This is the only version of the video I can find on you tube, but I remember another grainy one from the era that had him snarling next to vacant looking club kids with soul-less eyes.
Since then, corporatism, indifference and postcolonial funk have only risen with the cost of real estate -- as has the popularity of the "no drama" mantra. Perhaps I should start a new-age cult of Tosca here -- one that eschews low fat vegan food and dirge like slavery to mortgage payments and "appropriateness" and general soullessness- in favour of unbridled drama, good wine, pasta and a penchant for wearing long black velvet capes (a la Hawkins' brilliant Scarpia).
Can you really care about the world if your life lacks soul and passion? How can you survive the endless daily grinds with out a little drama and still retain your humanity? I'm not suggesting jumping off a building, or stabbing some Scarpia like character (although Vancouver's full of possible versions -- think dodgy mining executive/ international arms dealer/ money laundering war criminal -- although none likely as cool or cape wearing) just perhaps ummm... demonstrating a pulse.
I pondered this as I escaped intermission for a Filet-o-Fish at McDonald's. I ran past Moshe Safdie's paen to the Coliseum -- which also boasts a detention centre for about-to-be deported illegal immigrants -- and into the Golden Arches, where teenagers from Surrey served burgers to middle aged men from war zones. And then back again into the lobby of the Queen E -- where corporate opera sponsors pretended not to notice the rabble as they slipped back into their private dining area/ boxes.
There's certainly not a lack of drama here -- or potential opera librettos -- just a lack of recognition of its importance, not to mention venues for expressing it.
So citizens of Vancouver who have not yet been invaded by the pod people, go to see this Tosca. It will remind you that you are human and alive. Just remember to wait until the end of Vissi d'artebefore shouting brava - and then, please - proclaim it with all your heart.