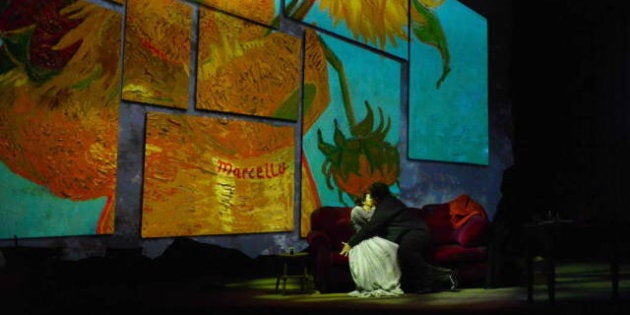 Warning: before you take in the final performance of Vancouver Opera's La Boheme, some Prozac may be required.
It demands a certain sang froid to not emerge rather melancolique after two hours of Puccini's moving opera -- sung convincingly by a talented young cast -- about the joy and pain of la vie boheme. Even more so in rainy, autumnal Vancouver, when one fears the light will never return.
During a performance sponsored by a mining company named Goldcorp, I contemplated what bohemia means in a province with the lowest arts funding per capita in Canada. I also drifted back to my own bohemian existence, many moons ago, when I lived in a Parisian garret in St Germain des pres.
I lived, like Mimi, in a single room overlooking the rooftops of the city. Like many other residents of the 18th century buildings in the area -- at least those that lived on the chambre de bonne (servants quarters) side -- not in the more palatial spreads adjoining. I had no bathroom. Instead, I journeyed every day to the local piscine municipale where I would take advantage of les douches mixtes post swim, and say hello to an array of neighbourhood characters: Jean-Paul, the head waiter at la Palette, who whistled Aznavour while he shaved, Saida, the young student who had just escaped the horrors of Algiers, and an elderly lady named Laurence, who had once been the mistress of a famous politician -- and who I used to see regularly at the shrine to the Virgin at the nearby church, lighting candles and praying with a faint smile on her face.
In between writing dispatches for the Independent and Sight and Sound -- often in those days about Algerian intellectuals and film-makers fleeing their war torn homeland -- I made my living, if you could call it that, singing in jazz cafes on the left bank.
I also busked on weekends in le marais, singing gypsy songs, Leonard Cohen ballads and Garcia Lorca romanceros -- and enjoyed an enthusiastic, if somewhat eccentric following. One middle-aged Parisian man used to come and do yoga positions under the archways while I sang Suzanne, silently mouthing Sanskrit mantras, and a local antiquarian named Max, who always wore a cowboy hat, used to bring me whiskey-laced coffees to keep me going in the colder months.
And I had a regular gig at a little Greek restaurant on rue des scisseaux in the 6ieme called Chez Zorba. Owned by a Greek Cypriot playwright who claimed to have translated all of the works of Nikos Kazantzakis into French, Chez Zorba offered me 100 francs a night and all the moussaka I could eat. I came on right before the bouzouki player and often stayed later to learn some of the dances the waiters would perform on special evenings, like the hasapike -- the butcher's dance. With the right amount of ouzo I could squint sideways and imagine Anthony Quinn walking in from the dark Parisian night.
I would return to my little room and shut out all the light and colour of the street and café life to write urgent dispatches about people who were literally dying for their art, and then return to it for relief once I'd finished.
I had almost no possessions, no telephone (there was lots of competition for the local cabines publiques) but eventually bought a small half fridge and a hot plate so I could cook up tiny, delicious meals made of fresh purchases from the local street market. Otherwise I lived on canapés quaffed at UNESCO cocktail parties, where I would meet famous writers from around the world. One winter I succumbed to pneumonia, but was happily saved by the French health care system.
I gave it all up for a return to Vancouver. One depressive Christmas Eve, I succumbed to nostalgia and cashed in all my bohemian chips for a flight back "home." I only intended to visit, but various circumstances intervened.
Now I live in two rooms, with quite a few more possessions, hundreds more articles and a few books to my name, and regular Visa bills. But I still long for those days in Paris, and wonder what would have happened if I'd stayed. Would I have met a vicomte like Mimi? Would I still be in that room?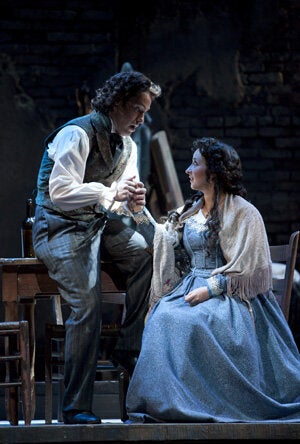 Mimi ( Marianne Fiset) and Rodolfo(Jason Slayden) in the Vancouver Opera production of La Boheme
In these days of strictly enforced visas and new global realities, would it even be possible to recreate that existence of my 20's?
Now St Germain des pres has become a high priced neighbourhood where no self-respecting bohemian could afford a café au lait, and the famous Café Flore sells T-shirts and monogrammed mugs.
When I returned recently, I found that Chez Zorba had disappeared, leaving only phantom memories.
In these strange days of 2012, when most artists I know are taking jobs in corporate PR, and only the wealthy can truly afford la vie boheme, I am tempted to re-imagine a happier end for Mimi et Rodolfo.
What if instead of dying, Mimi had killed the vicomte and taken over his villa? She and all her friends could have lived co-operatively and written and painted to their hearts' content.
I know, I'm a dreamer. Probably best to retreat to my little room, fill out more on line applications for corporate PR jobs, and keep sewing those decorative flowers and lighting candles. Especially now that Rodolfo has a job at Goldcorp. But hey, it pays the Rent.