 Since the world didn't end on Dec. 21, I found myself once again taking in the annual Salute to Vienna New Year's concert at Vancouver's Orpheum Theatre.
As I waltzed into 2013 with an audience composed mainly of those born in earlier, pre-digital, mobile phone and reality TV eras (worlds that have actually ended) I contemplated the impulse behind the whole end-of-time hysteria that gripped our world in the last few weeks of 2012.
Maybe some of us bought into the whole apocalyptic theory out of sheer fatigue; time is, after all, rather exhausting. And history — as we know — is just one damn thing after another. When I look back over the last year, I seem to remember lots of frenzied rushing to places where I didn't really want to be. There is seemingly no escape; it just goes on and on. But there are coping methods.
Some of these were celebrated with great élan by Austrian conductor Klaus Arp who reminded us of the restorative powers of champagne with a rousing rendition of Royal Sec — a champagne gallop by Victor Herbert complete with percussive cork pops by the VSO's timpani player.
While there was no actual champagne on offer at the Orpheum — I made do with a glass of sparkling wine and some chocolate-covered almonds at intermission. The whole idea being to induce a state of opiate-like maternal amnesia — to help those exhausted by time to have the courage to face yet another year.
As I write this I am staring at a blank page in my new wall calendar. It's a collection of Japanese prints and the January one looks suitably tsunami-like, with towering blue waves rising above the skyline. Today, Jan. 2 is celebrated in New Zealand — always a good place to be post-apocalypse I say — as the "Day After New Year's Day."
It seems sensible to have a whole extra day of rest after the frenzied partying of the 31st and the clean shiny newness of Jan. 1, to contemplate the sheer terror of the time space continuum.
The Viennese New Year's Day concert tradition — now exported to dozens of North American cities by Salute to Vienna promoter Attila Glatz (who heard his first Neujahrskonzert as a child in Communist-era Budapest and now dedicates the rest of the year to preparing for Jan. 1 in places as far afield as Palm Beach, Florida and Hamilton, Ont.) seems to function as a necessary antidote to the tyranny of time.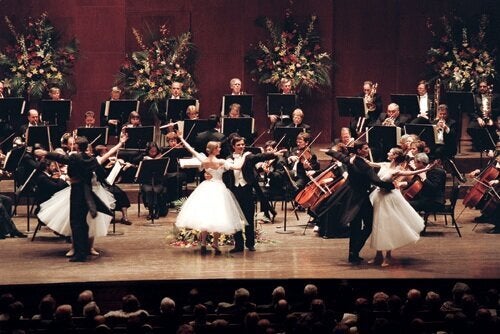 It reminds us that the best things in life can be slow (and schmaltzy) and that the real battle in life is between the relaxed and the hurried. And as empires go, the Austro-Hungarian looks pretty good in these uncertain days of Pax Americana and pop culture pap.
I envision — a la the steampunk movement — a whole new cult of Strauss. While there weren't so many people under 80 at the concert I attended, how long can it be before the young generation of hyper stimulated texting 20-somethings decide to give it all up for the lure of the waltz?
There is something decidedly hypnotic about listening to the Blue Danube say, 20 times in a row. It makes you want to abandon Facebook and spend a languid afternoon in one of those Viennese cafes where it's considered ill-mannered to spend less than two hours savouring your cake and coffee.
But duly noted: languid afternoons are a luxury and too much waltz music could lead to counter-revolutionary thoughts. Consider the politics of Johann Strauss, who initially sympathized with the revolutionists of 1848, only to abandon them when reactionary forces defeated them — and dedicate much of his music to nobility (for which he was rewarded with a swathe of medals from European monarchs and the title of Court Ball Music Director). Of course Trotsky was an habitué of Café Central, but I'm not sure he was a great fan of Strauss waltzes.
Still, it's worth noting that Sigmund Freud, shortly after Strauss' death in 1899, used to revel in extremely fast walks around the six-kilometre length of Vienna's Ringstrasse — so fast that his son likened him to a "soldier." Here he would unknowingly cross paths with an embittered, failed painter named Adolf, who became rather infamous later on.
And with the failure of so many Facebook-led revolutions this past year, perhaps a more languid pace would be a good idea.
As in the Watch Duet from Strauss' Die Fledermaus — performed admirably in Vancouver by soprano Monika Rebholz and tenor Zrinko Soco — perhaps it's time that we paid more attention to the beating of our hearts than to the ticking of clocks.
At the very least a little schmaltz — washed down with some good champagne and chocolate — can make the march of time less bitter.