In this centenary year of composer Benjamin Britten, I recall my first exposure to his complex, beautiful and technically challenging music.
I was a 13-year-old alto - taller and darker than almost everyone in the rather waspy West Vancouver high school choir- given the somewhat daunting task of singing the song That Yonge Child from the Ceremony of Carols. It was a pentatonic yet dissonant melody that after months of practice, I didn't quite master during the inaugural performance. It's entirely possible that only Britten devotees could tell that my off key rendition was actually wrong.
But the excruciating embarrassment was something I remembered while watching the Vancouver Opera's opening night of Britten's Albert Herring. The scene where garlanded "May King" Albert (well played by Lawrence Wiliford) barely manages to emit a squeaky thank you very much in front of assembled village notables before slinking back into his seat struck a familiar chord.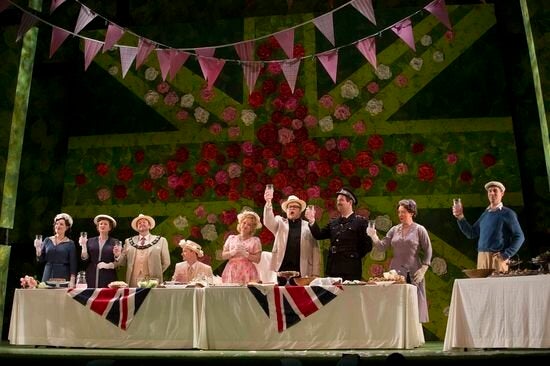 Britten -- the ultimate insider's outsider -- a gay Pacifist in war time England who went on to become one of his nation's most famous composers and to be given life peerage by the Queen -- often explored the theme of the individual's struggle against a hostile society.
And while Britten's tale of small town village life and a young man's coming of age can be read as a paen to closeted gay life in mid century England, the character of Albert Herring is also very much an everyman outsider.
Herring's eventual triumph over the small minded townspeople of the mythical East Suffolk village of "Loxford" also heralds the defeat of petty controlism, ubiquitous gatekeepers and the courage to be oneself.
While this Vancouver production of the 1947 comic opera was transposed from early 20th century England to a very colourful 1950's era (the pink of Lady Billow's dress was spot on) there are likely many "Loxford" type realities all over the world- not the least of which can be found here in our far flung former colony. After all - every place has its poobahs.
My 70's West Vancouver childhood was not so far away from little Loxford, and the ladies at my mid century apartment complex who fled Enoch Powell era England still hold court around the pool in summer as if they were daughters of the Empire- as quick to gossip and find fault as Lady Billow's housekeeper Florence Pike (played with comic flair by Susan Platts)
Britten's championing of egalitarianism and skewering of classism enjoy a certain timelessness, even within the very English specificity of the libretto, with its witty references to "Empire" and treacle and trifle.
Indeed one might have done a brisk intermission trade in t-shirts emblazoned with the meme We are all Albert Herring! ( and perhaps Loxford is Everywhere)
Britten's opera lacks the contact high of say grander 19th century Italian chestnuts and can even seem flat or extremely understated in its execution (as it did on opening night). And in many ways a traditional take on "opera" might seem antithetical to English middle class mores ("don't make a fuss" would not go down well with Tosca)
And so the tension between the form and the culture this opera explores -- and, some critics would say - between Britten's own desire to protest and yet somehow be accepted by mainstream society -- is what makes Albert Herring such an interesting study.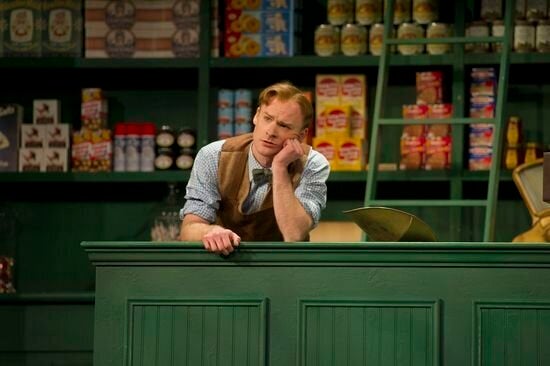 The fact that a good deal of the opera unfolds in a green grocer's is also key. The celebration of everyday interactions and the petty fascism that often underlies them is nothing less than the whole premise of Seinfeld. At one point in the opera, I imagined what would happen if George Costanza walked in and tried to grope the peaches, or "feel the material" on Lady Billow's (played to the hilt by Sally Dibblee) dress.
Other late 20th century pop references seemed to find their way into my brain - from the young working class lovers "Sid" and "Nancy" being possible precursors to Mr. Vicious and Ms. Spungen to- in the scene where Albert's mum speaks of her dead husband (and the obvious post-war context of the opera) the Who's Tommy.
While the Mozart/Beaumarchais Marriage of Figaro was the first well known opera to celebrate the servant class, there is something equally powerful yet undeniably modern about Britten's green-grocer anti-hero. (There may in fact be a whole codified cult of the green grocer aesthetic at play here, recalling Oranges are the Only Fruit opera loving author Jeanette Winterson's foray into actual fruit selling in Spitalfields)
And while there are no suicides, deaths or grand arias in this comic opera, there is poignancy in the "ordinariness" of its themes, with Herring's act 2 realization that he is being mocked and pitied a genuinely moving moment.
While the plot may be relatively simple, Eric Crozier's libretto (based on a Guy de Maupassant novella transposed to an English village) and Britten's score are rich with complex codes- whether allusions to gay life or well known operas (the love potion theme from Wagner's Tristan and Isolde pops up briefly when Sid spikes Albert's drink with rum).
The music mimics the minimalism yet intensity of the plot, employing an orchestra of only 12 instruments that manages to convey the full spectrum of emotional colour.
The ending- with Albert returning from a night of revelry a changed man- can feel a bit of an abrupt denouement- with his casual embrace of Lady Billows a subtle yet meaningful gesture. But the opera stays with you, and prompts examination of one's own Albert Herring like struggles.
While England may no longer be a "nation of shopkeepers," the quiet desperation and petty power tripping of daily life in "Loxford" ring true for most of us- as does Albert's triumphant defeat of his own aquiescence in being "put in his place" and his eventual self-acceptance.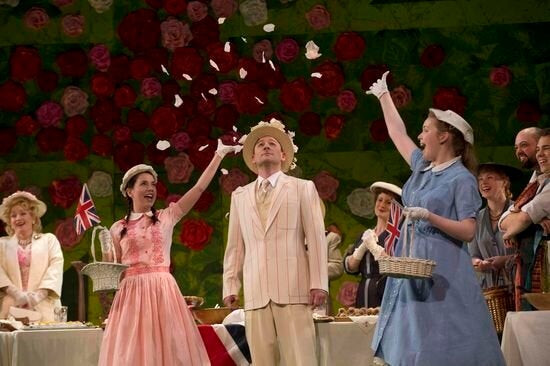 Bravo to Vancouver Opera for mounting a production in Britten's centenary that demonstrates the brilliance of his work, in all it's understated complexity and quiet genius.