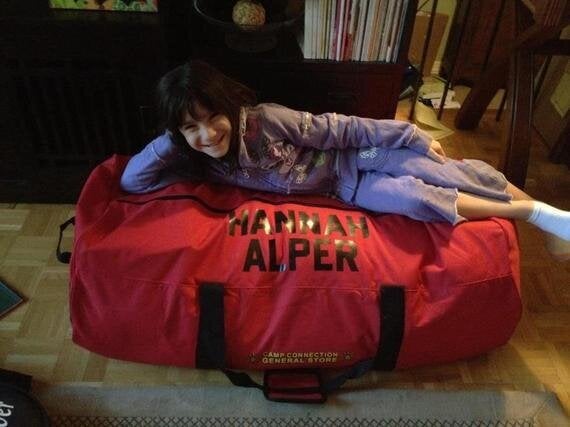 I'm getting ready for my third summer at overnight camp for three weeks and I can't wait! All year long I look forward to seeing my "camp" friends, the lake and sleeping on the top bunk in a cabin full of girls. When I went the first year, I was really nervous about being away from home for 10 days. I won't lie and tell you that it was all easy. But I will tell you that after the first few nights, I started to get comfortable at camp. I was supposed to be there for 10 days and then my parents were coming for alumni weekend (my mom went to the same camp) and the plan was that I would go home with them. But you know what happened? I loved camp so much that when my parents arrived, I asked if I could stay for another 12 days!
Those feelings of being homesick and missing my family (and my dog) happened again the second year that I went, but I was ready for them and knew how to handle them and that it was going to be okay. So here I am, getting ready to go back to one of my favourite places and just like the last two years, I know I'll have some uncomfortable feelings, but I'm ready for them and I can't wait.
Here is some advice for people who are going to overnight camp for the first (second or third) time:
1. Make friends with the people in your cabin. You will make new friends starting from the bus ride up there and have lots of people to hang out with. Also, introduce yourself to everyone. I always had friends outside of my cabin. It is always good to have a lot of friends to get you through the lonely or homesick times.
2. If it's your first time at overnight camp, it's probably also the first time for most of the kids in your cabin. You are not the only one. It will make you feel better to know that.
3. I was mostly nervous about the nighttime. My mom's advice to me was "all you have to do is make it through the night and then you will have so much fun in the day." The days are so much fun at camp. Remember this at night.
4. Try talking to your counselors if you're feeling homesick. It feels good and they can make you feel better. They were also first-time campers even though it was a really, really long time ago!
5. When you're packing for camp, collect some pictures of your family and bring some tape so that you can have them on the wall at your bunk.
6. You know the list of things they tell you to pack? When it comes to clothing, bring extra t-shirts BUT...
7. Don't take your favourite t-shirt. You will probably lose it.
8. My mom and I had a special deal that we would both go outside at 9:30 p.m. every night and look up at the stars and say goodnight. When I looked up, I knew that she was looking up too.
9. Take a notebook so that you can write down the phone numbers and email addresses of your new friends to stay in touch until next year.
10. Make the most of every day. It goes so fast you'll be home before you know it and instead of wishing you were home you'll be wishing you are back at camp.
That is my advice for people who are going to camp for the first (second or third) time. I am so excited to go back to camp and to see my friends, swim in the lake and see the stars in the night sky. I'm not nearly as nervous as I was last year and I'm even less nervous than I was the year before that. I am going to have so much fun and if you're off to camp soon, I hope you do, too!
Post a comment below and let me know what YOUR advice is!