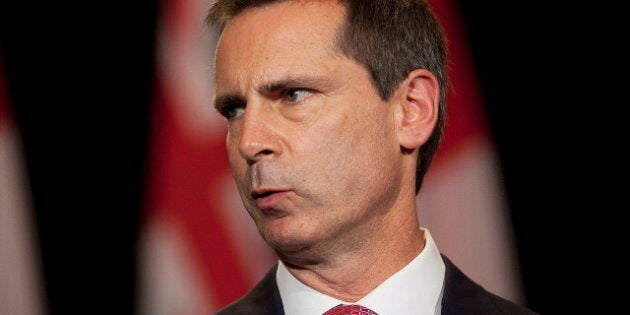 Dalton McGuinty's sudden and unexpected resignation comes at a particularly turbulent time in Ontario politics. There is a minority Legislature, sagging poll numbers placing the governing party third behind the Tories and NDP, and a wave of inquiries and corruption allegations. In addition, there is brewing labour unrest with teachers, doctors, and civil servants over proposed wage freezes.
In this tough political environment, where the government is facing serious allegations, McGuinty took an unfortunate page out of the Harper playbook by proroguing the Legislature. This furthers a dangerous precedent for Canadian democracy, of governments under fire escaping debate and accountability through abuse of parliamentary procedure -- and it should not be considered right because a Liberal, not a Conservative, government did it.
In all this, the inevitable question is, with McGuinty's resignation in this turbulent environment, what is his legacy? While this may be hard to determine with limited time having passed, one can still look at the shortcomings and accomplishments of the McGuinty government.
On shortcomings, the McGuinty government made a decision that seemed based on very blatant political calculation -- to cancel the construction of gas-fired power plants near electorally sensitive ridings in suburban Toronto. The government is now facing allegations from the opposition parties of not releasing documents related to this decision.
On poverty, McGuinty's Liberals cut an allowance aimed at helping those who are homeless find a place to live and also to help those at risk of homelessness, for example helping low-income tenants pay rent. This is a blatant example of austerity measures falling on the weak and vulnerable who are least able to speak out. It is a bad economic move too, as combating homelessness has been proven -- in multiple research studies -- to reduce costs in healthcare and law enforcement.
Of course, with the shortcomings, there are many positive things about McGuinty's decade-long tenure as premier. Among them, his government made investing in education -- an important avenue of upward mobility -- a priority. The establishment of full-day kindergarten, crucial to early childhood learning, was a signature achievement in this regard. McGuinty's tenure as premier also saw school test scores improve and drop out rates decrease.
On post-secondary education, McGuinty's government enacted a 30 per cent tuition rebate, recognizing the serious problem of student debt facing young people for whom post-secondary education is and increasingly essential requirement for a well-paying job.
On environmental conservation, McGuinty's government embarked on an ambitious green energy plan that led to an endorsement by the normally non-partisan David Suzuki in the 2011 provincial election. This plan included a focus on introducing green sources of energy -- such as windmills -- and phasing out coal-powered plants. Mass transit -- as an alternative to driving -- has been a priority for the Greater Toronto area.
A particular notable sustainability achievement of McGuinty's Liberals has been the greenbelt around Metro Toronto and the urbanized Golden Horseshoe region along the western shores of Lake Ontario. This has preserved wetlands, farmlands, and forests, as well as containing the sprawling growth of Metro Toronto which has among the worse commute times in the world due to its increasingly spread out development.
Though, for all the talk of McGuinty's legacy -- which despite stains contains many positive accomplishments -- the next question to pose, where to from where for the Ontario Liberal Party?
Names are already floating for the upcoming leadership race. It will be a challenging task for the next Ontario Liberal leader, dealing with inquiries and allegations, and voter fatigue after close to a decade of Liberal government. As well, there is the new reality that the NDP are now the official opposition federally and aggressively seeking to repeat this feat provincially in Ontario. Ontario Liberals cannot afford to take progressive voters for granted.
One name that has been generating buzz is Gerard Kennedy. He ran against McGuinty in 1996, leading on the first four ballots only to lose on the fifth. He went on to serve as Education Minister in McGuinty's government, having a successful track record there smoothing over the often tough relations between the government and the teachers unions. Kennedy ran in 2006 for the federal Liberal leadership promising a real shake-up of the Chretien-Martin era party hierarchy -- leading supporters of Kennedy's 2006 leadership campaign included young up-and-coming MPs such as Omar Alghabra, Mark Holland, and Navdeep Bains.
Kennedy has strong progressive credentials, having served as a food bank director and with poverty-reduction as a core value. A key part of his 2006 run for leader was the promotion of entrepreneurship -- enterprise. These values, social responsibility (helping the poor and vulnerable) and entrepreneurship and job-creation, are core Liberal values which Kennedy embodies. This -- along with Kennedy's successful track-record in government -- would appeal to both idealistic and pragmatic values.
The Ontario Liberal Party faces tough challenges ahead. It will have to deal with contentious questions about the gas-fired power-plant cancellations. The party faces a strong challenge from an NDP seeking to supplant the Liberals as the main centre-left party. Furthermore, a crucial decision lays ahead about the next leader of the party, which could determine the future fate and direction of the Ontario Liberal Party.
In all this, McGuinty's tenure as premier can count significant accomplishments in areas such as education and environmental conservation, even if the record is not perfect, having made dubious political decisions on the gas-fired power plants, and betrayed progressive values through cutbacks on assistance to the poor.

Readers React To McGuinty Resignation