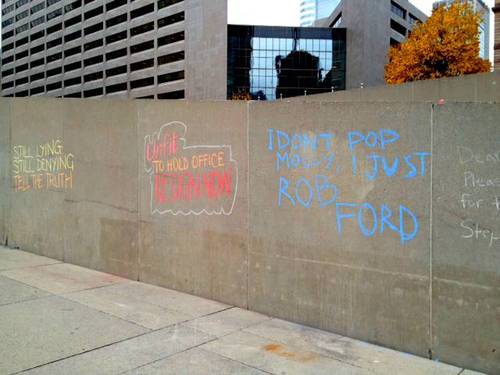 Chalk-art graffiti at Toronto City Hall
The ongoing saga of Rob Ford is a tragedy -- with issues of drug and excessive alcohol use -- which has played out in the public realm, making international news and proving an embarrassment for Toronto and even for Canada as a whole. Where New York City recently elected a mayor who made inequality -- a serious problem afflicting the city -- a central theme of his campaign, the ineffectiveness of Rob Ford becomes all the more embarrassing.
Political scientist Benjamin Barber has stated that we would be better off if "mayors ruled the world" stating that mayors - rather than state/provincial or federal levels of government -- are more effective in producing results and tackling difficult issues. In this vein, New York City mayor Michael Bloomberg has stated that "We're the level of government closest to the majority of the world's people. While nations talk, but too often drag their heels -- cities act."
In this view, municipal governments are seen as the more effective agents to directly tackle issues and problems, one could see municipal governments as best to deal directly with regional, local, and neighbourhood level issues. The lack of partisanship -- the focus on building coalitions on an issue-by-issue basis -- can be seen as enabling municipal governments to more directly tackle problems without the tribal bounds of partisanship.
Federally, especially during the periods of minority government under Harper, it seemed Parliament was dominated by partisan brinksmanship and grandstanding rather than a real focus on tackling difficult issues facing Canadians. In the United States, the system of divided government, and the existence of an increasingly rightwing Republican Party determined to obstruct President Barack Obama's presidency, has created gridlock in Washington, where issues that should be routine - such as raising the debt ceiling -- end up in brinksmanship that threatens America's economic health.
A level of government aimed at problem-solving, closest to the people, seems appealing. Mayors seem more effective agents than elected officials at the provincial and federal level... and then there's Rob Ford.
Toronto itself is a growing and prosperous city, with construction cranes a common sight. Toronto recently exceeded Chicago to become the fourth largest city in North America (behind Mexico City, New York, and Los Angeles).
There are many successful initiatives in Toronto. One example is the redevelopment of the low income Regent Park development into a mixed-income community. Another example is Toronto's chief planner, Jennifer Keesmaat, who has made use of social media to engage in serious discussions about Toronto's future, about managing and planning for its growth including allowing for more density while preserving neighbourhood cohesion, championing medium-density development to this end.
In Toronto's suburban municipalities, leadership is also being shown. The Regional Municipality of York, encompassing many of Toronto's northern suburbs, has taken a leading role in championing affordable housing, promoting more rental properties with the #MakeRentalHappen campaign. This earned praise on Rick Mercer's show as well as from an IBM executive who emphasized the importance of rental accommodations for younger employees at IBM.
Mississauga mayor Hazel McCallion - despite being the "Queen of Sprawl" in earlier decades - has since become a champion of dense and mixed-use development in Mississauga's emerging downtown, as well as a strong promoter of mass transit.
Toronto politicians such as Premier Kathleen Wynne provincially and Olivia Chow federally have promoted the importance of investing in mass transit. Chow, as Member of Parliament, has championed the establishment of a national mass transit strategy, emphasizing that Canada is the only G8 country without such a program.
Though, for all these positive signs and initiatives, a serious leadership gap remains at Toronto City Hall, with the antics of mayor Ford -- denying and then admitting use of crack-cocaine -- distracting from other pressing issues and calling into question the mayor's competence to hold office. The mayor and his brother, city councillor Doug Ford, have engaged in bullying behaviour, including the latter calling on the resignation of Toronto's police chief over a tape showing the mayor smoking crack-cocaine.
Furthermore, the mayor and his brother have championed illogical policies, such as establishing a mega-casino in the city and disregarding a long-deliberated plan on developing Toronto's waterfront.
Toronto is a rapidly growing city, one facing pressures on infrastructure, concerns about congestion of cars on roads, and the need for better mass transit. Toronto is a city beset by economic inequality. These are all issues that need to be seriously dealt with, not sidelined by the distractions of a mayor clearly unfit for office.