I actually smiled when I read the headlines this morning: Debbie Reynolds dead at 84.
How beautiful. A mother and daughter who were so close (soulmates, it seems) that Reynolds wanted to be "with Carrie" as soon as her daughter passed, to join her in the afterworld, in the light. I guess if one perceives death as a bad thing -- as many of the "2016 sucks" statements I'm reading online allude to -- then, yes, this is devastating.
Why not turn it around to have a grateful heart which thanks these great artists for the many years they gave us?
But if you believe as I do -- that death is a transition -- that we are here to learn lessons, grow and transition into the next incarnation with those we love, then this is one of the most beautiful things to happen this year. What if Reynolds didn't die of a broken heart, but rather of a heart expansion that surpassed the physical world when Carrie left?
Go, Debbie. Put your arm around her until the others join you both.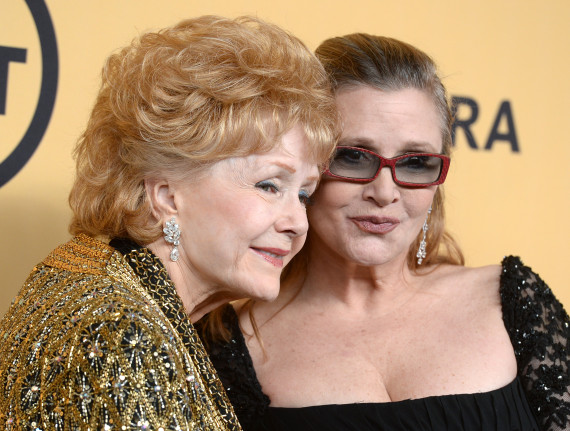 Debbie Reynolds, Carrie Fisher backstage in the Press Room at the 21st Annual Screen Actors Guild Awards, held at the Shrine Auditorium, Los Angeles. (Photo: Graeme Demianyk)
Instead of the negative victim language (and holy hell, what a list of words I'm reading everywhere) like "devastating," "tragic," "heartbreaking," "not fair," "I hate 2016" -- why not turn it around to have a grateful heart which thanks these great artists for the many years they gave us?
Why not celebrate them for fulfilling their destinies and passions, all despite (for many) substance abuse issues that took tolls on their bodies and mental health issues that they battled and came to accept with grace?
We were privileged to be alive in this generation and enjoy their talents. How lucky are we!
We are the ones who got to see side buns for the first time with Carrie Fischer in Star Wars: A New Hope; rocked to David Bowie and were empowered by his early gender-bending confidence; felt our minds blown when Prince first crawled out of that tub in "When Doves Cry" and danced our asses off (in clubs and in the kitchen) every time one of his songs was on the radio.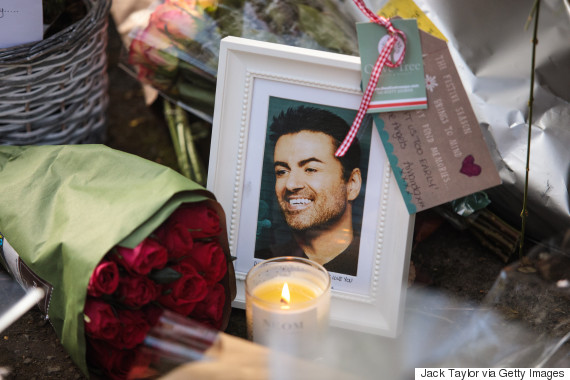 A photograph and floral tributes are left outside the Oxfordshire home of British pop singer George Michael on Dec. 27, 2016 in Goring, England. (Photo: Jack Taylor/Getty Images)
And for me, special thanks to George Michael for releasing his version of "First Time Ever I Saw Your Face." His voice walked with my dad and I down the aisle a few years ago, and the song's poignant vulnerability with HIS voice still makes me cry.
As a side note, but on the same topic: this summer, I joined thousands at one of the Tragically Hip's final shows in Toronto. All around me, people were saying, "this is so sad." Sad? Are you kidding me? It was one of the most empowering damn things I have seen. Gord Downie's still here and he is making the very most of every day he has left.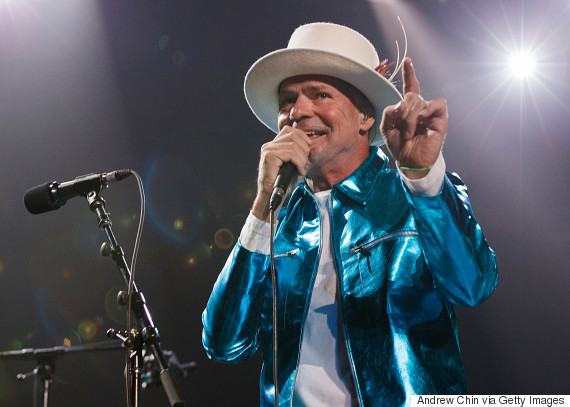 Gord Downie of The Tragically Hip performs onstage during their 'Man Machine Poem Tour' at Rogers Arena on July 24, 2016 in Vancouver, Canada. (Photo: Andrew Chin/Getty Images)
What I saw was a brilliant artist who forgot most of his own song lyrics but who had the courage to go onstage and sing anyway. A Canadian superstar whose failing body had his doctors marvelling at how he found the physical stamina, the will, to perform the way he did.
"Courage" came at the BEST time. Because when one is faced with a terminal diagnosis, the options are quite simply self-pity or givin' 'er. Gord Downie's final shows with the Hip and his work with recent legacy work to bring aboriginal rights and healing into the public forefront is impactful. Thank you, Gord.
Instead of focusing on LOSS, I'm focusing on what my life has GAINED from these artists, these masters, these creators.
Instead of focusing on LOSS, I'm focusing on what my life has GAINED from these artists, these masters, these creators. Our physical bodies aren't eternal, but the energy we leave behind is.
And so, with a smile and gratitude, I release them gently into the light. When it's my time, I truly hope there is purple rain, a fast lane and that the heat is on, that there truly is freedom, and that if I'm in pain, I can choose when to go.
#RIPDebbieReynolds Terrible sad news. I have had enough of this year now. #sgtpepper2016pic.twitter.com/f09uHVLrs8

— christhebarker (@christhebarker) December 29, 2016
Because for me, 2016 has been all about reflecting on these amazing careers that shifted consciousness, these talents I witnessed and enjoyed by being born in this era, and thanking them for sticking around as long as they could.
I love you, 2016. And I can't wait for the next round of musicians, comedians, actors and so on that are going to show up and bring us joy.
Follow HuffPost Canada Blogs on Facebook
Also on HuffPost: