Andrew Bret Wallis via Getty Images
When acts of terror rock our world, the last thing we want to think about is whether our kids are in the middle of it. Just the thought of someone you love being in that kind of trouble can make you catch your breath. And while your heart always goes out to families who do lose loved ones in those situations, there is also often a bit of guilty relief that your family is safe.
It's why the thought of even considering putting your child in harm's way is a hard one to swallow.
So what to do when your kids have the opportunity to travel -- whether as part of a school trip or a solo backpacking adventure? Do you hold them close or let them go?
The answer isn't clear cut but there are some things you should consider as you make your decision:
Get the facts:
Read the terror alert warnings from your government and measure them in context. Talk to people who are in a situation similar to yours (other parents of kids poised to take the trip, parents and teachers of kids who've already taken the trip, the organizers, etc.) .Confront your fears and ask the tough questions. What are the safety protocols that give you comfort? Where are they traveling? What makes you uncomfortable? What are the real risks and what information do you have to support it?
Talk to your kids:
Ask them how they're feeling about the potential travel? Are they nervous? Uncomfortable? Unfazed? Have a discussion where you listen more than you speak. Be careful not to push your fears onto them but also be open to having an honest, age-appropriate discussion.
Remember the reasons independent travel is important:
Travel holds real benefits for young people including increased self confidence, world awareness and learning opportunities. What benefits do you see for your child? What would your hopes be for them on such a trip if terror wasn't front of mind? Are you any less committed to your beliefs in that regard? And if you have wavered, do you have concrete reasons for doing so? You may come out of this analysis committed to your gut feeling that it's not a good idea for them to travel. That's ok, too. It's the analysis that is important.
Prepare them:
Don't send them off on a big trip without a discussion about how you'll stay in contact (and how often), remaining aware of their surroundings and trusting their instincts. Have the conversations that prepare them for the world they're heading out to explore. Technology is your friend. Equip them with a cell phone and a sim card that will allow them to contact you (or you them) if you need to. Talk about what to do in case of any emergency -- not just a terror related one.
Let them go without you:
The chance of a terror attack does not decrease because you are beside them. School trips, near or far are an opportunity for independence , learning and growth. Let them go, or don't, but don't water down the experience with your fears or helicoptering. That's not fair to them.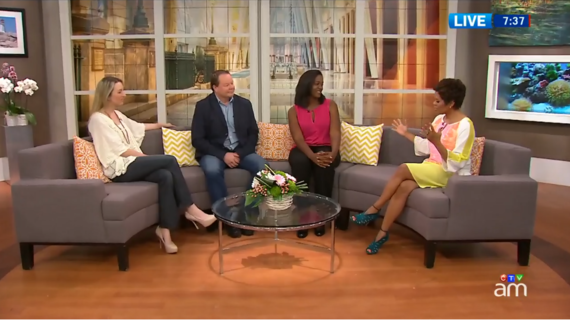 We talk about fears, family and the importance of travel a lot at www.globetrottingmama.com . You can read our thoughts on one school board's recent decision to cancel all trips to Europe and see our recent appearance discussing it on Canada AM here
Follow HuffPost Canada Blogs on Facebook
ALSO ON HUFFPOST:
Best Travel Destinations For Canadians