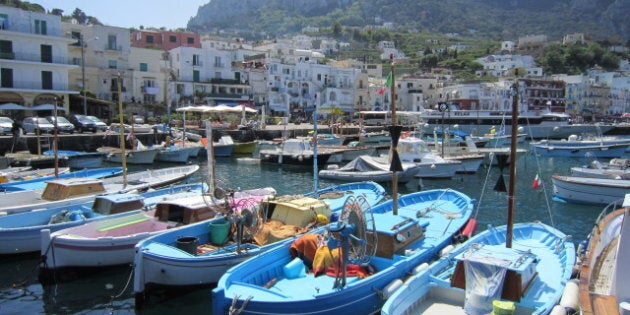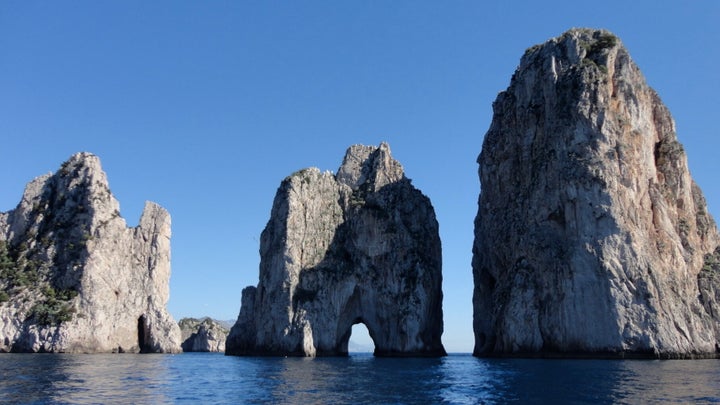 On a rough and rocky boat ride from gritty Napoli, amidst a rain storm and strong winds, our island destination appeared on the horizon. Home to haute couture, the Italian elite and considered the crown jewel of Campania, Capri looked shabby chic at first glance. It was October, a time when weather is unpredictable, but after one stormy night the skies opened up and this Italian isle sparkled just as I imagined.
We decided to spend a week of our three-week honeymoon last fall in Capri on the recommendation of several friends who had been before. Everyone seemed smitten when reminiscing about their time there, so our curiosity got the best of us and off we went.
A week of sun while soaking in the Tyrrhenian Sea sipping through bottles of prosecco is hardly a stressful way to spend a week of one's life. In fact, I can only describe the experience as blissful. But we lucked out as October marks the end of tourist season. So although there were people around, it wasn't at all busy or hard to score the best seaside lounger or snag a table at one of the top restos, sans reservation. The weather was fab as well, with the exception of our turbulent arrival.
While researching Capri prior to our trip, I didn't find a ton of helpful blogs, except for this gem by Joanna Goddard of A Cup Of Jo. So here's my list of top picks for anyone planning a trip to this gorgeous corner of Italy this year:
The best way to get your bearings on Capri is to start with the most picturesque walk on the island. Begin by strolling past the designer shops and charming cafes along Via Tragara which eventually connects to the Pizzolungo, a walking trail that takes you around the eastern part of the island giving you spectacular views of the Arche de Naturale and the iconic Faraglioni.
Head to Augustus Gardens after your morning cappuccino to beat the crowds, then hike down Via Krupp, a winding path that takes you down alongside the mountain to Marina Piccolo. We spent several afternoons here swimming in the warm water and lounging in the sun. You can hire beach chairs and umbrellas and the guys who work the bar will serve your prosecco on a silver platter. Total. Luxury.
Make your way to Marina Grande and barter with the boat captains to get a good price on an island tour by Gozzo boat. You do not want to see the island on the crowded tourist boats with a bunch of blue hairs from the cruise ships, so this is definitely the way to go. Pack a lunch and some wine and spend the day swimming through grottos and exploring the more secluded parts of the island.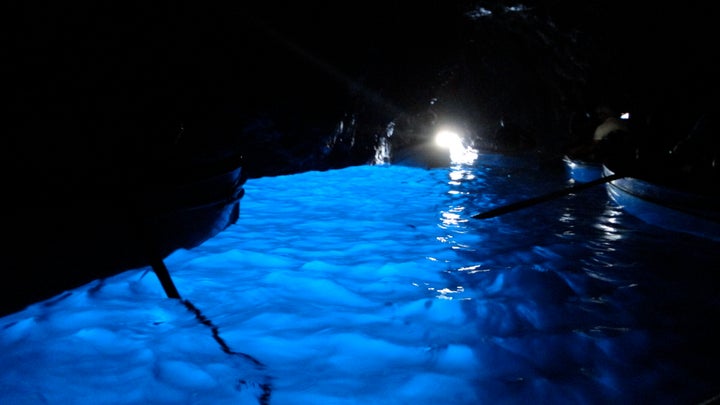 Although it's ultra touristy and busy, you can't visit Capri without checking out the Grotta Azzurra (Blue Grotto). The water glows bright blue when the sun reflects off the limestone and the boat captains cheesy serenade echoes as you float around the cave. It's really quite brilliant.
Don't leave the island without spending some time in Anacapri, the town situated at the peak of the island, home to mostly locals and year-round residents.
Capri is culinary heaven, if you fancy seafood and all things fresh and organic. There's so many varying experiences, from traditional to super modern and I can't say we had bad service anywhere we went.
Ristorante Aurora is the place to see and be seen, regularly frequented by the Italian and international glitterati. Steven Spielberg ate there a few weeks before our visit and the place is plastered with pics of the owner cozying up to Mariah Carey, Beyonce and Jay-Z. Sadly, no jigga man for us, but the food and ambience were fabulous.
Ristorante Ai Faraglioni is a kitschy but charming family-run resto on Via Tragara serving up traditional Italian fare. Ask for Costanzo - he'll take great care of you (read probably hit on your wife). Villa Verde is another celebrity haunt, located near Hotel Quisisana. Pizza is prepared in a wood fired oven and comparable to what you'll find in Naples.
For something a little more quaint with local appeal, follow the signs up the hill away from Capri village to Lo Sfizio. Sit outside and stargaze while feasting on aubergine parmigiana (eggplant parmesan). Finally, do not leave the island without dining at Da Paolino. Probably the most romantic meal of our honeymoon, dine under a canopy of lemon trees and don't forget to cap off your meal with an aperitif of limoncello.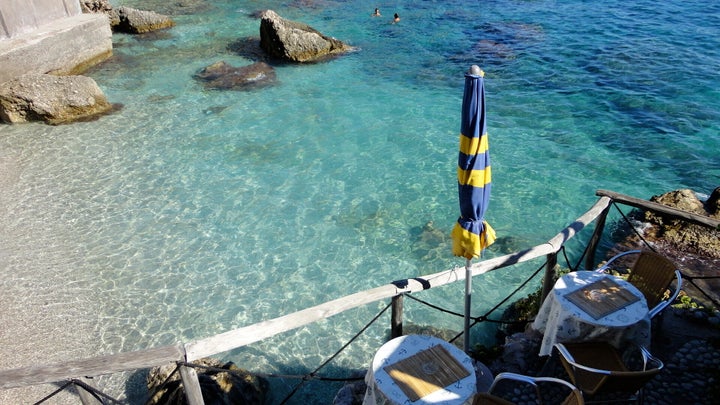 For lunch, there are three spots I'd highly recommend. Just off the Piazetta, indulge in pizza and a glass of pinto grigio at Ristorante Isidoro and be sure to wait for a balcony, the people watching is worth it. Order the catch of the day at Ristorante Da Gioia at Marina Piccolo and make the trek to Le Grottelle to lunch over breathtaking views of the Arche de Naturale and the med. Ask for whatever mama recommends.
The Negroni seemed to be the cocktail of choice in Capri, so when in Rome...here's the recipe:
Capri and the Amalfi Coast are known for limoncello, and I can't think of a better night cap after a beautiful meal. It's best to drink it chilled in a chilled glass. Finally, there are too many to mention, but be sure to sample some of the the wines of the Campania region.
After reading rave reviews online, we chose to stay at Hotel La Minerva. This four-star boutique hotel made us feel so at home for the week. The decor is modern and monochromatic, with touches of local art. Our room was massive and well appointed, with a huge terrace overlooking the sea. Breakfast is included and served daily on the top terrace and the staff are so attentive, you feel as though you have a private concierge for the duration of your stay.
Have you traveled to Capri and found a few other gems? Is there anything else you'd recommend? Post a comment and share your recommendations below.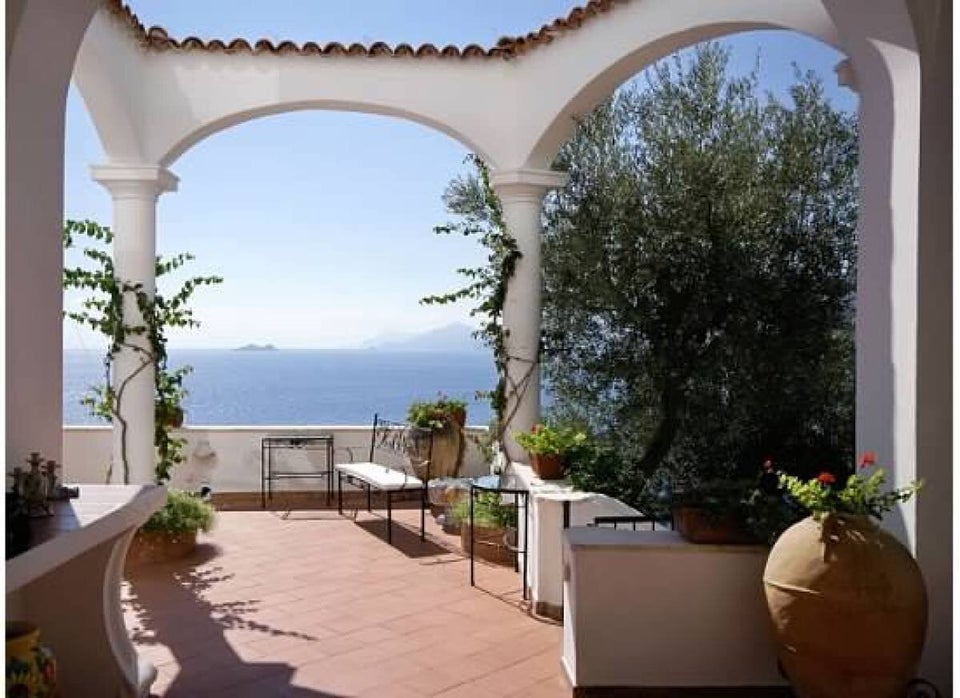 Villa Lilly, Amalfi Coast