If you've grown weary while traveling the popular tourist attractions of India, the beautiful beaches of Goa are the perfect place to reflect and relax. Known worldwide for attracting a wave of western hippies in the 1970s (some of which still linger), the coastal region plays host to a new generation of travelers while carefully maintaining its chilled-out vibe.
Many of the shops are constructed with nothing more than aluminum siding slapped together with a bamboo roof. Electrical wires are tangled haphazardly, and power outages are common, but usually restored within minutes, sometimes seconds (hooray for generators!). Beach shacks are just that -- shacks, outfitted with comfy chairs, heavenly hammocks and heaps of cold Kingfisher. It's as though a slight breeze could blow it all away, but it doesn't. Maybe it's karma.
Choosing the right place to stay is daunting, because Goa is huge and each beach town has a completely different flavor. I spent hours scouring the web trying to piece it together. My conclusion: if you crave some peace and quiet, but with reasonable access to nightlife, head to Candolim Beach. Situated in the southern stretch of North Goa less than an hour from the Dabolim Airport, it was an ideal locale.
Candolim is central, so if you have time to explore other towns and beaches, north or south, this is a great home base. The beach is huge and clean, as the party scene is a titch north in Calangute and Baga. The town is quaint and has plenty of good restaurants, shopping, ATMs, grocery stores, etc. Everything you need, but not too hectic. If you do fancy some nightlife but don't want to be in the middle of tourist hell (i.e. Baga) you're only a 15-minute cab ride away. And the nightlife is definitely worth checking out. Once you figure out where to stay, the rest is all beach shacks and bliss.
Candolim & Sinquerim
The beaches are vast and clean with little to no hawkers. You'll find plenty of small hermit crabs and sandpipers scurrying along, but otherwise soft sand for miles. We spotted a pod of dolphins one day playing and breaching, much to the delight of thrilled onlookers. Sunsets are epic no matter where you watch from in Goa, but I highly recommend walking to the end of Sinquerim beach to witness the sun drop from Fort Aguada alongside hundreds of locals.
Like the many beach towns of Goa, each beach shack has a specific offering and it can be hard to choose where to stop. We loved the friendly staff and comfy hammocks at Ryan's Beach Shack and Calamari is always happening, with fantastic food for lunch or nibbles and drinks at sunset.
Candolim has a fantastic selection of restaurants, many of them with live music and great atmosphere. If you're looking for something full-on hippie with groovy tunes and a garden setting, check out Shivers Garden Restaurant & Lounge Bar. It's just off the main drag, but they subtly lure you in with flashing arrows made of twinkle lights. For something a bit more sophisticated, head to Bomras. Thai/Indian fusion with tons of fresh and inventive seafood dishes, this was a culinary treat after weeks of traditional curry and naan. Order the tamarind margarita.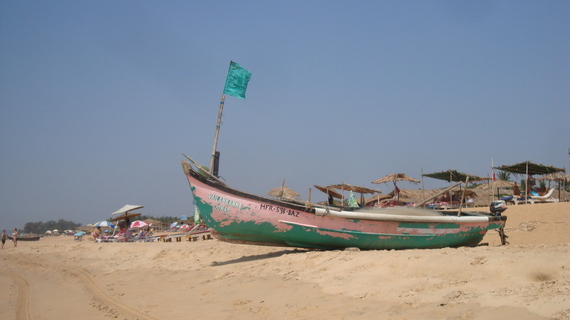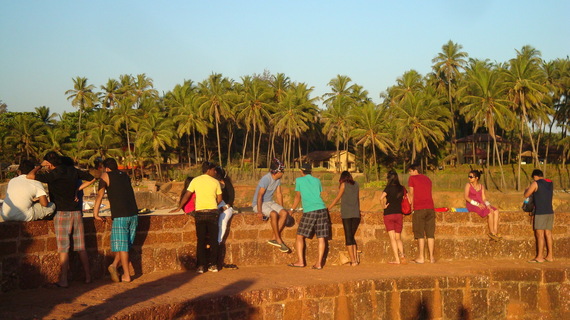 Anjuna
Anjuna was by far my favorite place to hang during the day in Goa. The beach is small, but lined with palm trees and the aura of the hippie hay day hangs over you like no time has passed. We scanned the beach for the best spot and agreed that Cafe Lilliput was the place to be. Great tunes, attentive staff, cold beer and tasty food. Your beach chairs and umbrellas are complimentary if you order something to eat or drink.
Unlike Candolim, this beach has a mix of hawkers, performers and artists, but we were up for a bit of action so this suited us fine. Women walk the beach, balancing massive baskets of fruit on their heads, selling fresh coconuts, pineapple, bananas and papaya. Have your hands or feet adorned with a beautiful henna design for 200 rupees (maybe less, but that's what I negotiated). And kids perform on the beach for tips, balancing multiple objects while walking a pop-up tight rope. Yoga retreats are also abound in this area.
The only thing that's over-hyped in Anjuna is the popular Wednesday flea market. Not for the faint of heart, it's overwhelming and the selection is a bit overrated. It was much less stressful to shop in Candolim and the prices were considerably lower, but if you're a diehard shopper, you might dig it. The history behind it is kind of cool, as it's said that in the 70s the hippies would sell their belongings to locals to fund an extended stay in Goa and a weekly market was born. Warning: watch out for the aggressive ear cleaners! Yes, you read that right.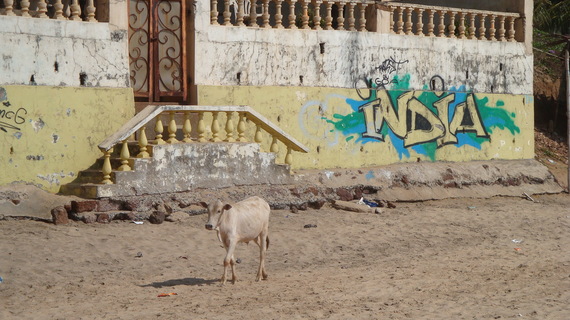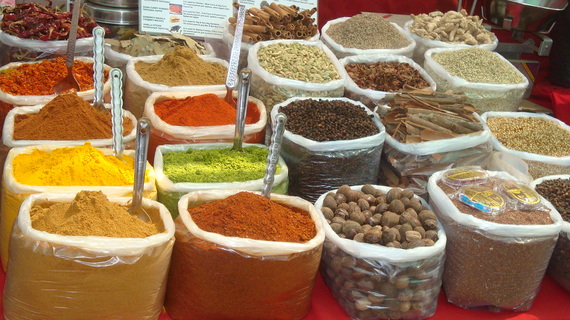 Calangute & Baga
I would avoid these beaches during the day, but if you're up for some pulsating nightlife, there's no better place to be in Goa. It reminded me of Koh Phangan in Thailand...on crack. Tons of restaurants and bars spill onto the beach for revelers to sip cocktails while star gazing on the sand (or indulge in other substances).
We ventured to Cafe Mambo in Baga one night, by this time craving a party scene, and I was impressed by the skilled bar staff. Proper cocktails prepared to perfection. The lounge is open-air, with an air conditioned club attached. If you pick one place to have a big night out in Goa, Cafe Mambo is an institution for locals and visitors alike.
Things to watch out for
Cows meander up and down the beaches, and bulls may charge if they feel threatened. "Massage Therapists" offering their services, typically men dressed in trousers and button-up shirts - despite the searing heat - looking to give a half-naked western woman an oily rub down. And, as appealing and bohemian as it may seem, traveling by motorcycle is not worth the risk. In India, the biggest thing on the road wins and, according to The Goan newspaper, at least one person is killed each day in a motorcycle accident in Goa. Spend a few bucks and take a cab.
After spending our final days in India soaking up the sun in Goa, it was bittersweet to leave a country we had fallen so madly in love with. But I know we'll be back. Until then...
Stay - Marquis Beach Resort