Landing in Delhi immediately shot electrical currents up my spine and sent my mind into overdrive. "Here we go," I thought. Peering out onto the tarmac, I was eager to lay eyes on a city I had heard so many wild tales about. The airport was surprisingly not unlike London Heathrow, where I had just flown from -- modern and new. I would later discover that India had a substantial face-lift following the 2010 Commonwealth Games, in which Delhi played host. Upgraded airport terminals, new freeways, improved infrastructure, and social housing all built in preparation. Luckily the madness I had imagined was still there waiting to greet me with a sobering smack in the face (figuratively speaking).
On the cab ride to the hotel, I had my first taste of the freeway walkers, as I affectionately call them. People -- many of them young kids -- weaving their way through manic traffic, trying to hawk everything from bindis to books. At one point of the journey I dozed off, and when I awoke three kids were squished against my window, displaying stacks of goods. Startled, I jumped and immediately knew this wasn't going to be the only time I would be taken off guard here.
Delhi is a city on the verge. Big business is booming, skyscrapers are dotting the skyline and the middle class is carving out a bigger, brighter future for this emerging economy. I can't imagine what the city might look like in 10 years. Yet, despite the modern influences and gentrification, traffic is still a mix of motorcycles, tuks tuks, cars and cows. Poverty is still prevalent and the slums still overflow with people barely scraping by. It's a hot mess, but it's functioning. In many ways, it's thriving.
We set off to explore the Golden Triangle - a well-traveled route between Delhi, Agra and Jaipur - and to spend a few days in rural Rajasthan. Here's a list of must-see forts, ruins and off-the-beaten-track sights to help you discover this incredible corner of the world.
Delhi
Chandni Chowk (Old Delhi) -- no visit to Delhi is complete without a walk through one of India's oldest and busiest markets. You might say it's your initiation into the country. Narrow streets, colorful shops, and the pungent smell of incense and fresh samosa. Electrical wires balled up into a mess overhead, as monkeys hang from the wires. Don't cheat and attempt this on tuk tuk.
Jama Masjid (Great Mosque) -- commissioned by the Mughal Emperor Shah Jahan and completed in 1656, standing tall across from the market is the Jama Masjid, the best-known and largest mosque in India. Its courtyard can hold up to twenty-five thousand worshippers.
Gurduwara SisGanj - one of the nine historical gurdwaras in Delhi, this impressive Sikh temple was the first established in 1783 by Baghel Singh to commemorate the martyrdom site of the ninth Sikh Guru, Guru Tegh Bahadur. Visitors are welcome to join in during worship or lend a hand in the communal kitchen.
Qutub Minar - at 73 metres, it's the tallest minar in India. Originally an ancient Islamic Monument, adorned with Arabic inscriptions, the stunning Qutub Minar is made of red sandstone and marble and is a UNESCO World Heritage Site.
Humayun's Tomb - the impressive tomb of the Mughal Emperor Humayun, with a striking resemblance to the Taj Mahal, was commissioned by Humayun's first wife Bega Begum in 1569, and designed by Persian architect Mirak Mirza Ghiya.
Lodi Gardens - with over 90 acres of green space, it's Delhi's version of Central Park. Here you'll spot locals playing cricket (India's national game), lovers laying in the grass, family picnics and businessmen lounging over lunch. Take refuge from the chaos, and relax at the tranquil Lodi Garden Restaurant.
Stay - The Grand Vikalp, South Delhi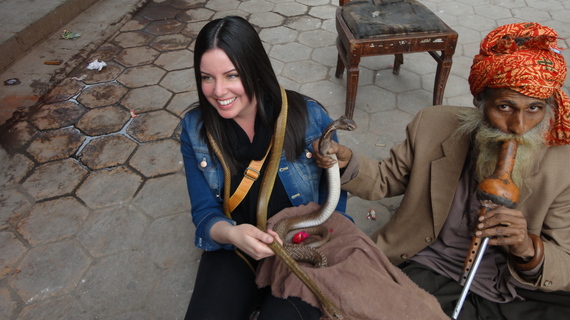 Agra
First taken over by the Moghuls in the late sixteenth century, led by Akbar the Great, today Agra is dirty, kitschy and congested with traffic. But it's known as the City of Love, as the most romantic monument on the planet is located here. We actually stumbled upon a wedding procession one night and were invited to boogie down the street as the groom was carried to his bride in a golden chariot!
Taj Mahal - constructed between 1631 and 1654 by a workforce of 22,000 people, the Taj Mahal was built by the Muslim Mughal Emperor Shah Jahan as a mausoleum for his favorite of three wives, Mumtz Mahal. She had already had fourteen children when she died in childbirth (poor woman), so the Taj is a romantic homage to her. It's considered the finest example of Mughal architecture, combining Islamic, Hindu, Persian and Turkish elements. I can't describe how surreal it was to finally see it up close. It changes colors throughout the day, but the best time to be there is sunrise.
Baby Taj - a miniature version of the Taj Mahal, it's another Mughal mausoleum housing the tomb of I'timād-ud-Daulah. Often described as a "jewel box", it's serene setting makes it the perfect place to rest after touring it's much larger counterpart.
Agra Fort - skip the Red Fort in Delhi as it's a replica of the much more impressive Agra Fort. The walled city was built by the Mughals, originally a brick fort, held by the Hindu Sikarwar Rajputs. Sikandar Lodi (1488-1517) was the first Sultan of Delhi who relocated to Agra to live in the fort. He governed the country from here and Agra assumed the role of second capital.
Stay - Raj Mahal (incredible rooftop patio with a view of the Taj Mahal)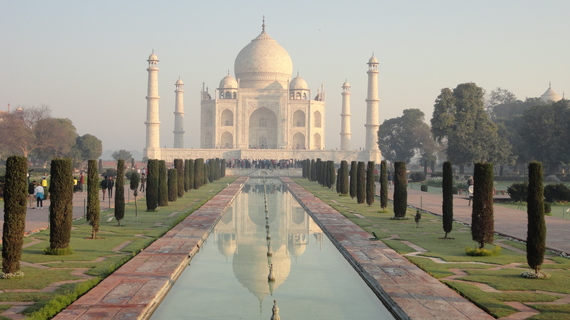 Before crossing into Rajasthan, we stopped to explore Fatehpur Sikri, a massive fort built by Mughal ruler Akbar the Great. It exemplifies the Indian essence of religious diversity but cultural semblance in a variety of monuments and palaces built for each of his queens.
Next, we took a short detour to visit the quaint village of Abhaneri, which has one of India's deepest and largest step wells (tank gardens). Rare in India, step wells were used as cool places to rest, pools for ritual cleansing prior to a temple visit, and as a water supply or irrigation during dry weather. Some of the ruins recovered here date back to the 6th century.
As we approached the pretty city of Jaipur, otherwise known as The Pink City, we noticed the environment was reasonably cleaner and beautiful bougainvillea grows everywhere.
Jaipur
Amber Fort - the ruined city of Amber was a flourishing settlement as far back as 967 AD. Located high on a hill overlooking stunning views of Maota Lake; it's famous for its mixture of Hindu and Muslim architecture. At the bottom of the hill sits Amber Fort, initially a palace complex within the fort on top of the hill (today known as Jaigarh Fort). You can stand in line with gaggles of tourists and climb to the fort aboard an elephant, or you can hire a driver in a jeep to take you through the village to the fort's entrance (I recommend the latter). Watch out for the gray langur monkeys - cute, but aggressive.
Hawa Mahal - probably the most recognizable image of Jaipur, this beautiful pink palace has a sprawling complex, formal gardens and a small lake. Otherwise known as "Palace of Winds", it was built in 1799 as part of the City Palace, an extension of the chambers of the harem. Its original intention was to allow royal ladies to observe everyday life in the streets below without being seen.
Shopping - save your pennies until you hit Jaipur, because this is mecca if you've got a bit of cash to burn. Known for precious and semi-precious gemstones, block-printing textiles, and superbly tailored garments, all for a fraction of what you'd pay at home. It felt good to buy directly from local artisans and manufacturers as well.
Bollywood - A visit to India is not complete without experiencing a Bollywood film in the theatre. Whistling, singing and shouting at the screen are encouraged! All films are in Hindi, of course, but given how expressive Bollywood acting is, we had no problem following the plot, which was a love story...naturally.
Stay - Libra Hotel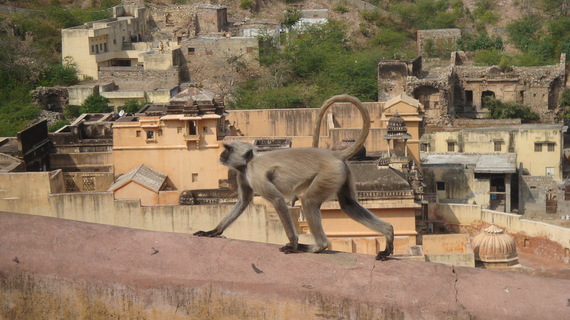 Sawarda
The highlight of the trip was spending a few days in the charming rural village of Sawarda. Everyone was so welcoming and curious, which was a nice break from the hawkers and hustlers in the larger cities.
As we strolled through the village, kids came running out of their homes frantically fixing their hair and brushing their teeth. All in preparation for us to photograph them so they could see their image in digital form. It was such a joy spending time with these folks.
We stayed in a 17th century fort restored into a hotel, with a rooftop patio perfect for star-gazing. It reminded me of the hotel in the film The Best Exotic Marigold Hotel - shabby chic, with tons of history and character.
Stay - Fort Sawarda