I recently popped down to L.A. for a four-day mini break at the Standard Hotel in West Hollywood. Having arrived around midnight, depleted of energy and thirsty for festive libations, it took much composure to refrain from petting the furry walls or asking if we could feed the pretty girl in the glass box. Was I dreaming? Did Air Canada slip a hallucinogen into my vodka tonic?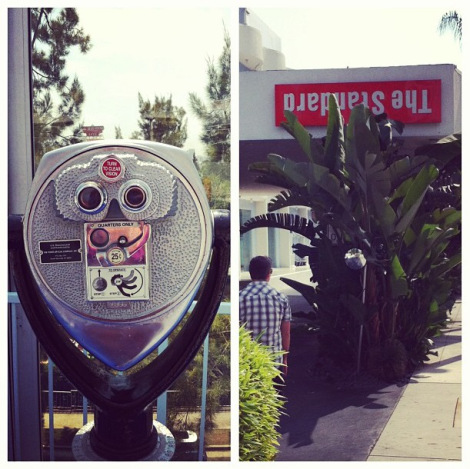 I always prefer to stay somewhere with character that attracts equally colourful guests. The Standard most definitely hit the mark and made for a great escape to engage in some meaningful conversation over mimosas while floating in the pool. The husband and I are considering a move to L.A. in the not-so-distant future, so we spent four days discussing logistics and falling a little more in love with the crazy town.
The paps were snapping pics of this girl last night. I asked the photog who she was - "I don't know. But she looks like she's somebody." #LA

— Urban Cowgirl (@urbancowgirl) June 30, 2013
I've written about L.A. recommendations before, but I found a few new favourites during this trip to add to my growing list.
EAT
Le Petit Four, West Hollywood: We stumbled into this gem while strolling down Sunset Boulevard looking for a late lunch. Beautiful, fresh food and a breezy patio make this place perfect for people watching.
Craig's, Melrose: I first heard about this place while watching Craig Ferguson (no affiliation). Turns out this American/Italian eatery is one of George Clooney's favorite L.A. restaurants and it was the spot for the Argo after party following this year's Academy Awards. If it's good enough for The Cloon, it's good enough for me... and it was.
Taste, Melrose: After an exhausting few hours of shopping in 115 degree fahrenheit heat - I must be mad - this place was a godsend. We arrived just in time for happy hour (from 4 - 6 p.m. daily) and indulged in their to-die-for flatbread.
Chateau Marmont, West Hollywood: We booked a table on the garden terrace and spent a few hours peeking nonchalantly (sort of) at celebs lunching at neighboring tables. First we spotted Common (followed by me discretely mopping the drool from my place setting), then John Krasinski and Emily Blunt - who are the most adorable couple on the planet. A-list customers aside, the food is exceptional and the service sublime. Our server sent us a few glasses of rosé on the house.
DRINK
Hotel Café, Hollywood: Cool live music venue and the bartender, as he put it, "makes an Old Fashioned that will change your life." We bought tickets beforehand to see Moxi - a nominal $5 a pop - and chatted with the singer afterwards who I'll be interviewing in the coming weeks. Stay tuned.
Venice Whaler, Venice: I love Venice, an adoration I professed during a visit last year. Nothing makes me happier than rocking up to the Whaler sun-kissed and covered in sand after a day at the beach. Happy hour kicks off at 4 p.m.
Cactus Lounge, The Standard, West Hollywood: Whether you're staying at the Standard, or elsewhere on the Sunset strip, stop by for a cocktail in the open air lounge. You'll notice a fine mix of power lunches, pool revelers and musicians mingling in the Mojave-inspired room. Check out Desert Nights every Wednesday for live music.
Bar Marmont, West Hollywood: Again, we found ourselves at Chateau Marmont, this time for dinner. If you're just popping by for drinks, definitely belly up to the bar (butterflies adorn the ceiling overhead), but if you're having a meal I recommend the baked artichoke with burrata - the food is almost as decadent as the decor.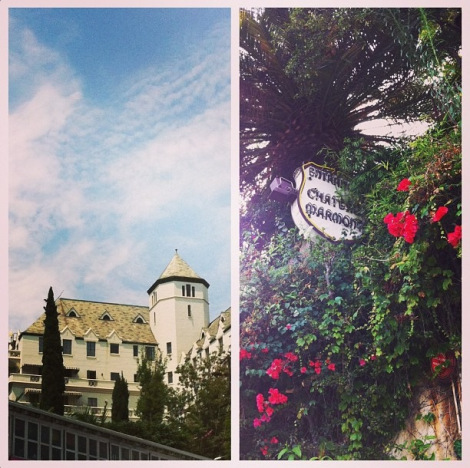 DO
Club Nokia, Downtown LA: If you're looking to completely switch gears and get away from the glitterati, see who's headlining at Club Nokia and take in a show. Think the Commodore Ballroom (for the Vancouverites reading this) in terms of layout, but super modern. We checked out The Roots - who I've been dying to see for ages - who had a gaggle of old school hip hop stars join them on stage. MC Lyte, Nelly, Too Short and Naughty by Nature - hello high school.
Hollywood Bowl: I've said it before and I'll say it again, best live music venue ever. Pack wine and nibbles, bring a pillow to sit on, and snuggle up with your plus one while you take in a concert under the stars. The moment the sun dips over the Hollywood Hills and the sky turns to pink, there's truly no better place to be. We were there to see Damian and Stephen Marley along with a long list of other Marley descendants. It doesn't get much better than dancing to reggae on a warm summer night with a hint of gunja in the air.
Venice Basketball League (VBL): If you're fortunate to be hanging out in Venice while the VBL is lighting up the court, count yourself lucky. We just happened to be strolling by on the beach when we caught a glimpse of these men slam dunking like they were born to fly. So naturally, we joined the crowd of onlookers, in awe of their mad skills defying gravity.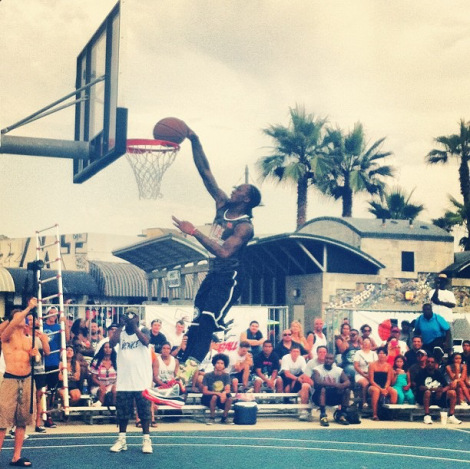 STAY
The Standard, West Hollywood: I highly recommend this spot if you're looking for something a little different, a little iconic and a little bit rock'n'roll.
My server noticed I was reading a Chelsea Handler book and advised me that she's dating the owner of my hotel. 3 degrees of sep from my idol

— Urban Cowgirl (@urbancowgirl) June 28, 2013
Have any LA recommendations you'd like to add? Post a comment below or shoot me a tweet @urbancowgirl. Also hit me up on Instagram under urbancowgirl for more travel pics and musings in and around Vancouver.