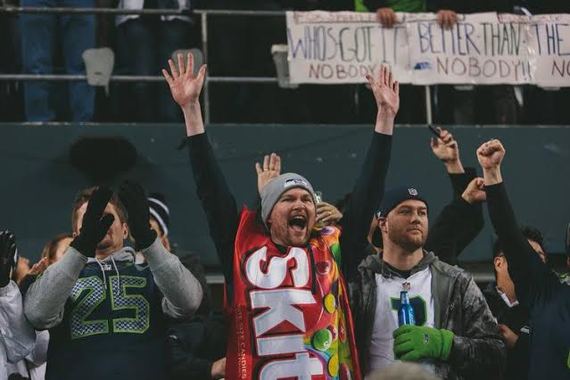 Photo by Jeff Marsh Creative
The Seattle Seahawks have taken Vancouver-based NFL fans by storm over the past few years. Our adopted home team came close to competing in Super Bowl XLVII last year, losing the NFC West title with only 30 seconds to spare to the Atlanta Falcons. This year, much to the satisfaction of football fans across the Lower Mainland, the Seahawks have secured their spot in the final showdown against Peyton Manning and the Denver Broncos, taking place Sunday in New Jersey.
But perhaps the most devout -- and decidedly media friendly -- fan of all is Chris Boyd of Coquitlam, who caught the attention of major media during the NFC Championship game in Seattle Jan. 19 with a ... Skittles costume.
For those of you who aren't familiar with the correlation between the Seahawks and Skittles, Seattle running back Marshawn Lynch is said to be a fan of the chewy, sugary confection. So much so that fans have taken to tossing packs of Skittles onto the field when Lynch goes into, as they say, "beast mode" and has a good play. Hence Boyd's choice in colorful attire, which landed him in this story on CBS Sports. Since then, his online profile has proliferated.
Actor/comedian David Spade tweeted in support of Boyd's super fandom -- to his two million plus followers.
This guy better be at the #Superbowl or I'm not watching pic.twitter.com/hgbKnHy6kl

— David Spade (@DavidSpade) January 20, 2014
Since then, a Facebook fan page has been created and there's even an animated gif making the rounds, a hilarious loop of Boyd busting a move in his candy costume.
Boyd is a registered clinical counsellor, who is credited with co-founding the Original Ugly Christmas Sweater Party, an annual charity event in Vancouver. So what's next for this local football fan? I sat down with Boyd to get his take on all the media buzz.
How long have you been a Seahawks fan?
I've been a Seahawks fan for about a decade. I've had season tickets for the last five years.
What was your reaction when CBS Sports featured you in an article following the Seahawks snagging the NFC Championship?
I thought it was hilarious! I definitely wasn't anticipating that kind of reaction. I just wanted to do something to motivate Lynch to score in the game. I figured a giant bag of Skittles behind the end zone would have been too much to resist. The dancing was not planned, and unfortunately was just me being me.
Has Marshawn Lynch or any of his people reached out to you?
No. But I didn't really expect them to. I'm sure he has better things to do than reach out to a grown man in a Skittles costume. Just as long as Lynch is focussing on the big game this weekend, that's all that matters.
How does it feel to be publicly endorsed for your efforts by David Spade?
People have critiqued my dancing ability in the past, but obviously never to this extent! I'm definitely a fan of David Spade, so it was great seeing his Tweets. Tommy Boy is a classic.
Have you seen the animated gif of yourself and does that ever get old?
Yes I have. It's pretty funny! It's a ritual at Century Link Field that after the Seahawks score they play Lil Jon's "Get Outta Your Mind" before the kickoff. That's what I was singing along to while moving my arms. It makes people laugh so that's the main thing. I'm sure it's going to be following me around for a while.
What are your predictions for the game on Sunday?
A win by the Seahawks, of course. Although I may be a tad biased, I think Seattle will soon win their first Super Bowl!
Define what "beast mode" means to you (aside from tossing a pack of Skittles onto the field).
Beast Mode embodies a level of intensity and punishing style unparalleled by other players in the NFL. Beast Mode means: fighting for that first down with three defenders players on your back. Beast Mode means: running through defenders, not around them. Beast Mode means: surviving a battle with Gaston and winning Belle's love. Well, maybe not the last thing, but Beast Mode is a difference maker!
Where will you be watching the game?
Some friends started up a Facebook awareness page and have been actively advocating to get me to the Super Bowl. I really appreciate the support and comments. I feel very undeserving of such attention because there are so many great Seahawks fans out there other than me. Someone from Skittles' did reach out and said that although they can't send me to the game, they are going to send me a "special package" as a token of appreciation. I have a feeling a bunch of free candy is coming my way! I'm leaning towards watching the game down in Seattle. Besides New Jersey, Seattle is obviously the place to be. I also heard the Yellow M&M Peanut guy is throwing a party, so I might have to make an appearance.
Who will you be cheering for this Super Bowl Sunday? Do you think the Seahawks have enough beast mode to take home the title? Sound off in the comments below.