Today, taking someone's portrait is as simple as pulling out your smartphone and digitally capturing an image, preserving it on the inter-webs for eternity. In the 1930s, not everyone had the means to pay for regular family portraits, never mind the simple luxury of owning a camera.
Foncie Pulice, a second generation Italian-Canadian, owned a photo finishing shop on the corner of Granville and Robson from the mid 1930s until he retired in 1979. Foncie's Photos would begin as way to support his family, but would lead to capturing the stories of Vancouverites spanning four decades.
A friend of the family suggested that Foncie go into street photography, because he'd meet lot's of girls. After serving in World War II, Foncie returned to Vancouver and married Anne, who helped fund the camera that started his business.
Regularly situating himself in one of five spots along Granville Street -- and at the PNE during the fair -- Foncie would set up his camera strategically, capturing people at just the right moment. As soon as a subject stepped across a certain crack in the sidewalk, he would shoot, no focusing required.
As word of Foncie spread, people would pass by purposely, completely aware he was waiting to snap their photo. Many of his photographs capture people dressed up coming out of the theatre, out for an afternoon of shopping, and in uniform during the war. Foncie not only captured portraits, he inadvertently documented the evolution of fashion, architecture, political movements and the changing face of Vancouver.
After Foncie took a subject's photo, he would give them a ticket to claim and buy the photo at his shop. Three photos for 50c, 6 for 75c, or 8 for $1.
"I get eye contact first. I only shoot people who look like they want their picture taken." - Foncie Pulice
As of 1979, malls were puling pedestrians off the street and cameras were made more affordable. The era of the street photography was seemingly coming to an end.
Foncie destroyed his negatives once a year and kept no archives of his work. Tucked away in shoe boxes, family albums, and framed on mantles, his photographs only existed with his subjects. For some people, these are the only photos they have of their grandparents or great grandparents. Foncie managed to capture not only a person's image, but a precious moment in time in the lives of thousands of Vancouverites.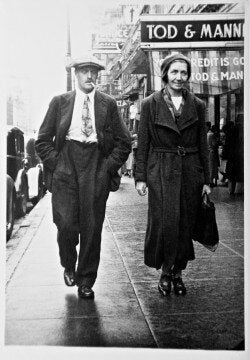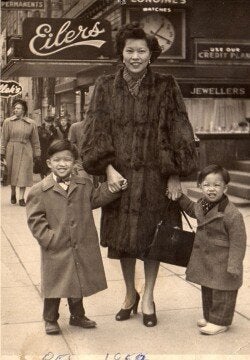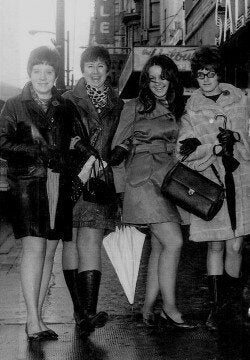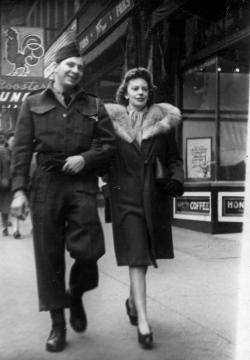 I recently check out the Foncie's Fotos exhibit at the Museum of Vancouver with his granddaughter, Sara Lawson, and thought it would be interesting to get her perspective on her grandfather's legacy.
I've always been fascinated by old photographs that capture a moment in history, in particular images that document the changing face of Vancouver. So naturally I was thrilled when I found out that one of my friends was the granddaughter of Foncie Pulice. What are five words that best describe your grandfather?
Joyful. Loving. Entertainer. Fit. Family-man.
Given Foncie retired right around the time you were born, did you realize when you were growing up how prolific your grandfather was in Vancouver?
It wasn't until my late teens/early 20s that I began to realize what an impact my grandfather had on Vancouver's history. I wasn't even aware he was a photographer 'til the day he took my brother and I to the museum where, behind a glass display, stood a photograph of himself with an old camera. I was maybe ten years old at the time and completely shocked that my Papa was displayed in a museum. I'm sure I asked a number of questions after that but papa never really spoke about what he did -- he was too busy taking care of his five grandchildren!
Foncie's photographs seemed to have stirred a surge of nostalgia among Vancouverites who knew him and were lucky even to be snapped by him. Are you surprised by the overwhelming response people have to his work?
I was initially quite surprised and will admit I've learned more about my papa "the photographer" in the last few months then when he was alive. Thanks to the MOV and the Knowledge Network's documentary I realize what an impact he had on our city's history as well as the thousands of Vancouverites who remember him or the photos he took. I really enjoyed hearing people's stories as they described what the photos captured. So many wanted to share their photos and reminisce about that time, it seems so many have fond memories of my grandfather and it's amazing to hear.
Aside from the legacy Foncie left as a Vancouver street photographer, what personal legacy would you say he left you as a grandfather?
When Papa passed away more than 10 years ago I volunteered to speak at his funeral. Being the eldest grandchild I thought it was my duty, but more importantly I wanted everyone to know just what an amazing grandfather he was. Together with Noni (my grandmother), they cared for us five grandchildren regularly and I have the fondest memories of that time. Whether Papa was building us playhouses, taking us for car rides in his convertible (black classic Buick), or cooking feasts for the entire family, he always had a smile on his face. My Papa's legacy as a grandfather is most definitely the importance of family. Memories of sitting around their dinner table eating delicious food, laughing, singing and enjoying each others company. I have the same great memories sitting around my parents table and now that table sits in our living room and I know there's many exciting memories ahead.
How do you think he would have felt about the exhibition of his work, the documentary and all the associated media attention, all of which happening over three decades after he sold his last photograph?
I'm not entirely sure what Papa's reaction would be if he were around today. He loved people and attention so I can see him enjoying all the excitement. From what I've learned from my father, Papa didn't think his work meant much which is why he never really spoke about it. I think he would be surprised to see how he's being remembered today but also flattered. If he were able to hear all the stories told about him and what his photos have done for people I think he would be moved and honored.
The Foncie Fotos exhibit is on now until January 5 at the Museum of Vancouver. The documentary Foncie's Corner, produced by the Knowledge Network, is available online.