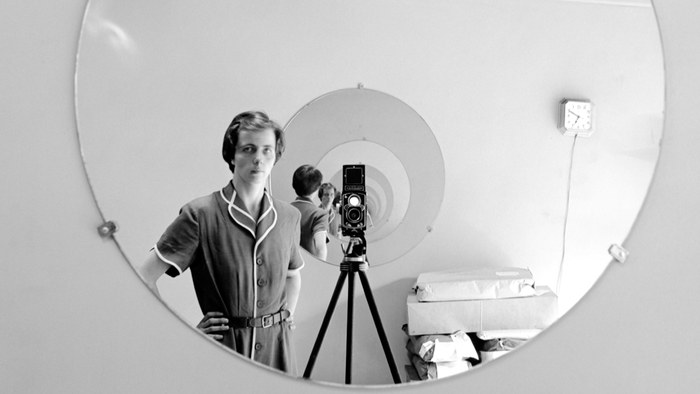 In 2007, Chicago-based historian and collector John Maloof discovered 100,000 negatives and hundreds of hours of Super 8 film footage and audio recordings which he acquired during a storage locker auction. What he didn't know was he was on the cusp of uncovering some of the most prolific American street photography of the 20th century.
Born in New York City and raised in rural France, Vivian Maier returned to the US in her twenties and spent the next forty years working as a nanny for various families of Chicago's upper crust neighborhoods. She also spent much of her time with a Rolleiflex camera hanging from her neck, shooting people and scenes around the city, a hobby she kept quiet throughout her life. Her subjects ranged from the rich and affluent to the poor and impoverished with a penchant for politics and highlighting historical moments.
Following Maloof's discovery of decades of undeveloped film and footage, he teamed up with director Charlie Siskel to film the documentary Finding Vivian Maier. Through a series of interviews with the children she cared for and the parents who hired her, Vivian's story unfolds and is just as mysterious as her decision to keep her work a secret in the first place. Maloof is also able to track down shop keepers, neighbors and other acquaintances through her extensive collection of receipts, ticket stubs and numerous records. Phil Donahue even makes an appearance, as Vivian cared for his children briefly in the 1970s.
Aside from Vivian's fearless approach to capturing unsuspecting subjects, some of which are in the throngs of despair, the use of her Rolleiflex camera gave her an edge in comparison to the street photographers of today. Having to look down to focus each shot allowed her to capture the raw emotion of her subjects before they discovered she was shooting them.
Vivian died in 2009, unknowing of her imminent rise to fame. Her photographs have been exhibited in the U.S., Britain, Germany, Denmark, Norway and Belgium.
You'll like this film if...
...you enjoy the works of photographers like Diane Arbus or Robert Frank, find posthumous fame fascinating and appreciate an expertly navigated documentary that respects the legacy of it's subject.
You won't like this film if...
...I can't think of a single reason why audiences won't enjoy this film. I was captivated by her ability to capture a moment in time so honestly and unguarded and Maloof's passion for the project pours over as he satiates his near obsession with uncovering Vivian's truth.
Finding Vivian Maier screens during VIFF once more on October 9th. Tickets are still available.