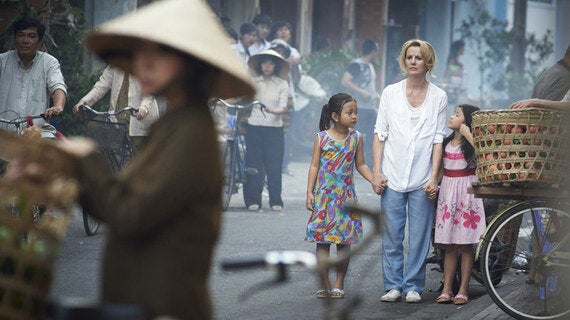 Dubliner Christina Noble (Deirdre O'Kane) narrowly escapes poverty after surviving a tumultuous childhood. As a girl, she would busk in bars to help care for her mother and siblings, something her abusive father (Liam Cunningham) was incapable of. Eventually she lands in the care of a convent until she is old enough to venture out into the world.
Living on the edge of society, Christina manages to scrape by and eventually moves to England with a friend. At the time, the Vietnam war is raging on and the images of displaced, impoverished children are etched into her mind.
Fast forward to 1989, when Vietnam is still recovering from the devastating legacy of war, and Christina is now a divorced mother of three grown children. She heads to Ho Chi Minh City to fulfill a dream of helping the children who affected her so deeply several years before. Despite insurmountable odds, she opens the Christina Noble Children Foundation, providing housing, healthcare, and education for children living on the streets of Saigon.
Written and directed by Stephen Bradley and based on the life story of Christina Noble, also known as Mama Tina (a term of endearment given to her by the Vietnamese children), "Noble" is the story of a courageous woman who will stop at nothing to help children who face the same atrocities she did as a child.
You'll like this film if..
You enjoy inspiring biopics about ordinary people accomplishing extraordinary things. There were moments were I could have jumped out of my seat and applauded, full stop.
You won't like this film if..
"Noble" will appeal to just about anyone, because the story is too triumphant to pass up. The film, however, is a sober reminder that the effects of the Vietnam war are still visible today and that child poverty continues to be a widespread problem at home and abroad.
Young Christina, played brilliantly in a spirited performance by Gloria Cramer Curtis, gives you a sense from the very first scene of just how tough and determined Christina is. Deirdre O'Kane is one part grit, and one part lady, translating Christina Noble's story to the big screen beautifully. Liam Cunningham is also fantastic as the flailing, scoundrel of a father whose desperation overshadows the love Christina so desperately craved.
"Noble" screens again during VIFF on October 5 and October 8. Visit viff.org for tickets and show times.