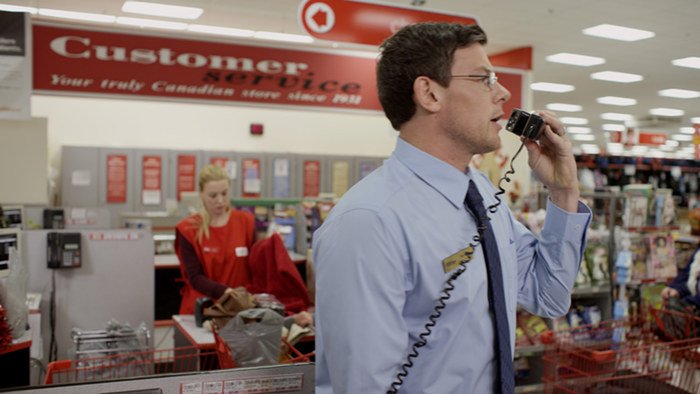 All aspects of the human experience unfold, as customers of a big box department store are monitored by Kate (Karine Vanasse), post traumatic stress disorder sufferer and wife of ambitious store manager James (Cory Monteith). More than a year after the death of Kate's sister, any form of physical contact propels her into panic, which causes a strain on their marriage. Meanwhile, Simon (Kevin Zegers), a firefighter recovering from an on-the-job accident, is hired temporarily by the store to take down shoplifters. He and Kate form a bond while sharing their individual struggles with recovery. As tensions between James and Kate deepen, James turns to Nicole (Emily Hampshire), a single mom and store employee.
Written and directed by Canadian filmmaker Gia Milani, All the Wrong Reasons is a film about the difference between being selfish or selfless in matters of love. Milani maneuvers the heartbreak of PTSD thoughtfully, as Kate is faced with small challenges until her biggest hurdle is what defines her future with James, who has ventured down an impulsive path of his own.
You'll like this film if...
...you were a fan of Cory Monteith, naturally. Audiences will flock to this film because of his popularity, but they may be surprised by how good he really is. If you enjoy stories of how uncertain circumstances can bring people together as though it was meant to be, you will devour this film.
You won't like this film if...
...you don't buy into the hype around Monteith's performance, although you would be missing out on a fantastic Canadian film.
Standout performance
Karine Vanasse played a tormented -- yet witty and generous -- Kate beautifully, winning the audience over from the very first scene.
The soundtrack to the film is also worth noting, specifically a song by Cobra Ramone -- who attended the screening -- called Guns Blazing which was used in a slo-mo sequence between Kate and Simon.
Following the film, Gia Milani was in attendance for a Q&A, which uncovered a story worthy of a film unto itself. The process began in 2008, when Milani began work with Telefilm Canada. Comedy is her primary genre, but Telefilm wanted a drama so she holed up at a friend's coffee shop for two weeks and pumped out the first draft of the script. Fast forward to last year, the lead role still hadn't been filled days before they were set to begin shooting.
Telefilm granted Milani a 24 hour extension to fill the last spot on her cast. In that time, she sent the script to Cory Monteith, who was in San Diego for ComicCon. He read the script on a Saturday, was on a plane to Halifax -- where the film was shot -- the next day to begin shooting on Tuesday. "Cory saved the film," Milani said in response to an audience member who asked if it would have gone ahead anyway. Production would have been shut down without Cory's commitment to the role.
All The Wrong Reasons screens again October 3 at the Centre for Performing Arts. Tickets are still available.
For tickets, screening schedules and more information, visit viff.org.