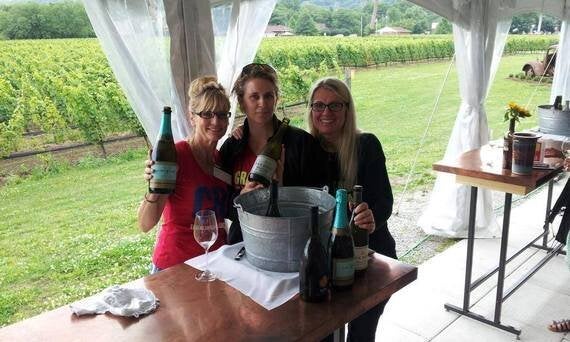 Winemakers have returned to their cellars, the white tents are down, glasses washed, empty bottles of wine recycled. It's been a week since the International Cool Climate Chardonnay Celebration in Niagara wrapped up the Fourth Annual event (i4c14). If you're counting that's 2000 attendees over three days, 58 wineries, 9 countries, 117 wines, 187 volunteers working 354 shifts and 2,850hours.
I was one of the "CRU "behind the Cool- a volunteer. I tasted 20 of the 117 wines over the weekend and selected my favourites:
VQA Niagara Peninsula, Ontario. LCBO Product # 315200. Also at the winery: www.henryofpelham.com. In 2013 vintage dated Blanc de Blanc was added to the already popular Cuvee Catharine NV portfolio at Henry of Pelham. This dry all Chardonnay sparkler celebrates 25 years of winemaking at Pelham. Only estate grown hand-picked and best juices are bottled as Blanc de Blanc. Made in the traditional Champagne method, this sparkling wine is elegant with persistent delicate mousse in the glass. Lovely biscuit, citrus, sweet spice and toast with refreshing acidity. All wrapped up in sexy turquoise foil packaging. It was very popular at the Sunday morning "Moveable Feast Brunch" held at Ravine Vineyards.
VQA Twenty Mile Bench, Niagara Peninsula, Ontario LCBO Product #1552. Select stores only. Also available at the winery: www.flatrockcellars.com. This Chardonnay is currently basking in the glow of a Gold Medal at the 2014 Decanter World Wine Awards. One taste and it's easy to see why. A combination of barrel and tank fermentation and time on it's lees result in a creamy texture with notes of Niagara tree fruit, tropical fruit, toasted bread, nuts and balanced acidity. The winemaker's notes suggest this dry wine was made for further cellaring. It is drinking beautifully right now.
Santa Lucia Highlands, Monterey County, California. LCBO Product #378679 or Limited time offer through: www.vintagesshoponline.com or Ontario agent: hdavidson@rogcowines.com. The initial buzz about this wine was the cool silver ceramic bottle. Yes, I brought one home. EMPTY. It will make a great vase. The liquid inside the bottle however, is reminiscent of Burgundian Chablis with a hint of California Pacific coastline gold. Dry and elegant with refreshing acidity and minerality plus tropical fruit notes. Grapes are picked when fully ripened then aged and fermented in cement tanks imported from France. Definitely food friendly.
VQA BC Okanagan Valley, British Columbia LCBO Product #378281. Limited time offer at: www.vintagesshoponline.com or Ontario agent: andrea@hobbsandcompany.com. This Chardonnay is a whopping 14% abv that could easily be mistaken for a California cousin. It is meant for those who like their Chardonnay more fuller-bodied. This wine was aged and fermented in a combination of new and old French oak barrels for 11 months. No use of herbicides or pesticides and only organic nutrients added to the vines. Rich and creamy with citrus, apple, tropical fruit, honey, almond oil and mineral notes. The food paired with this wine needs to be equally weighty. The Friday evening kick-off party "Barrels and Bonfires Pig Roast" at 13th Street Winery was perfect. This wine has some cellaring potential.
LCBO Product #378240. Limited time offer: www.vintagesshoponline.com or Ontario agent: jlisser@bwwines.com. Don't let the fact that this wine hails from Australia fool you. Tasmania has a cool climate with four distinct seasons. It is located 240 kilometres south of the hot Australian continent. The Pepik line of Josef Chromy is made for everyday quaffing. Simple, light and clean with aromas and flavours of fresh cut apple, citrus, floral, grapefruit and tropical fruits. Perfect for Canadian summer patio sipping or lighter fare such as salads, cream cheeses, seafood. Great value!
All good things must come to an end. My CRU time ended at the Sunday morning Moveable Feast brunch at Ravine Vineyard Winery in beautiful Niagara-on-the-Lake, Ontario. My only regret from the entire weekend is that I didn't taste any of the Grand Cru wines from France. As they say in the sports world, "There's always next year." See you for i4c15.
Twitter: @coolchardonnay #i4c14
Facebook: CoolChardonnayCelebration