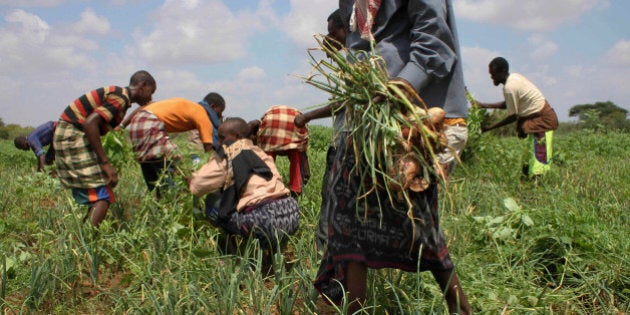 This week many Canadians are participating in the Live Below the Line campaign by living on $1.75 a day, to raise awareness of the 1.2 billion people in the world living in extreme poverty. While last week's Conservative budget continued to neglect aid as a priority- maintaining shamefully low contributions to international development assistance -- Canadians are expressing their solidarity with those fighting extreme poverty in the Global South.
Extreme poverty often also means extreme hunger. Hunger is the norm for 842 million people who remain chronically hungry because they cannot afford even the most basic food staples. While the right to food is a basic human right, food insecurity is a serious problem around the world. Here in Canada, our international development community is fighting food insecurity in the Global South with several important campaigns focused on an important, but too often neglected, issue: agricultural development. Support for smallholder agriculture is a great way to reduce poverty, build strong economies and provide the right foundation for country-wide economic growth.
The global evidence is clear. Countries that make investments in agricultural development are better equipped to eliminate hunger, reduce rates of undernourishment and accelerate their economies. For example, Thailand's focus on agricultural development -- through the prioritization of public spending on rural infrastructure, an increase in secure land rights, and macroeconomic stability -- in the 1960s and 1970s resulted in lower poverty rates and higher rural incomes. According to the International Food Policy Research Institute, Thailand significantly reduced undernourishment within the population from 43 per cent to six per cent between 1990 and 2013.
Small-scale farmers, or those who work with two hectares of land or less, form the majority of farmers in the developing world. Overall, family farms represent more than 90 per cent of farms in the world and grow more than 80 per cent of the world's total food supply. Through investments in small-scale farming, farmers are able to provide for themselves while improving their nutrition and being able to afford to send their children to school by through the sale of excess crops. Moreover, many small-scale farmers in the developing world are women. Investing in agricultural development in ways that decreases some of the barriers they face has the potential to empower rural women.
Not long ago, Canada was a leader in supporting agricultural development. Between 2008 and 2011, Canada provided, on average, $450 million per year to international agricultural aid. However, while Canada still focuses on priority areas like nutrition and food security, our funding for agriculture has decreased significantly since 2011, due to cuts imposed by the Harper government, even though ensuring that people are able to feed themselves remains the very best way to fight hunger.
Two cross-Canada campaigns that aim to bring attention to the plight of smallholder farmers have recently been launched. The Good Soil Campaign of the Canadian Foodgrains Bank (CFGB) is asking the Canadian government to re-invest in aid for agriculture, back up to Canada's previous level of $450 million/year. This campaign aims to raise awareness of the need for long-term, sustained support for small-scale farmers as an effective approach to ending hunger and promoting sustainable development.
The Canadian Catholic Organization for Development and Peace (also a member of the Canadian Foodgrains Bank) has also been conducting a campaign called "Sow Much Love" that aims to protect the traditional use of seeds by small family farms in the Global South. The preservation and diversity of seeds ensures that farmers are able to provide for themselves and their communities while preserving plant biodiversity. Sow Much Love aims to defend small family farmers from the increased control of seeds by multinational corporations through the use of patents and restrictions imposed in some free trade agreements. Like the CFGB's Good Soil campaign, Development and Peace's actions emphasize the importance and potential of small holder farms in their communities.
Canada should support these two initiatives and support other measures that tackle food insecurity through sustainable development, since agricultural production is intrinsically linked to the environment and sustainable land management. This means taking climate change seriously, including a recommitment by the government to the United Nations Convention to Combat Desertification, one of the international treaties Canada has pulled out of under the Harper government.
Support for agricultural development presents a holistic and long-term approach to providing effective aid to the poorest populations. Investments from aid donors in the form of training, finance or infrastructure can kick start production for small-scale farmers, thereby increasing their food security and lead to sustained economic growth while addressing desertification and land degradation. I strongly encourage all Canadians to read more about the Canadian Foodgrains Bank and Development and Peace's non-partisan campaigns. It's time for the Conservatives to learn from these dedicated organizations, then plant a seed and watch their investment grow.