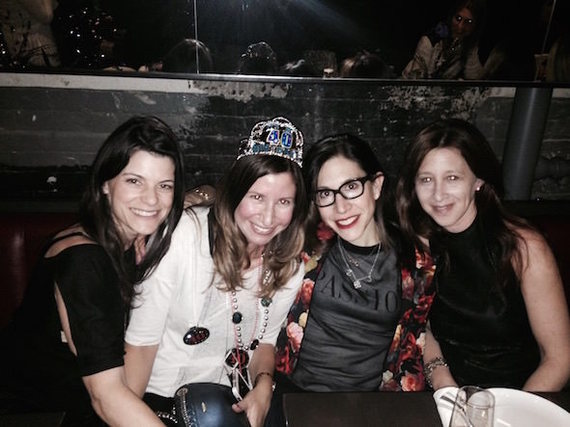 My husband Matthew passed away from brain cancer last August. He was 39 years old. I now find myself a single mother of 3 young children.
Lately, as I've started to heal over these last 6 months, I've been thinking a lot about friendship and the different people in my life. I am so grateful to my friends for helping me through the darkest of times. But, as the heartache of losing Matthew lessens and the sadness starts to lift, I realize too that it is important for me to make some new single friends. People in my life who can empathize with my current reality. People who are not that familiar with my backstory and how I have suffered. People who are fun and can distract me.
With that in mind, here are the 4 types of friends someone newly widowed should have in her life.
Old Friends
What can I say about my old friends? Words cannot express how they have loved, held and supported me through the most difficult time in my life. They have also made me laugh when all I wanted to do was cry and made me eat when I forgot I needed to. We have history and I am immensely grateful to you. The time will also come when I will be the support person and the giver in our friendship.
Single Friends
I want to go out for drinks or dinner somewhere loud and forget that I am a widow and a single parent, even if it's just for an evening. These new single friends are a refreshing change. I can share as much or as little as I want with them and I have the opportunity to reinvent myself. It almost feels like I am a TV character in a show with a clean slate, no presumptions and no pity. I can be just me, a single mother trying to figure things out.
Divorced Friends
With my divorced friends I can share my worries about dating, especially now that I am older. They get how hard it will be for me. I haven't really had to worry about looking attractive for someone else or all the insecurities that comes along with it. They understand that I've been living in a bubble for a long time and I need time to rebuild my confidence. They are encouraging and reassure me that it will com. I am able to confide my anxiety about men being turned off by my "baggage" - me being a recent widow with 3 young kids. I am hoping to get set up by friends and acquaintances who know me. I don't have the time or the luxury of playing the numbers game and going on tons of dates. I can't lie, I do get a little envious of my divorced friends having more free time to date and get out when their children are with their exes. But then again, they tell me these times can be hard and lonely. We can empathize and for now this helps.
Widow Friends
I can't get enough of my new widow friends! It sounds funny when I write it but it is true. The connection is so strong. Their words of encouragement about life getting easier are the best thing for me right now. I can complain and "bitch" as much as I want with no judgement. They understand that there are no grieving rules or timelines for when it is right to start dating. We can laugh together and bond over some of the odd advice we get from people, even if we know it all comes from a good place. They get my exhaustion and not wanting more change in my life. I can complain about the stress of having to be on 24/7 with no break as a single parent. We help each other in dealing with our loved one's families and all the emotional triggers that surround us.
This whole experience has changed me profoundly and for the better. I can feel the next phase of my life and the new "me" taking shape and I am excited. I know that I love and need all of my friends -- old, new, married and single -- there is a place for everyone in my life. As I grow and build a new life for myself, I understand that I will also need different things from different people and this is a good thing.
About the author: Heidi Wilk was born and raised in Montreal and received her dietetics degree at McGill University. She moved to Toronto in 2002 with her husband Matthew. In 2008 when her husband Matthew was diagnosed with incurable brain cancer, their lives and dreams were forever changed. Heidi has shared her own personal struggles, how she has overcome them and the important life lessons she has learned on her blog at Her Magazine.
Read more here:
Some Things Still Aren't Easy 5 Years Post Divorce
Follow HuffPost Canada Blogs on Facebook