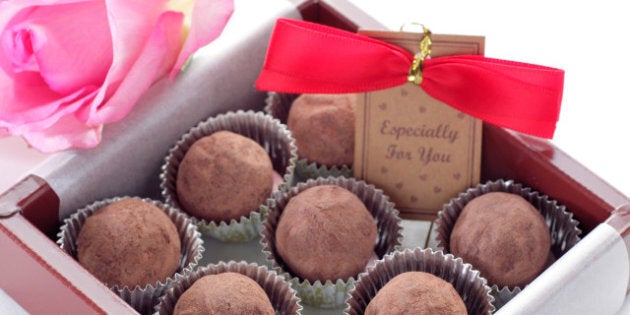 I am a huge consumer of chocolate. It's not a holiday thing -- it's an addiction. During the holidays, however, it's an excuse to buy more than we actually need. Lately, however, my venture into the topic of Fair Trade within the chocolate industry has brought to light an increased awareness into practices and the injustices that prevail in this lucrative industry.
Everyone Loves Chocolate
I am not alone in this love of chocolate. Over the past two years, global chocolate sales have reached over $100 billion dollars annually making it the most popular treat in the world. It is considered "lipstick", recession-proof with sales trends that prove it's a luxury people can still afford in hard economic times. The average Canadian, in fact, consumes 5.5 kg of chocolate annually.
Recently, I was introduced to Lalita Krishna, Founder and President of Choco-locate. I took Choco-locate on as a client and in the process learned so much about chocolate, its origins, the merits of organic chocolate and the progress in the Fair Trade industry.
The Injustices in the Production of Chocolate
According to Fair Trade Canada, Close to 14 million people, in over 30 countries, depend on cocoa production. 90 per cent of the world's supply is grown and harvested on family-owned farms, generating an average annual income of US$30-100 per household member. Given the trading conditions, cocoa farmers aren't paid enough to cover the cost of production, and therefore cannot sustain a living. This has led to the rise of child trafficking and child labour in the cocoa industry.
Cocoa farms in Cote d'Ivoire and Ghana employ millions of children from neighbouring countries including Mali, Togo and Benin who, for the most part, never get paid, and are expected to work in hazardous conditions, to keep chocolate prices low for Western manufacturers. Children as young as 12 are separated from their families, work in hazardous conditions, exposed to pesticides with no protective gear.
As luxury chocolate becomes increasingly popular -- with premium brands growing almost double-digits in the past decade -- consumer demand for good chocolate will continue to place children at risk to meet demand while keeping costs low.
Fair Trade Raises the Bar
According to Just Earth, Fair Trade puts the producer first. This is a partnership between the producers (who grow and produce the products) and consumers, that assumes a fair deal for the producers. It ensures that producers are provided fair wage for their work that allows them to sustain basic living conditions for their family. A Fair Deal ensures that the real costs of production are taken into consideration and workers are provided a safe and healthy work environment.
The Good News...
Awareness of Fair Trade is growing. More importantly, the demand for fair trade goods is on the rise. According to Fair Trade International:
By the end of 2011, the total number of small-scale farmers in the Fairtrade system reached 1.24 million with a 26 per cent increase in sales revenues on Fairtrade terms.
Companies like Chocolocate are helping to raise awareness for this important topic. Its founder, Lalita Krishna produced "Semi-Sweet: Life in Chocolate," a documentary film which looked at the good, bad and the ugly of the chocolate business -- from child labour in Africa to new age gurus living in Northern Canada who think chocolate can save the world. In tackling the politics of food production across continents and cultures, Krishna seized on the idea of creating a complimentary app called Chocofinder that would give aficionados a tool to discover chocolatiers who care.
ChocoFinder is also teaming up with World Vision Canada, an international development agency that is sounding the alarm about children in 3D jobs (dirty, dangerous and degrading) in the cocoa industry. As part of its "End Child Slavery" campaign, World Vision is urging Canadians to consider ethical options when buying Valentine's Day chocolates this year. According to the agency, approximately 95 per cent of chocolate sold today is not certified to be free from forced, child or trafficked labour.
The One-Month Challenge is an opportunity to show support for producers in the developing world by consuming only fair trade brands of coffee, tea and chocolate for 30 days beginning February 14.
This is an amazing endeavour to not only learn about Fair Trade but immerse yourself in some of its delicacies. Many Manitobans have already taken the challenge in the last few years by pledging their commitment. Please go to their website to sign up as an individual or a group
I also ran into this campaign by Global Exchange. Instead of buying the expected chocolate for Valentine's Day, Global Exchange creates a cheeky solution for the "We Aren't Celebrating Valentine's Day" couple by encouraging the gift of membership. I love this because it's not only about the tasty organic coffee beans, or the delicious Devine Chocolates -- it's also about providing continued updates on the progress of this important cause and creating advocacy in the process.
A Guilt-Free Yummy Alternative:
Eating Fair Trade chocolate doesn't mean having to give up the taste. Chocolate lovers have choices too. Like coffee, fair trade chocolate is slowly becoming synonymous with good chocolate. High-minded chocolatiers dedicated to their craft are increasingly diligent about sourcing chocolate that does not exploit labour in these developing countries.
And if chocolatiers are diligent about sourcing their beans, chances are they are putting that same care into making a superior chocolate, says Jennifer Rashleigh, owner of Delight, a Toronto-based company that makes fair trade and organic chocolate and ice cream. Today she still sells to a handful of green grocers, but "retail has exploded," she adds. Special occasions like Valentine's Day keeps her small business hopping. For most of her customers, it's the quality of chocolate that draws them in; the fair trade angle is just an added bonus, she adds. In fact, sometimes she still has to explain that "fair trade" is not "free trade."
So, this Valentine's Day, I told my better half to find me some delicious Fair Trade chocolates. Thanks to Lalita for educating me on this important topic. And for those of you who, like my husband, feel relegated to buy the standard Valentine's Day gifts, then I urge you to choose chocolate with a conscience.