It's around the corner and businesses do not realize what they need to do to mobilize for the impending impact of Big Data. The wealth of information that's out there is forcing companies to rethink strategies how to adapt processes to the dynamic nature of the pedabytes of incoming data, and how to extract meaning in order to properly inform decision-making.
Recently, I wrote a post Do or Die: The Inevitability of Social Business. The reality remains: businesses have not felt the urgency of changing the way they do business because traditional methods are still working. Or so they think. That's what the newspaper industry thought before the rug was pulled from underneathe them. This left them scrambling to figure out how to monetize their online publications.
Technology is changing and it's providing opportunities for businesses to adapt to the changing communications landscape. Further necessitated by real time discussions, the speed of this information, plus a global shift towards improving workforce efficiency, companies now need to look at ways to transform to ensure their survival.
This series will profile four companies, who have developed technologies that are not only responding to this data shift, but are paving the way for businesses to rethink how they manage and measure information and communication in order to remain competitive.
The first company profile in this series: Tellagence
I met Matt Hixson earlier this year, and was intrigued by the approach Tellagence was using to tackle the influencer problem. While the rest of the world continues to attack Klout because of their flawed definition and algorithm, Tellagence has taken a unique approach to define and find relevant audiences. Below is my interview with Matt Hixson, CEO and Nitin Maynade, Chief Scientist of Tellagence:
HJ: In this rapidly evolving space, influence has provided marketers a way to hasten the spread of messages.  The number of followers or fans was a primary metric to identify those with the most leverage to gain audience attention.  And that seems not to be changing.  Even a known current influence index has changed algorithms to appease its critics.
NM: Tellagence's value is the ability to create networks of meaningful, interactive relationships based on context to predict where -- and how far -- your messages will travel. Most services analyze one-to-one relationships, dotted line connections and the potential reach that a single, seemingly highly influential individual or celebrity can have based on a qualitatively high -- but quantitatively imprecise -- number of followers. This formula banks on one-directional broadcasting power, but cannot foresee who will engage or who will forward the message beyond the initial sphere of followers to individuals who actually care.

This is the gap that Tellagence fills: Tellagence instead points organizations to a network of relationships that care, and will move content forward exponentially, thus providing more impactful reach that is boundless, lasting and effective.
HJ: What is Tellagence? How is it different than what is currently out there today?
NM: While many companies focus on more generic elements for social media monitoring and engagement -- such as targeting individuals with high follower numbers or celebrity status -- Tellagence's science identifies and develops deep, common-interest-driven relationships to give brands more meaningful and exponential reach.

By meaningful, we mean absorbed. Acted upon. Shared. Content that is broadcast to a wide audience without consideration for whether that audience actually cares is wasteful. Identifying key gatekeepers and engaged advocates is the key to generating meaningful, efficient and effective campaigns.

To achieve this, Tellagence marries human behavioral science with high-computative predictive modeling to consider the affects of elements such as decision making, increases or decreases in strength of relationships and network roles. The company's first product, Tellagence for Twitter, captures the context of conversations and makes predictions by considering the ever-changing dynamics happening within a network.
HJ: Let's go back to the beginning. How did this come about? Where was the inspiration to start this journey?
NM: In 2005 I became a PhD student in Engineering and Technology Management at Portland State University and was simultaneously employed with Intel. During my time at Intel, I was challenged to identify how things go viral on social networks by my manager, Bill Pearson. It was during this time that I decided to leverage my student research to better understand the elements of online communities, the affects they have on relationships, and the changes that occur.

My research ultimately revealed there are gaps in the current methodologies of analysis that cannot be directly applied to online networks.

Fast-forward four years to 2009, where I met Matt Hixson, then a Business Unit Director at Tripwire. Matt was a pioneer in social marketing strategy for the company, and was searching for a way to predict the reach of brand messages and their measurable impact on social marketing efforts.

I presented my research to Matt, and we recognized the opportunity that our findings could mean in the age of evolving mass social communications technologies like Twitter.

From this encounter, Matt and I built on my science and his experience to create Tellagence in 2011.
HJ: A short time ago, Ev Williams seemed to backpeddle somewhat and indicated that the new "dream" metric is Retweet (RT). He indicated that the number of followers doesn't accurately measure the message distribution. RTs reveal how many people actually saw your Tweet. Do you agree?
MH: It does not define how many people saw your Tweet, also known as impressions.  It defines how many people engage with your product and proactively pass it along which promotes additional engagement with your brand and message.  It is an element of defining strength of relationships which, at its highest level, is called advocacy.
HJ: With the wealth of data being collected within rapidly growing datasets, traditional relational database tools do not have the capacity, or functionality, to adapt as quickly. Marketers are now looking to evolving technologies to extract meaning and enhance decision-making. How does Tellagence position itself in this world of big data?
NM: Traditional relational databases are adept at handling data that is structured, but fail in one key function: They are insufficient at managing and measuring high volumes of "unstructured" data. The hard truth is that today, 90% of data is unstructured. Therefore, with the rise of big data, technology's emphasis must change from structured data to unstructured data. Context -- meaning topical, relational and timing data -- represent "unstructured" data. Tellagence not only focuses its computational power on the high volume of the big data, but also focuses on the breadth and scope of big data to emphasize context.
HJ: How do you think the game is going to change in the next few years? While traditional marketing methods have a seemingly limited shelf life, there are no real signs of impending death. How quickly do you see technologies (such as yours) being adopted?
NM: Offline relationships will continue to evolve as people continue to build social relationships on top of technology that also continues to evolve.  It is important to realize that the models built in the 60's -- which are shockingly the same ones we use today -- are not sufficient are relevant for measuring or managing todays' online and digital relationships. These models are dated and reliant on archaic technology. So, as relationships and their channels evolve, so too must the science by which it is measured and managed. Change in our understanding of online + offline relationships must happen in step with changes in technology.
MH: This said, we are seeing a very strong reaction from the market to the analysis, measurement, forecasting and engagement solution what we are offering with Tellagence.  There are many tools that give you analytics about transactions, re-tweets and people's "influencer" scores, but they are still not solving the business problems people have today. Social media is still built on collecting old data points based on old models and building a generalized model of how it all fits together.  We want to change that by basing a system on the collection and understanding of ALL data points -- structured and unstructured -- and building a strategic model of how it looks now, and again tomorrow and the next day...
HJ: Where do you two see yourselves in the next 10 years? 
MH: In 10 years I will be seeing my first daughter graduate from high school.  I hope to do that knowing that Tellagence has made a huge impact on the world.  I may be working on similar problems or completely new ones.  It is hard to tell what will come in 10 years but I'm looking forward to the challenges.
NM: For me the next 10 years are going to be very interesting.  I believe that social networks are in their infancy and there is a lot of work that still needs to be done for their metamorphosis from mere "technology" into a viable economic and infrastructural system (like the internet or roadways). I see myself - and Tellagence - playing a very disruptive role at the forefront of this inevitable change.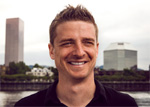 Matt Hixson (Tellagence co-founder and CEO)
Matt is a veteran of enterprise software, He has been leading new initiatives and social strategies for ten years, including a new startup at Tripwire from idea to market in nine months. Matt's mission is to change the way business approaches social media.

Nitin Mayande (Tellagence co-founder and Chief Scientist)
Nitin's research has received rave reviews at major conferences, including INFORMS and MIT Open and User Innovation Conference. He worked as a BI Analyst for Intel, where he managed app stores and developer and user communities. He is finishing his PhD in Engineering Management at Portland State University.