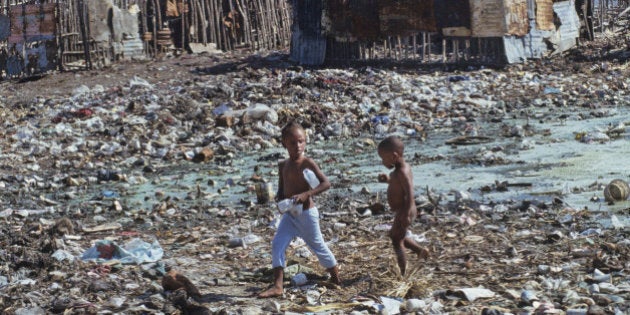 I remember when I first witnessed extreme poverty. While my parents immigrated to Canada in the early 70's, the struggles we went through to survive in our new home paled in comparison to my first trip to Haiti in 1986. It was there where I truly understood the disparities of poverty between Canada and the poorest country in the Western hemisphere.
At the time I visited the country was undergoing a revolution, with dictator Jean-Claude Duvalier's flight from Haiti. His dictatorship brought about years of brutal suppression of the country's masses, creating a military state that did little to develop economic welfare for its people.
Perhaps the devastating effects of the Haitian Earthquake on January 12, 2010 was a blessing in disguise. The government estimates 223,000 were killed and over 2.3 million people displaced including over 300,000 children. But as a result of that earthquake, over $17B in international aid has been allocated to Haiti until 2020. It has taken its form in improving the local water supply, reconstructing shelters and homes, providing tools and seeds to enable subsistence farming, and instituting literary programs for women - all to enable sustainable development.
Why do we need an event of such devastation to scream for the world's help when tragedies occur everyday in countries such as Haiti?
The World Economic Forum's (WEF) Goal to Eradicate Poverty by 2030
The chart below shows significant progress in eliminating extreme poverty rates by 50% in 30 years, but there is still significant work to be done. The Sustainable Development Goals outlined by the WEF seeks to apply to all nations and "leave no one behind".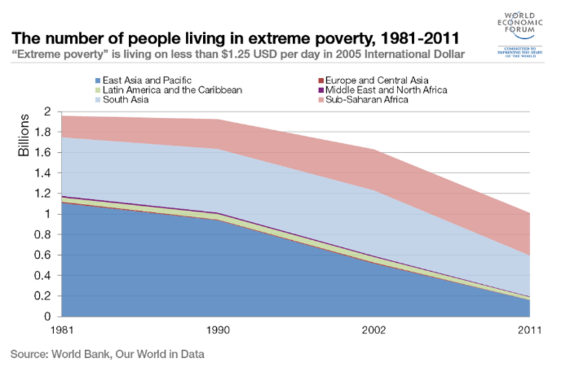 However, the dooming impact of climate change, world economic instability and the futile dependence on oil are among the few factors stalling progress.
There are many stories of hope despite these setbacks.
I know of two organizations that continue to persevere despite the challenges each face.
4Africa.no is an NGO with a mission to "achieve short-term and lasting change in the lives of impoverished HIV/AIDS positive women in Uganda by creating long-term profitable value chains through local production."
In the slums of Kampala alone, the conditions are devastating:
There are high numbers of orphans and widows due to the HIV scourge who struggle for survival through doing odd jobs I .e prostitution which risks them to contracting HIV. They face public isolation due to their social sphere. Many of the residents are illiterate and providing adequate information about HIV/AIDS prevention is challenging.
In 2011, three Norwegian women, Elin Zenker Aune, Line Svingen and Mona Rege, founded the organisation 4Africa as a result of the above and many other untold conditions in the region.
One of the pre-eminent goals of economic sustainability is improving gender equality. In many developing nations, women are still underrepresented in positions of power. They continue to receive unequal pay for equal work and are quite often targets of sexual and physical abuse. Women-owned enterprises face economic and legal disadvantages and continue to struggle for opportunities.
4Africa has succeeded in mitigating some of these barriers. By developing a facility in Mutungo, Kampala, 40-50 women are trained to create "high quality branded handcrafted products (crochet, knitting and jewellery). The products are primarily sold to high end/fair trade outlets in East Africa, Norway and the UK. Ladies also receive the much needed education in budgeting and business management.
While improving their welfare, 4Africa is also empowering these women to succeed and self-sustain. In the process the organization is making significant strides by instilling in these women a stronger degree of self confidence and dignity by making available:
increased predictable income
a saving scheme to boost development and sustainability
continued education for their children
increased access to health and HIV/AIDS information
development of local community support through socialization
A key objective has been to build the organization to sustainability by 2017/18. It seems they are well on their way.
RayJon Share Care (RJSC) a long-standing community development organization established in Sarnia, Ontario, began its journey in 1985. The experiences of Rayjon founders, Ray Wyrzykowski and John Barnfield in their first visit to Haiti, became the impetus to create opportunities for others to share their experiences.
My own experience through RJSC began here. Like many of my classmates and friends who immersed themselves in the experience of Haiti and its people, the profound effect it had on each of our lives gave us opportunities to share our stories and to perpetuate the mission for others.
For Jon Barnfield and Ray Wyrzykowski, the experiences morphed into other opportunities. With their focus on Haiti and Dominican Republic, they hired 2 Canadian field staff to support the day-to-day running of 3 rural schools in Hut de St. Marc, Haiti. This also led to establishment of rural women's groups for preventative care. Local women who were trained to give vaccines began to organize their own vaccine posts. Here was one incredible result:
Now, Measles, once the #1 killer of children under 5, has been eradicated in Haiti.
Since then RJSC worked with local community groups to construct a 6-bedroom clinic, which continues to operate to this day and which has achieved "rural hospital status".
CIDA also contributed funding by way of $500,000 annually which allowed RJSC to employ teachers, health care and women-in-development personnel in the region. Since the height of the earthquake in Haiti, RJSC has gone through dramatic changes, receiving less funding from CIDA. With fewer resources, Jon Barnfield notes,
We are moving away from Rayjon having its own organization in St. Marc (RSCH) and looking for partners, both government and non-government, who can take on the leadership of Community Development in the region. This, we are finding, is a slow process but one we are willing to support for at least the next 10 years.
They say "it takes a village to raise a child."
From these examples, it takes only a few passionate people to raise a village. I'm privileged to have been introduced to the founders of 4Africa and RSCH. The war on poverty is unrelenting. The coming decades will continue to challenge each of us.
We need to go further as a collective and reduce the effects of poverty, and open the gates to limitless potential... In the process, "leave no one behind".